How to Create an Action Plan for Retail Store Growth
A business that isn't scaling is dying - at least that's what most business leaders believe when it comes to the importance of business growth. New stores seem to struggle with high competition and oversaturated markets, which results in scaling difficulties. Some stores shift toward expanding their digital presence, but this is just the start.
Most business owners need to create an action plan for retail store growth.
In this article, we will show you how to build and implement a retail action plan and explain its benefits for your business in more detail. After reading this post, you should know how to resolve existing bottlenecks and pave the way to exponential growth.
What is an action plan for a retail store?
An action plan for a retail store highlights the specific steps necessary to achieve your goals. These plans typically cover the coming year, offering a timetable for each task, as well as a description of who will perform each task. This should also include a follow-up process to ensure your team does everything according to plan.
Several different types of action plans exist. How you'll use each of these action plans depends on the department you will focus on. For example, an action plan for your marketing department will be different than the one you'd use for your sales team. 
Different types of action plans
Sales plan for retail stores. A sales plan communicates the store's goals and objectives to its sales team. It offers strategic direction, outlines roles and responsibilities, and monitors the sales team's progress. Hubspot has a great post that helps you create a sales plan from scratch.
Digital Marketing plan for retail stores. A marketing plan outlines how retailers will reach consumers through the power of the web. These can involve community growth plans, advertising plans, organic traffic/SEO plans, and other digital marketing methods. Read more about internet marketing plans here .
Marketing plan for retail stores. An online clothing store's business plan should be sufficient when you only run an e-commerce store. However, most businesses run a physical store as well. This is where traditional marketing plans come in handy. These kinds of plans include more "offline" marketing options like local events, non-digital advertising, and in-store experiences. It is important to create such a plan even if your online boutique business plan drives most of the results in your marketing campaigns.
Customer success plan for retail stores. This retail action plan ensures that your brand is offering continuous value through different forms of communication. These strategies are mainly focused on the customer service department but can expand to other departments that come in direct contact with the customer.
What kind of store needs an action plan?
Action plans can work in a variety of ways to ensure sustainable growth. However, certain stores will benefit more than others. The following types of businesses are great candidates:
New stores. New businesses can easily lose focus of their most important objectives without a strategy. An action plan for retail store growth keeps new stores focused on the short-term tactics that will contribute to their long-term success.
Stores with no online presence. Stores lacking an online presence can use an action plan to increase sales in retail. For example, a customer success action plan could focus on the different ways a physical store can promote digitally, without actually owning a website. This improves your store's awareness and revenue potential.
Stores that lost (part of) their business due to unforeseen circumstances. Whether your store has fallen victim to the Covid-19 lockdown measures, a natural disaster, or other unforeseen circumstances, an action plan can help you reclaim what you lost. For example, if customers are no longer coming in because of Covid-19, a retail store could plan to migrate (part of) their business to e-commerce solutions.
Content of the action plan for retail stores
Structuring an action plan is somewhat similar to the development of an academic research paper. You start with the objective, list the methodologies, show the results, and list the recommendations. ‍
Start with an introduction (& abstract)
Since the plan may require authorization from several stakeholders, including investors, you should start by explaining what you are about to present, and possibly create a short abstract.
The introduction is simply the starting point that should illustrate two things:
What the document is about
What is in it for the reader
(Optional) A short abstract of the document's contents
When creating an action plan for retail store growth, you could write a great number of pages, some of which are not directly relevant to all readers. Therefore, giving a good overview at the beginning, followed by a detailed table of contents should help people navigate the process more easily. ‍
Explain the main problem
By defining the main problem, you're shedding light on what you aim to resolve. This is where you'll show how this issue currently affects your business.
To adequately explain the problem, gather information to accurately depict the different ways in which it affects your current business performance. This can involve data on procedures you're using, relevant workplace rules, employee actions, and more. For example, if you are writing an action plan to raise digital awareness as a result of the Covid-19 pandemic, try to indicate how the less foot traffic has negatively affected your competitors (overall or specific examples).
Indicate the solution
This section should lay out the tools, methods, or resources you'll use to offer a solution to the problem. You'll explain what you plan to do and how you plan to do it. To make your assumptions reliable, try to back up your points with resources, case studies, and other relevant information. This step will look massively different depending on the department its aimed towards.
Continuing on our Covid-19 example, here you could point out that creating an e-commerce model could prove to be very beneficial since it has worked for many competitors and because data shows that online sales are increasing steadily in your location.
This chapter should be further broken down into separate subcategories that will indicate the tactics you will need to use to achieve your objective.
If needed, indicate the budget specifications in a detailed manner. You can later (in chapter 5) illustrate how the expected results justify the money you are asking for.
Allocate tasks and set deadlines
After providing an overview of all the tasks that need to be done, you will also need to indicate which team member or department will handle each task. At this point, it may be helpful to create Google Sheets that can track the progress that is made, especially when responsibilities span across different departments. 
At this point, you will need to introduce preliminary deadlines for specific tasks. These can be more "high-level" objectives, and can later be broken down into more specific steps. Consider the attainability and relevance of each step. If the step seems overly vague or complex, try dividing it into two or three more manageable steps to make the tasks less overwhelming.
A useful piece of advice here is to create a template that is simple and easy to access by everyone. This can either be done through a common Google Sheet or a project management tool like Asana.
Set realistic targets
Based on your preliminary research and the plan you have created, it is now time to indicate the targets. One could say that targets are short to mid-term goals that can confirm a plan is working. You can set targets for each high-level task (e.g. month over month growth in signups), or you can create an overall goal for the complete action plan (e.g. increase revenue by 20% over 6 months). A combination of the two is possible as well.
Retail action plan example
At this point, you might be wondering how such a plan looks like. A template perhaps, or an example of another business. Truth is, each plan looks different. An action plan to increase sales in retail will look different than a promotional plan. At this point, we should offer a list of resources that can help you gather more useful information to help you craft an action plan that suits your needs.
Are you looking for a sample action plan for retail store, templates or specific examples? Then make sure you check out this post .
If you want a more detailed overview of the steps you need to follow to create an action plan for retail store (including diagrams), read this article .
Finally, get some more specific tips on crafting the perfect plan, by watching the following video:
This post gave a brief introduction to the "what", "how" and "why" of creating an action plan for retail store growth. At this point, you should know the different types of action plans, which businesses need them most, and what they should contain.
In case you need to do some more research before you start writing your plan, make sure you check the resources we mentioned above.
More post you might also like
How to build a brand community from the beginning, 9 best fashion loyalty programs & what makes them unique, top 5 shopping mall loyalty programs for better customer retention, retail employee training: improve in-store & digital performance, customer loyalty analysis - a comprehensive guide, how is virtual reality in online shopping changing retail.
Get Access to ALL Templates & Editors for Just $2 a month.

Google Docs
Apple Pages
Illustrator (AI)
MS Publisher
Vectors (EPS)
Google Sheets
Apple Numbers
Power Point
Backgrounds
Coloring Pages
Illustrations
Video Online
10+ Retail Action Plan Templates in PDF | DOC
Everyone wants to increase sales and make profits in their business. If you have a successful action plan, then your chances of success increase. With an effective plan, you can also estimate the budget involved with every step you need to take. A written plan is always better because you can make sure everyone is on the same page and follow the instructions accordingly. Use available plan templates with a well-formatted layout to achieve perfection in your action plans!
Table of Content
How to prepare your retail action plan, 1. retail action plan template, 2. sample retail business action plan, 3. simple retail store action plan, 4. emergency action plan for retail food, 5. retail strategy action plan, 6. retail action plan sample, 7. digital transformation of retail action plan, 8. retail action plan example, 9. retail action plan sample in pdf, 10. retail economy action plan template, 11. retail action plan in pdf, step 1: set a daily target, step 2: start by a plan, step 3: work in the prime hours, step 4: narrow down the revenue gap, step 5: make the right offer.
More in Plan Templates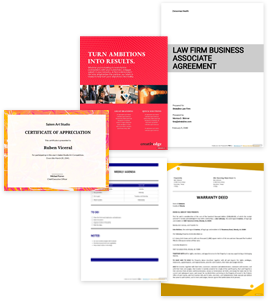 12+ FREE & Premium Retail Plan - Download NOW
Beautifully Designed, Easily Editable Templates to Get your Work Done Faster & Smarter.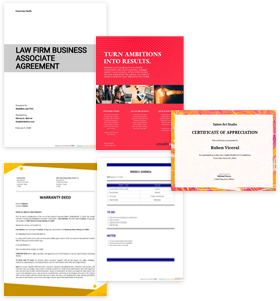 How to Write a Retail Action Plan
Small Business
Business Planning & Strategy
Write a Business Plan
')" data-event="social share" data-info="Pinterest" aria-label="Share on Pinterest">
')" data-event="social share" data-info="Reddit" aria-label="Share on Reddit">
')" data-event="social share" data-info="Flipboard" aria-label="Share on Flipboard">
How to Start a Rotisserie Chicken Restaurant
How to set up a disposable diaper retail business, how to become a cigar distributor.
How to Start a Portable Concrete Pump Company
How to Write a Business Plan for a Sole Proprietorship
Planning before opening a retail business increases your chances of success. You can also use a retail action plan for other major undertakings, such as expanding your operations, developing a new product line or adding another distribution channel. Include specific actions to take and estimate the costs involved with each action. A written plan helps management periodically review the plan against the company's actual actions to make sure the business is still following the original plan.
Market Research
Start by identifying the core focus of your business and the products you sell. Discuss the potential market, your company's current market share and how you expect to improve it in the future. Analyze your competitors and identify potential threats to their market share. List the features that distinguish your company from the competition and the actions you can take to maximize these advantages.
List the possible locations for your retail store if it has not already been determined. Compare demographics, rent and neighboring tenants when deciding when location will be best for the company. Include costs for building permits, engineers, architects and construction. Assess the health of the other businesses in the area. If they are failing, you must decide whether the trend is going to reverse in the future and what can you do to offset the poor conditions. Your company may be able to rely on targeted advertising, better quality or a skilled sales force.
Analyze the pool of available workers in the area where you plan to operate your retail stores. Make sure the population can support your staffing needs. Estimate your labor costs, including payroll taxes, insurance and other employee benefits. Contact temporary agencies to inquire about their fees if you expect to need seasonal employees.
Spend part of your action plan discussing your planned method of funding the business, such as selling stock to investors, applying for small-business loans or using your own personal credit line. If you have not yet locked in your funding, you may need to use the action plan as part of a loan application. Offering a formal document shows the bank you have a concrete plan for the business.
Sourcing and Distribution
Inventory and shipping costs can make or break a retail business. List everything you will need to purchase, including store equipment, fixtures and supplies. Talk to other companies in similar businesses to find out which vendors they use if you are not familiar with the area. Estimate your expected production and the amount of raw materials that will be required. Indicate whether this level of production will qualify you for volume discounts from suppliers. Discuss your planned distribution methods if you will be selling products outside of your retail store, such as through a website or direct mail campaign.
DMS Retail: Retail Business Plan Basics
Bizmove.com: Planning a Retail Store
Denise Sullivan has been writing professionally for more than five years after a long career in business. She has been published on Yahoo! Voices and other publications. Her areas of expertise are business, law, gaming, home renovations, gardening, sports and exercise.
Related Articles
Why a feasibility study must be performed, how to write a clothing boutique business plan, how to write a small retail business plan, 5 steps to evaluating business opportunities, how to add polish locale to your android, starting a needlework retail business, how to create a shortcut to open notepad, how to uninstall windows office 2003 before installing office 2007, how to plan & grow a business venture, most popular.
1 Why a Feasibility Study Must Be Performed
2 How to Write a Clothing Boutique Business Plan
3 How to Write a Small Retail Business Plan
4 5 Steps to Evaluating Business Opportunities
Writing an Effective Action Plan to Deliver Results for Your Store
Writing an effective action plan for your store can be a frustrating or intimidating proposition, but it doesn't have to be. Perhaps you have been asked to complete a plan for results, customer feedback, or associate engagement results and you want to ensure you create something that will not only be helpful in improving the situation but that you can be proud of. There are a couple of things you can do to improve the quality of your plan.
Ask others for feedback
As you set out to create your action plan for your store, discuss the subject with your other leaders. If you have assistant managers, supervisors, or department heads, it will be essential that you seek their feedback and have open discussions about what they see as potential solutions to what you are working towards. It will not be possible to successfully conclude your plan if you do not have the buy-in and support of your co-leaders. They can help carry the message to the team and likely will be the ones that need to execute the steps on a day to day basis for real improvement to occur. Keep your discussions open and flowing with them so they are part of the plan and not just another person that hears about it after you've written it.
Narrow the scope of your actions
One of the most common mistakes I see being made with action plans for stores is that the manager tries to do too many things all at once to try to solve the situation. Instead, invest time in understanding what the real problems may be. Again, this is a great place to partner with your other store leaders to capture their insights. Once you have options for potential solutions, narrow them down to the one or two best items to work on first. You can always try additional things later, but when you try to do too many things at the same time, they usually fail. Worse, because you attempted so much all at once, you aren't certain which components may have been successful.
Be specific in your actions
The next most common mistake is that the action plan is it is too vague. The action items are very high level and do not address specific actions, behaviors, or timelines. Your action plan should follow the SMART method (S - Specific, M- Measurable, A - Actionable, R - Reasonable, T - Time based). When you have all of those pieces in place, you will know who needs to do what, when, and how. It should be a roadmap for how you will achieve your success and give you mile-markers along the way to know how you are progressing. If you don't have those components in place, take additional time to ask yourself the who, what, when, why, and how questions. That will almost always lead to being a much better strategy to get to the outcome you are looking for.
Action planning does not have to be a bad experience. Too often these types of things are used as busy work, but when you have the opportunity to complete an action plan for your store, take advantage of the success it can lead to. Some key components to your action plan:
Dedicate the necessary time to lay out the pieces you need to have in place to realize success.
Involve your team to gain their insights and buy in.
Keep it simple, narrow, and focused on what will have the most significant impact.
Finally, ensure that your plan provides the specifics that will keep you on track along the way.
With these few steps, you can bring that action plan to life and make a difference for your store, your team, and your customers.
What successes have you had with action plans in your past?
Join other retail leaders in continuing their development journey with Effective Retail Leader.com . SUBSCRIBE today to receive leadership tips directly to your inbox and monthly newsletters that provide many tools to help further develop your leadership skills. JOIN NOW! No spam ever - just leadership goodness.Photo by Nik MacMillan on Unsplash
Coach Your Team to Successful Outcomes Through Their Action Plan
5 ways you can create a more effective schedule for your store.
Original text

Retailers have been hard hit by COVID-19 with customers staying home, away from their brick-and-mortar locations. Even with states reopening, how can retailers keep their businesses running through this disaster? 
This Small Business Action Plan, created by our partner Constant Contact, can help you manage your business through difficult times and keep you moving forward.
Download the Action Plan for Retail Businesses for step-by-step instructions on how to find solutions to survive and thrive, such as:
Protecting yourself, employees, customers and community
Assessing the current situation and generating both short and long-term solutions
Adapting your normal operations to keep business going
Shifting to selling online
Offering special discounts and selling gift cards
Updating your communication channels
Marketing your business appropriately and sensitively during this time
Thinking ahead and planning for the future
Constant Contact
Constant Contact, an Endurance International Group company, is a leader in online marketing with a mission to provide people with a smarter way to market an idea, small business or cause online. Our platform has all the right tools, all in one place—from a logo maker and intelligent website builder to establish your brand; to email, social and search marketing tools to help you find new customers and keep them coming back. Paired with award-winning marketing advisors who know marketing across industries inside and out—and provide practical advice at every step of the way—we offer the right approach to online marketing to achieve the results you want.
Disaster Preparedness for Retail Stores 40 to 60% of small businesses that close due to a natural disaster never re-open. Download this eguide to learn how to create and implement a disaster plan.
Copyright © 2023 SCORE Association, SCORE.org
Funded, in part, through a Cooperative Agreement with the U.S. Small Business Administration. All opinions, and/or recommendations expressed herein are those of the author(s) and do not necessarily reflect the views of the SBA.
Business Templates
Sample Plans
FREE 10+ Retail Action Plan Samples in PDF | MS Word
Having goals is necessary for everyone. There will always be something you want to achieve. To accomplish your goals, you need comprehensive planning. Having a personal action plan will guide you in getting what you want. It's basically like giving yourself milestones to get to before you reach the top. Being strategic about the way you want things to proceed is necessary for you to forecast and analyze possible risks and challenges you could be facing. In the corporate world, action plans are also undoubtedly essential. For retail stores, the step by step guide plan they use is a retail action plan.
Retail Action Plan
10+ retail action plan samples in pdf | doc, 1. european retail action plan sample, 2. retail action plan sample, 3. downtown retail action plan template, 4. retail workforce development action plan, 5. business retail action plan sample, 6. retail action plan example, 7. retail action plan strategy sample, 8. retail action plan in pdf, 9. sample retail action plan in pdf, 10. basic retail action plan sample, 11. retail action plan in doc, creating an effective retail action plan, 1. daily task, 2. team effort, 3. selling time, 4. cross-selling, 5. right offer.
The success of a company depends on the way tasks are executed. To make sure your business grows and succeeds, you need to create a smart action plan . Having an action plan is a way for a company to visualize their goals and the steps it takes to achieve them. Thinking of ways to avoid challenges, formulating marketing strategies , and submitting business proposals are all part of an action plan. All parts of a business use action plans. If you are in a merchandising company, you are most likely to be developing a retail action plan. If your action plan doesn't work, you may need to rethink a new one.
It is easy to assume that any strategy plan you make is the best one for the job. If you think this, you are gravely mistaken. Not all strategies work in your favor. There will be times when the plan you have is far from being the plan you need. For a retail action plan to be effective, it needs to meet specific criteria. Not meeting these criteria can be problematic.
If you want your retail action plan to be effective, you need to make sure the data you have is complete. Any missing information can lead to a lot of inconsistencies. You need to make sure that you are placing all the researched data in your action plan. Every little detail counts.
When giving out instructions, you need to express things clearly. Clarity is crucial, without it, you are bound to have misunderstandings. To have a comprehensive business action plan , you don't need to complicate things. Keeping your instructions simple is enough to finish the job. Clarify what needs accomplishing and who needs to do it.
Your action plan needs to appeal to the present work. If your retail action plan isn't relevant to your current project, you may need to rethink things. If it's not useful now, how sure are you it will be helpful then? It should also be able to give you a chance to get your hands on opportunities for the current times.
Entrepreneurs want only the best plans for business development. That is why they put their trust in operational planning . In retail, business owners formulate retail action plans. To give you more insight into what they are, here are 10+ retail action plan samples to check out.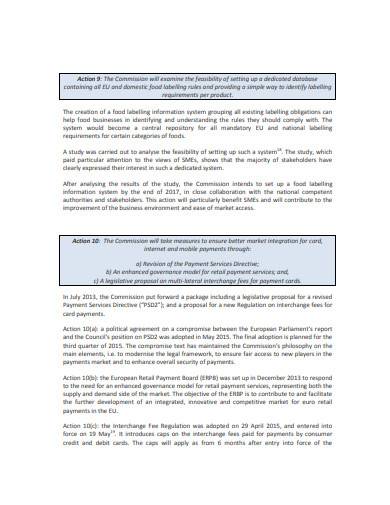 Size: 692.2 KB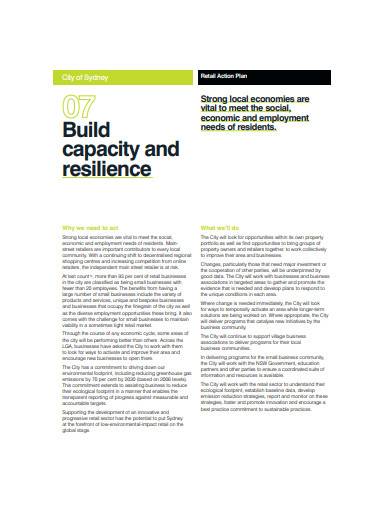 Size: 947.2 KB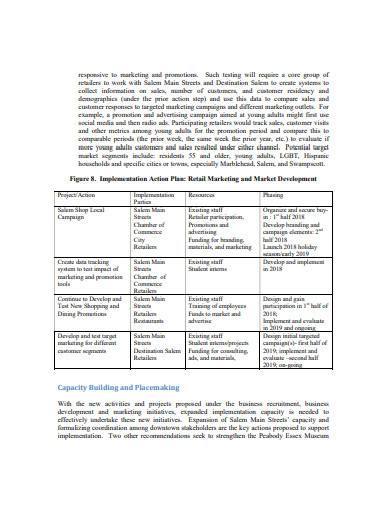 Size: 1.7 MB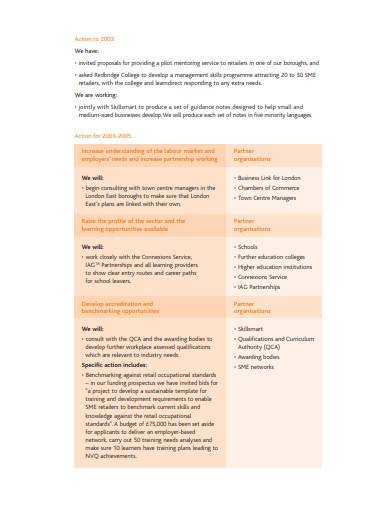 Size: 66.6 KB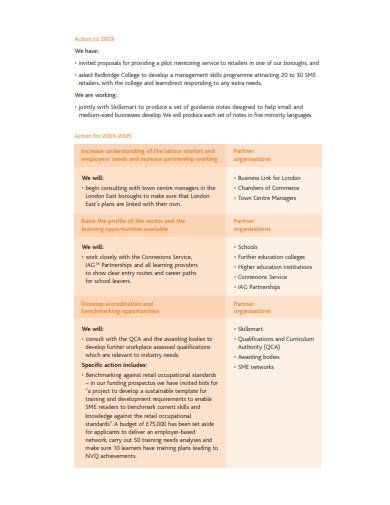 Size: 645.1 KB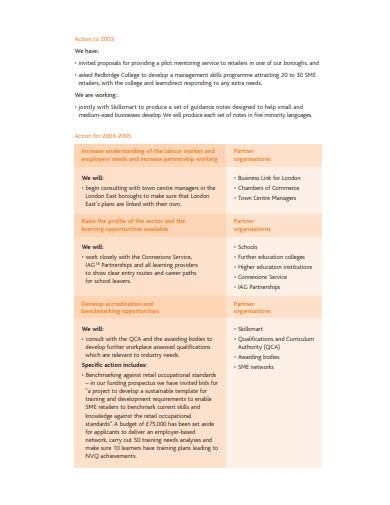 Size: 332.6 KB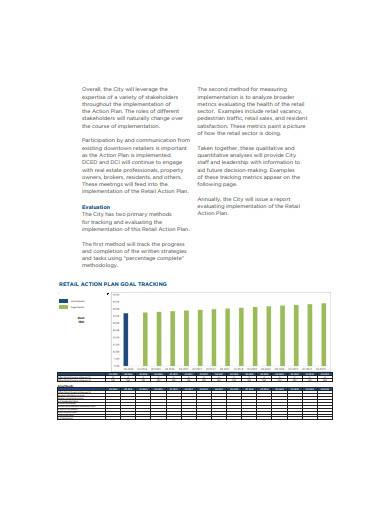 Size: 1.3 MB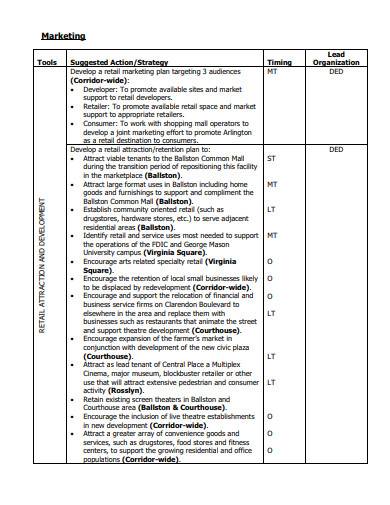 Size: 5.5 MB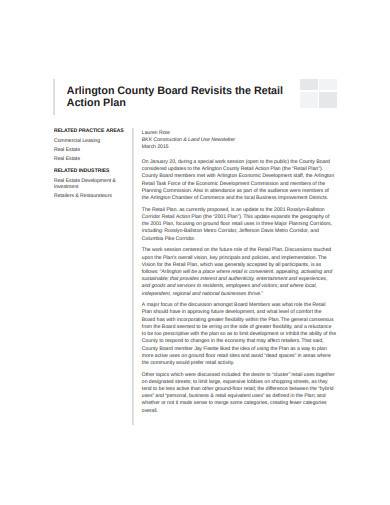 Size: 23.8 KB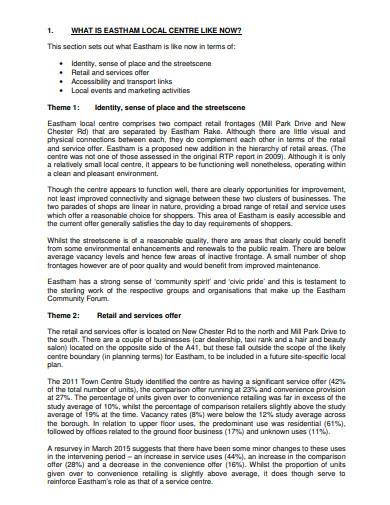 Size: 161.8 KB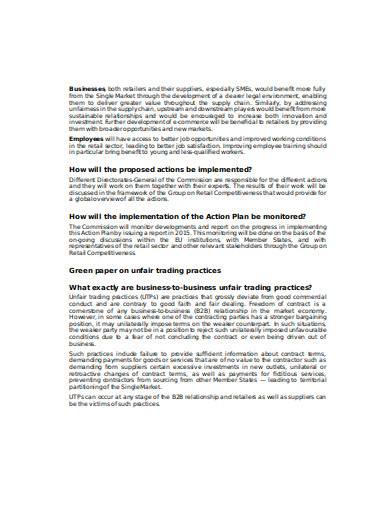 Size: 51.1 KB
Retail action plans can focus on many things: corrective action, employee performance , or even sales improvement. If you want your business to grow, you need to make sure that you have a well-thought-of action plan. If your focus is on sales, your action plan should contain steps for improvement. A few retail sales action plan steps can help you out.
To boost the development of your sales, the first part of your retail action plan should focus on your daily tasks. If your day to day jobs have any improvement, your whole project improves as well. You can make use of daily checklists to make sure the daily assignments get accomplished.
For your project to succeed, everyone has to put in the effort. As a retail owner, you must tell your team that the success of the action plan is in their hands. If there are people not doing their jobs, the whole strategy will fail. Giving them individual employee work plans is advisable.
Your products won't be a sell-out the whole day. You can't expect to get customers in the first few hours of the day. It's just like how restaurants peak during lunch hour and dinner time. You need to figure out what time of the day you get the most customers.
Whether you like it or not, you will have products that have higher sales than the rest. To improve its sales, cross-selling should be part of your action plan. When a loyal customer buys the same product he always does, you have the opportunity to advertise other products.
No matter how much people you disturb with product analysis , not everyone will want it. Stop wasting your time bothering people. If your work is cold calling for retail stores, ask help from your sales team to see who you should be calling. If you offer the right products to the right customers, your sales are sure to rise.
Planning for your future is very important. If you want to succeed, you need a firm plan of action. And when you think you've got it all figured out, you can just watch it all unfold.
Related Posts
30+ action plan format samples, 10+ sample sales action plan templates, 28+ sample action plan templates, 7+ sample business action plans, 12+ sample personal action plans, 8+ sample smart action plans, 30+ sample action plan work sheets, 38+ example of action plans, 35+ sample action plans, 8+ sample school action plans, 17+ sample project action plan templates, 12+ sample plan of action templates, 14+ sample marketing action plan templates, free 9+ training action plans, action plan for increasing sales, 46+ sample action plans, free 15+ action plan templates, 12+ sample sales action plans, 14+ sample corrective action plans.
Talk to a Retail Specialist
Get Support
Sign in to Vend Store
Why Choose Vend?
Multi-Outlet Scalability
The 7 Steps to Retail Success
Customer Case Studies
Get Selling Fast
Add the Smarts
Multiply Your Margins
Fashion Boutiques
Homeware Stores
Sports & Outdoors
All Business Types
Features Overview
Point of Sale
Inventory Management
Reporting and Insights
Customer Management
Award Winning Support
Product Updates
MULTI STORE
Book a Consultation
How to Get Started
On-boarding Services
Find a Local Expert
Help Center
Help Videos
All Resources
Guides & eBooks
Insights & Reports
Retail Tips & Trends
Retail Planning: 7 Steps to Ensure the Success of Your Retail Business
When it comes to successfully making a return on investment for your retail business, it's critical to have a solid retail planning strategy. Whether you're selling toiletries, fashion, or furniture, retail planning is essential to guarantee you not only make a reasonable profit, but avoid running your business into the ground.
Retail planning goes by many names, such as retail management, merchandise planning, or merchandise management. But what is it?
What is retail planning?
Simply put, retail planning involves using a fine-tuned, data-driven strategy to not just meet consumer demand, but also optimize and maximize your ROI, by making sure you have the right products at the right time, price, and amounts. In other words, it's effective cost management from a merchandise aspect.
Retail planning isn't something you can do overnight: to develop a truly effective strategy, you'll need to take several steps to ensure you have reasonable goals and objectives, understand your market and consumer behavior, and continue to optimize your strategy.
Despite retail buying and merchandise marketing being some of the biggest expenses you'll incur, you can ensure you're in charge of your retail management and stay ahead of the curve with proper merchandise management.
No clue where to begin? We've outlined 7 high-level steps in the retail planning process to ensure you're off to a good start.
1. Analyze your market
While there are many situations where trusting your gut is a wise step, the retail planning process is definitely not one of them. To make sure that you have a realistic plan of attack, take some time to understand the market space you're in.
A great way to do this is through the tried-and-true SWOT (strengths, weaknesses, opportunities, and threats) analysis of your competition. A retail SWOT analysis will help you understand the internal and external factors affecting your competition — and, by extension, possibly you — so you can gain actionable insights for your own retail business.
For example, your competition's strengths could involve their USPs (unique selling propositions), their 24/7 customer service support, or cheaper wholesale prices. Other options could be less tangible, such as their brand recognizability or authenticity, but could be equally important.
When it comes to weaknesses, they could range from a lack of an online presence, fewer payment options, limited selections of items, or anything that could potentially limit the retail business's competitive advantage.
Opportunities can be both internal or external, such as the opportunity to open a new location or increase market share, or a sudden interest in retail vacancies from the general public. But these can also be more digital or long-term, such as the use of AI in customer service.
Finally, for threats, these could be things like a new competitor opening in the same niche, price wars, or lack of staffing or supply chain issues.
By taking time to analyze your competitors, you won't be caught off-guard and can implement proper risk management strategies in your retail planning process.
2. Analyze your customers' behavior
Predicting your customers' behaviors can be difficult, but if you want to really understand your clients and connect with them, you'll put in the effort to see how they interact with your retail brand.
By understanding what are the demographics in your market, you can start to provide custom-tailored experiences to attract the right audience. That said, don't assume that you know who holds the purchasing power of your retail products.
For example, Kraft recently realized that, despite marketing their Mac & Cheese as a kids' meal, 60% of households buying from their brand didn't have children, causing a shift in their marketing approach.
To avoid surprises like this, take time to understand your customers' background, habits, motivations, and even problems they might face during their touch points with your brand. If you empathize with your (potential) customers and put yourself in their shoes, you'll have a sure-fire method of making sure your merchandise planning strategy is a success.
By using a mix of quantitative and qualitative methods such as online analytics tools, focus groups, feedback forms, and historical data, you'll be well on your way to a deeper understanding of your customers.
3. Set your objectives
No matter what branch of retail you're in, setting both short- and long-term goals is absolutely essential. When you're brainstorming on objectives to set, avoid the common pitfall of coming up with a generic objective such as "increasing sales." Instead, try to formulate a few SMART goals.
A SMART goal is well-formulated and should be s pecific, m easurable, a chievable, r elevant, and t ime-bound, and should be based on the above research steps. By asking yourself questions such as "What do I want to accomplish?" or "How will I know when I've accomplished my goal?", you'll be able to formulate SMART goals in no time.
What does a good SMART goal look like? An internal objective could be: "Increase the revenue from holiday cards by 50% in both of our locations during November and December." Meanwhile, an external objective could be: "Increase the number of 4- and 5-star online customer reviews by 30% over the first quarter of 2022."
4. Outline and implement your strategy
Once you've settled on your objectives, it's time to actually create your retail planning strategy and stock your shelves. This can be the most time-consuming and detailed step, as you'll need to take various factors into consideration before you actually get your product into your physical retail space.
Make sure to give ample consideration to your retail merchandising which is the assortment of products you offer. How limited or broad do you want your range of products to be? For example, if you sell shoes, you'll have a relatively narrow mix, but it will be quite focused on that particular niche. Are there seasonal, high-demand items you'll need over a certain period?
Target does an incredible job with its merchandising mix, particularly when it comes to seasonal periods. During the winter months, Target sets up the Wondershop — a section in its stores that's dedicated to holiday merch.
Meanwhile, during the summer months, Target's merchandising efforts are focused on products that people would need for summer activities, such as going the beach. In the display below, we see Target cleverly cross-merchandising kids' sunscreen and swim diapers, because the team knows that parents are likely looking to purchase these items together.
Once you've ironed out your merchandising and assortment planning , think about retail pricing. While there isn't a one-size-fits-all approach, make sure your pricing is realistic, and perhaps offers options for customers from various socioeconomic statuses. Other factors to take into consideration include the placement of your retail products, your store floor plan, and how you'll market your products.
Don't forget to factor marketing and advertising into the equation. While it's not uncommon to use physical advertising such as billboards, pamphlets, or posters, digital advertising is often an invaluable tool for your retail planning strategy. With $35.86 billion projected to be spent on digital ads by U.S. retailers , it's clear it's a booming industry. That said, you'll need to set aside enough money from your budget to convert customers!
In conclusion, by using the information gleaned from your research, you can make sure that your retail planning strategy is an accurate reflection of what your customers want, exactly when they want it.
5. Analyze your performance
Although you've gotten your merchandise planning strategy in full gear, you're not done yet. We mentioned earlier that retail planning is a data-driven approach; now, as your strategy plays out, you're collecting data to analyze.
While you should also look back at your results once you reach your goal, there's no need to wait until then to see if any adjustments can be made. After a few days, start looking at the metrics you wanted to reach and see how much progress you've already made.
Vend by Lightspeed can help you tremendously in this regard. Vend's POS reporting and analytics features allow you to build you own reports and view the performance of your business based on various factors, including sales per category, customer group, staff member, etc.
Be sure to include your staff in this process. Some questions you could ask your team include: Is it on par with your initial expectations? If it isn't, why not? Were your goals actually not realistic? How are customers reacting to your retail planning? What's going on with the competition? Keep these questions in mind to see if any changes can — or should — be made. By doing this, you can control your merchandise, so you won't face unexpected shortages or have too many products that you can't get rid of.
Once you've reached your target, or the season is over, make sure to get the broader picture. For example, you could look at what went on with your marketing, or how external opportunities or threats played a role in your strategy. Through this, you'll be able to contextualize the situation and have a clearer view of what happened.
Once you've analyzed the data from your previous season, you'll be able to use your learnings and insights for next season's merchandise retail planning, as the performance of the last season should play a crucial role in your upcoming retail plan.
Final thoughts
As you set out on your retail planning journey, it's important to remember that no one gets it right the first time, and that there will always be factors out of your control which could negatively impact your sales.
That said, merchandise planning remains an important step for any retailer who wants to maximize their ROI and reach their customers through their merchandise as effectively as possible. Through a combination of researching, planning, and fine-tuning, you'll be well on your way to effectively managing your inventory and keeping your retail business as profitable as possible.
About Francesca Nicasio
Francesca Nicasio is Vend's Retail Expert and Content Strategist. She writes about trends, tips, and other cool things that enable retailers to increase sales, serve customers better, and be more awesome overall. She's also the author of Retail Survival of the Fittest , a free eBook to help retailers future-proof their stores. Connect with her on LinkedIn , Twitter , or Google+ .
GET ACTIONABLE RETAIL ADVICE, WEEKLY
No fluff. Just practical, award-winning content sent straight to your inbox.
Thanks for signing up to the Vend newsletter.
You will receive a confirmation email shortly.
By providing your information you agree to our privacy policy .

10-Step Sales Action Plan to Crush Quota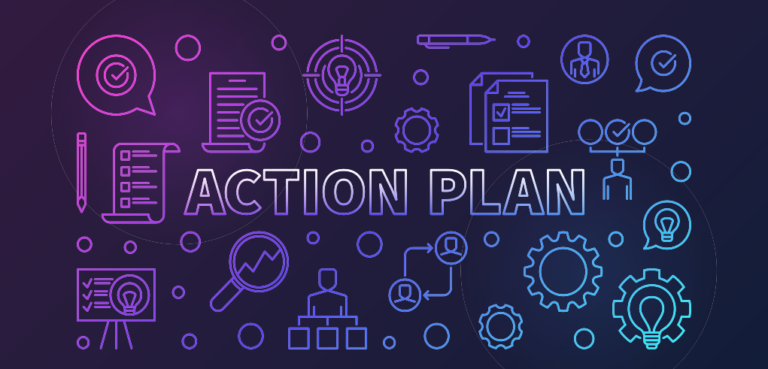 Sales Enablement , Sales Performance
Table of Contents
Share this post:.
Whether you're a software entrepreneur, an executive, or a sales manager , one of the best things that you can do to set yourself up for success is to write a sales action plan that supports your company and helps it to grow.
Unfortunately, a lot of business leaders struggle with developing a strategy that can enrich and empower their operations.
A sales action plan is the easiest way to lay out your objectives, strategies, and tactics for success, in a way that your whole team can understand. Your sales plan also helps you to identify potential obstacles and roadblocks so that you can come up with ways to overcome challenges.

What is a Sales Action Plan?
A sales action plan highlights what you're going to do to achieve your sales goals , focusing specifically on the transactions and relationships that you can cultivate with customers.
Sales plans contain information about who you want to sell to, what your revenue goals look like, and how you're going to structure your teams for success.
An effective sales plan:
Communicates your sales objectives and goals
Outlines responsibilities and roles for both your staff and leadership
Delivers strategic direction for your sales team
Guides your decision-making strategy to help you progress towards organizational goals
While a sales action plan is excellent for month-to-month guidance, it can also help you conduct a more long-term analysis of your sales team. Over time, you can compare your action plans against your outcomes to see if you're achieving your targets.
10-Step Action Plan to Reach Short and Long Term Sales Targets
So, how do you start designing an action plan that delivers real, measurable results for your team?
An action plan needs to give your employees direction and purpose. It should ensure that your staff have everything they need to achieve their goals when it comes to things like quotas and prospecting . The more detailed your action plan is, the less likely it is that your team will end up confused and struggling to make decisions for themselves.
Here are just some of the crucial activities that should appear in your sales plan.
1. Identify Your Ideal Clients
If you want to achieve success in any aspect of your sales strategy , you need to start by identifying the people that you want to target. Get together with your sales team and ask:
Which clients deliver the most long-term value?
What company size are you targeting?
How did your clients find success with your solution?
Where did your best customers come from (i.e. cold calls, canvassing, word of mouth)
What is your target industry ?
Once you know who you're targeting, the next step is to consider how you're going to interact with clients to encourage sales. What do your prospects need most from you, and how can you help them to achieve their goals? Where are the best places to engage with your clients? Do they respond best to telephone calls, emails, or face-to-face interactions?
Your sales action plan needs to include a complete overview of how to find and nurture your clients.
2. Assess Historical Performance
Unless you're a brand-new business, you should have some room to learn from your past mistakes and successes. Look back over your previous wins and losses and ask yourself:
Which strategies led to the most revenue for your company?
What kind of customers were most likely to respond to your sales pitch ?
Were there certain months or seasons where you were more likely to reach your quota?
Which of your team members were most successful, and why?
Which areas delivered the most ROI for your team?
Examining your historical performance will help you to get a better idea of where your current customers and prospects come from.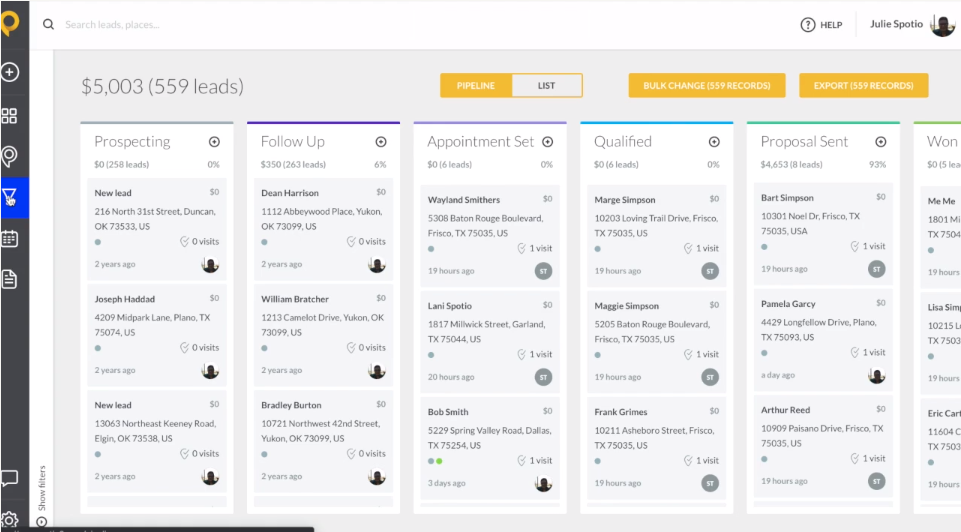 Sales tracking software can give you a more complete history of this information . Make sure that you examine not just when and where inbound and outbound leads convert, but also how your teams prospected with these clients, and which tactics were most successful.
3. Chart your Destination (Choose a Goal)
Failing to plan is planning to fail.
Once you know what you've accomplished, you begin to determine what you need to do next. For instance, you might have achieved your sales quota 60% of the time in the last year, but by the end of this year, you want to achieve an 80% success rate.
Having a target or goal that you want to reach will help to guide your decision-making for your sales quota. Remember, before you get into the details, you need to be specific about what you want to achieve both long-term and short-term.
Ask yourself:
What is the big picture destination for my team? (A 100% quota success rate)
Annual sales goals? (Maybe a 20% increase per year)
Quarterly objectives? (Something closer to 5%)
What can sales teams do to improve monthly?
What is my team going to aim for each day?
What activity metrics will we measure in order to keep the entire team
Outline what you want to go and how you're going to get there.
For instance, if your big picture goal is to generate more closed sales overall, then you might need to start by asking your reps to complete more outbound calls each day.
The more calls you make, the more chances you have of sales. On a monthly basis, your team can work on improving their success rate, and you can measure your overall growth quarterly, aiming for greater results each year.
4. Put Resources in Place
Now you know where you're going, what tools do you need to accelerate your opportunities and empower your teams?
The most essential resource you have is your salespeople, so ensure that you have the right number of people on board to reach your target. This includes building an enticing commission structure that motivates employees to succeed.
Next, invest in the tools and technologies that will power your success:
CRM tools: How will your teams track their interactions with crucial clients and customers?
Prospecting tools: How will reps find new prospects that meet your ideal customer profile across different sales channels and territories?
Once you know which tools your employees need, make sure that your team members are well-equipped to use them. This could mean implementing training sessions, assigning mentors to new team members, or holding one-on-one meetings.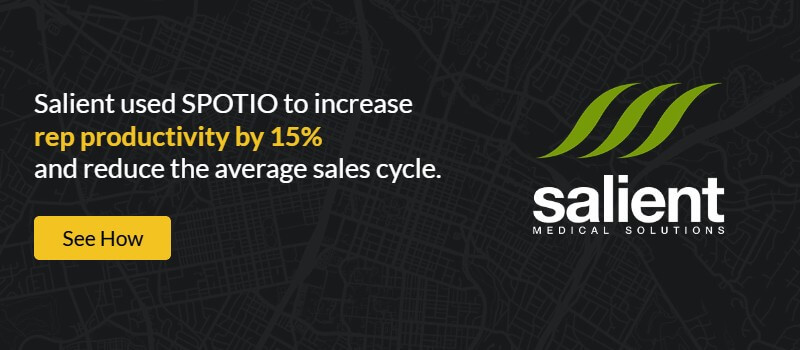 5. Prospect with ICP data
Not all prospects are created equal. Sales reps need to understand who has the greatest need for what they're selling. i.e. their ideal customer profile (ICP). Once created, reps can use this ICP data to uncover other consumers (B2C) or companies (B2B) who meet this criteria. This helps ensure reps are only engaging prospects with the highest likelihood of converting into a qualified lead.
Here's a simple way to build an ICP:
Identify your best customers : who gets the most value from your product/service?
Make a list of attributes : what are the similarities across these customers?
Understand the pain points : what problems does your solution solve?
Create an ICP document : a simple one-page document that lists the demographics, firmographics, pain points, and key objectives of your ICP.
Once armed with an ICP, sales reps should use this data to uncover new prospects to engage across different sales channels.
For example, field sales reps can use the SPOTIO Lead Machine to find potential prospects and then use 200+ data attributes – age, business type, revenue, credit capacity etc – to pre-qualify the best opportunities within a given sales territory.
6. Assign Territories
Now it's time to make sure that there's limited overlap in your teams. It's hard to reach your goals when everyone is focused on selling to the same area.
Assigning territories ensures that your sales team is targeting the right customers, in the right areas, and ultimately eliminates costly redundancies.
Make sure your most valuable and profitable reps are working on the biggest accounts. Remember, you can assign your territories by everything from geography, to customer type, sales potential, and industry.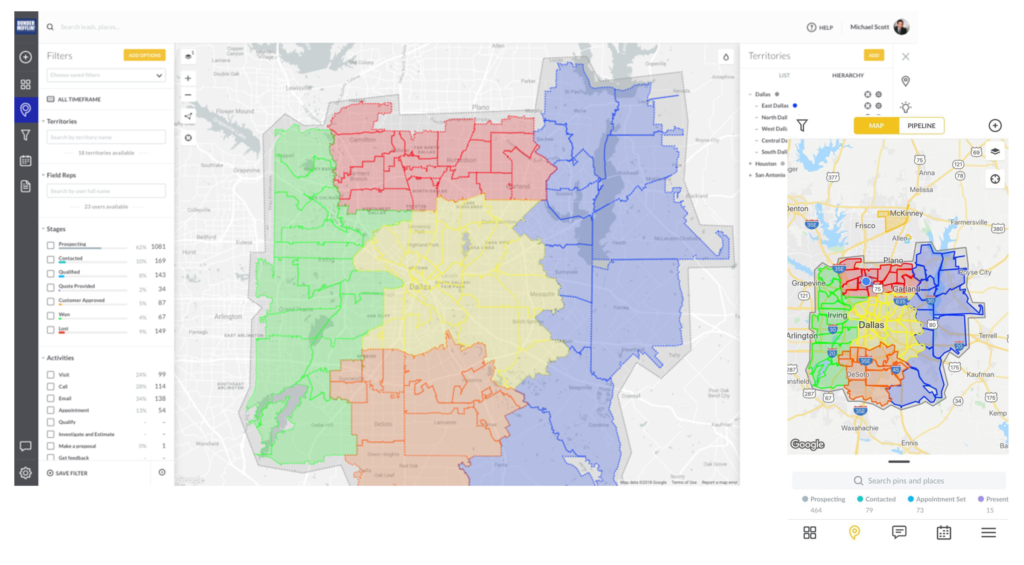 Clearly defined territories help sales teams to work more strategically to address the needs and expectations of their clients. You can:
Assign to top-performers to the highest value accounts
Align salespeople to the segments or regions best-suited to their talents
Ensure all reps have an adequate number of lead to work and accounts to service
Open the door for stronger long-term relationships between your brand and customers.
7. Develop Scripts
Now your sales team knows where it's going to be focusing; it's time to guide them in accelerating their chances of sales. For instance, you can build templates for phone calls, follow ups, emails, voicemails, and more.
To guide your scripts , remember to focus on addressing the pain points of your customers. Remember – people buy emotionally, and justify rationally.
The Sandler pain funnel can help with prospecting, qualifying and closing more deals.
Encourage your team members to find out about the pain points that your customers face and discover solutions to their problems in the scripts that you create. As a general rule, the conversation should have a 70:30 split on the side of the customer.
Think about how your sales team can use the scripts you give them to qualify the leads that you generate. Can you ask questions that will help with segmenting customers and improving your chances of bigger upsells and cross-sells?
8. Set Minimum Daily Sales Activities
With support and guidance , your sales teams should have everything they need to accomplish real, measurable goals within your sales strategy. This is when you can begin to put teams to work by setting minimum daily sales activities .
Remember, although it's valuable to challenge employees, you still need to be realistic. Asking staff to accomplish more than they're reasonably capable of could lead to disengagement.
Measure and track activity-based metrics such as:
New prospects : How many new leads should your employees be finding to contact every day? How will they qualify and nurture those leads? The Lead machine from SPOTIO can make it easier for agents to find new batches of leads every day.
Contacts: How many people will your sales teams contact each day? This can include contact such as in-person visits, emails, phone calls, or social media connections. It's all about working leads across multiple channels to build a relationship.
Follow-ups: How will salespeople attempt to improve their chances of a sale to people who haven't answered the phone or responded to an email? You can also look at "follow ups" in terms of upsells and cross-sells to existing customers.
Referral requests: How will your employees follow up with clients to ensure that they're as satisfied as possible? What can you do to improve your chances of positive testimonials, and referrals to new clients?
Field sales teams can use a solution like AutoPlays to sequence many of the sales activities that are critical to maintaining pipeline velocity.
9. Enforce Accountability
Once you have defined the kind of things that your employees should be accomplishing with their work each day, how are you going to make sure that they're delivering? Do you have lead nurturing pipelines and software in place which shows you which team members are reaching their targets?
Tracking all of the sales activities that your employees engage in each day has a number of benefits. First, it means that managers can see if goals are being met, and which strategies should change if not. Additionally, a dashboard also allows individual employees to track their own performance.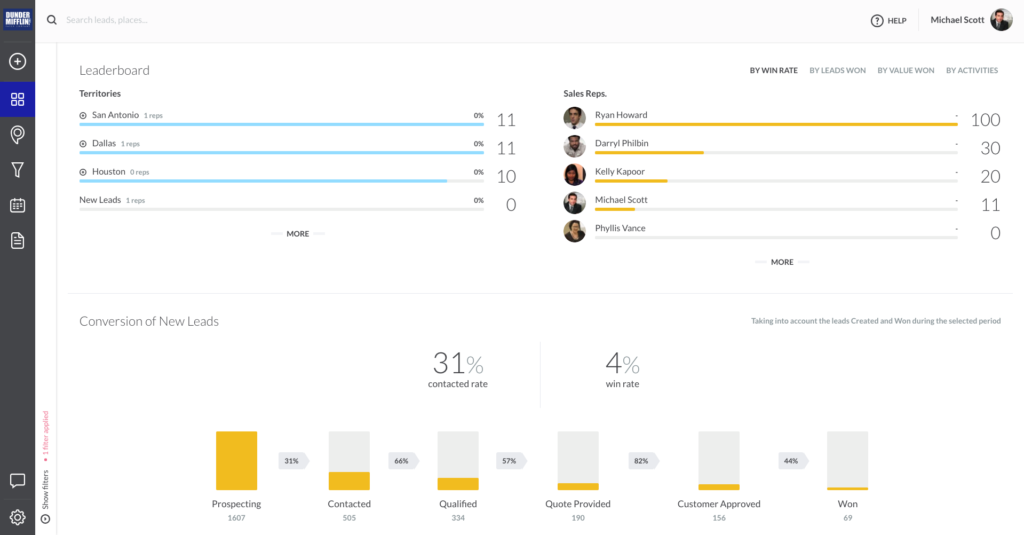 Salespeople are often competitive, and like a chance to prove themselves against their peers. You could use a leaderboard in your workplace to celebrate and showcase your most successful salespeople.
Tip : once you have identified the top sales reps, consider pairing them up with new or lower performing reps for some cross-training.
10. Track Performance
Tracking performance is something that you need to do at a team level, individual rep level , and business level too. Are your reps hitting their activity targets? If they're not, what's causing them to fall short of the mark? What kind of opportunities are they missing out on?
Tracking your performance will help you to see the friction points in your sales pipeline. A lot of sales teams fail to track crucial data and KPIs, and this often means that they don't know what they need to do to improve their chances of success.
By tracking the performance of your team at every level, you can uncover your top-performing reps, figure out which reps need more training, and even pinpoint which sales strategies aren't impacting the bottom line.
Aside from looking at individual reps, ask yourself:
Which territories are performing best?
Which sales actions are driving the best results?
Are there any bottlenecks in our pipeline?
How can we rectify these issues?
SPOTIO's My Reports feature makes it quick and easy for sales admins, managers and reps to generate custom reports containing only the most important metrics. Sales reports can be customized, saved as a reusable template, and accessed from any device while on-the-go. This ensures everyone in the company has access to the insights they need to confidently allocate resources and hit quota.
The Meetings, Pitches and Deals Should Follow
Your Sales Action Plan is all about giving your sales team the guidance that they need to make smart business decisions. When you can support sales team members by addressing issues that are within your direct control, such as a lack of guidance and direction, you can improve results.
If you find a strategy that works for reps, and make sure that they have everything that they need to follow each step correctly, then reaching your targets should become a lot easier. You'll find that the meetings, demos, and closed deals will follow naturally.
A successful sales action plan is all about focusing on the proactive actions that your business can invest in, and letting the process develop for everyone. Don't be afraid to accept feedback from your employees, as well as examining the quantitative data in your sales activity tracker.
Your employees might be able to offer some insights into the steps that they need to take to improve their chances of closing deals and achieving better outcomes.
Ready to Take Action?
Ultimately, there's no one-size-fits-all strategy to delivering excellent sales numbers and outcomes. The key to success is to figure out what works for your team by examining your processes, employees, and even your customers.
Designing a sales action plan will help to guide your employees towards more successful results, while making sure that they have the guidance that they need to thrive.
See How SPOTIO Helps You Hit Your Numbers
Sales Engagement for Field Sales Teams
866-212-1250
[email protected]
What is SPOTIO?
Integrations
Sales Prospecting
Sale Activity Management
Sales Territory Mapping
Sales Rep Productivity
Field Sales CRM
Door-to-Door
Case Studies
Knowledge Base
5057 Keller Springs Rd Ste 325, Addison TX 75001 | GDPR | Privacy policy | Terms of service | Sitemap
Operations and Standards
How leading brands execute programs with inspections, corrective action plans and tasks
What is a Retail Audit Action Plan?
What is an action plan.
When the district manager walks a store/location as part of the retail audit, she is bound to find issues. Even the best and most diligent operators make mistakes occasionally.
Brand standards exist for a reason: they protect the brand and make locations more inviting to guests and more profitable.
The action plan is an opportunity to apply corrective actions to problem areas. It designates an individual responsible for rectifying each problem (anything deemed substandard or non-compliant by the district manager during the visit) and a target date for resolution.
Accountability and Efficiency
The action plan fosters ownership and accountability at store level. It also allows district managers and franchisees/store managers to work together towards a shared goal: making each location more performant and profitable.
The action plan breeds efficiency. It allows for corrections to happen with no time wasted with back-and-forth communication between the franchisee/store manager and the district manager. Find a deficiency, assign it as a corrective action, fix it…done!
Don't just Find Problems…Fix Them!
How good is finding issues at store level unless you are committed to correcting them? Is it in your interest to just find problems or are you better off weaving continuous improvement into the process? How good is problem discovery without resolution and closure? Finding problems is good. Fixing them is better. That's where the action plan comes in.
Close the loop on store execution
At its core, the action plan is a vehicle for improvement. Success in retail hinges largely on execution. The action plan is execution.
The action plan is the continuation of the visit, the key to getting resolution and closure. If problems are ailments, the action plan is the cure. Don't leave the store without one!
OTHER RETAIL EXECUTION RESOURCES
Refer to Retail Execution category for how-tos and best practices for retail and hospitality execution of brand standards and programs.
OTHER RETAIL AUDIT AND INSPECTION RESOURCES
Refer to the Retail Audits and Inspections category for how-tos and best practices for retail audits and inspections.
LEARN MORE ABOUT BINDY
Refer to the Bindy category for more information on how the world's leading brands use Bindy to execute brand standards with inspections, corrective action plans and tasks.
Click to share on LinkedIn (Opens in new window)
Click to share on Facebook (Opens in new window)
Click to share on Twitter (Opens in new window)
Click to share on WhatsApp (Opens in new window)
Click to email a link to a friend (Opens in new window)
Leave a Reply Cancel reply