Shoe Store Business Plan Template
Written by Dave Lavinsky
Shoe Store Business Plan
Over the past 20+ years, we have helped over 500 entrepreneurs and business owners create business plans to start and grow their shoe stores.
If you're unfamiliar with creating a shoe store business plan, you may think creating one will be a time-consuming and frustrating process. For most entrepreneurs it is, but for you, it won't be since we're here to help. We have the experience, resources, and knowledge to help you create a great business plan.
In this article, you will learn some background information on why business planning is important. Then, you will learn how to write a shoe store business plan step-by-step so you can create your plan today.
Download our Ultimate Business Plan Template here >
What Is a Business Plan?
A business plan provides a snapshot of your shoe store as it stands today, and lays out your growth plan for the next five years. It explains your business goals and your strategies for reaching them. It also includes market research to support your plans.
Why You Need a Business Plan
If you're looking to start a shoe store or grow your existing shoe store company, you need a business plan. A business plan will help you raise funding, if needed, and plan out the growth of your shoe store to improve your chances of success. Your shoe store business plan is a living document that should be updated annually as your company grows and changes.
Sources of Funding for Shoe Stores
With regards to funding, the main sources of funding for a shoe store are personal savings, credit cards, bank loans, and angel investors. When it comes to bank loans, banks will want to review your business plan and gain confidence that you will be able to repay your loan and interest. To acquire this confidence, the loan officer will not only want to ensure that your financials are reasonable, but they will also want to see a professional plan. Such a plan will give them the confidence that you can successfully and professionally operate a business. Personal savings and bank loans are the most common funding paths for shoe stores.
    Finish Your Business Plan Today!
How to write a business plan for a shoe store.
If you want to start a shoe store or expand your current one, you need a business plan. The guide below details the necessary information for how to write each essential component of your shoe store business plan.
Executive Summary
Your executive summary provides an introduction to your business plan, but it is normally the last section you write because it provides a summary of each key section of your plan.
The goal of your executive summary is to quickly engage the reader. Explain to them the kind of shoe store you are running and the status. For example, are you a startup, do you have a shoe store that you would like to grow, or are you operating a chain of shoe stores?
Next, provide an overview of each of the subsequent sections of your plan.
Give a brief overv iew of the shoe store industry.
Discuss the type of shoe store you are operating.
Detail your direct competitors. Give an overview of your target customers.
Provide a snapshot of your marketing strategy. Identify the key members of your team.
Offer an overview of your financial plan.
Company Overview
In your company overview, you will detail the type of shoe store you are operating.
For example, you m ight specialize in one of the following types of shoe stores:
Athletic shore store : this type of shoe store primarily sells athletic shoes for running, walking, training, basketball, etc.
Luxury shoe store: this type of shoe store primarily sells high-end luxury brands of shoes. They are mostly dress shoes, such as women's heels, pumps, and boots, as well as men's loafers.
Budget shoe store: this type of shoe store primarily sells affordable athletic, casual, and dress shoes at a discounted price. The brands are usually on the lower-end.
Orthopedic shoe store: this type of shoe store primarily sells orthopedic shoes that focus on enhanced comfort and has features for people with foot pain or problems.
In addition to explaining the type of shoe store you will operate, the company overview needs to provide background on the business.
Include answers to questions such as:
When and why did you start the business?
What milestones have you achieved to date? Milestones could include the number of customers served, the number of customers with positive reviews, reaching X number of customers served, etc.
Your legal business structure. Are you incorporated as an S-Corp? An LLC? A sole proprietorship? Explain your legal structure here.
Industry Analysis
In your industry or market analysis, you need to provide an overview of the shoe store industry.While this may seem unnecessary, it serves multiple purposes.
First, researching the shoe store industry educates you. It helps you understand the market in which you are operating.
Secondly, market research can improve your marketing strategy, particularly if your analysis identifies market trends.
The third reason is to prove to readers that you are an expert in your industry. By conducting the research and presenting it in your plan, you achieve just that.
The following questions should be answered in the industry analysis section of your shoe store business plan:
How big is the shoe store industry (in dollars)?
Is the market declining or increasing?
Who are the key competitors in the market?
Who are the key suppliers in the market?
What trends are affecting the industry?
What is the industry's growth forecast over the next 5 – 10 years?
What is the relevant market size? That is, how big is the potential target market for your shoe store? You can extrapolate such a figure by assessing the size of the market in the entire country and then applying that figure to your local population.
Customer Analysis
The customer analysis section of your shoe store business plan must detail the customers you serve and/or expect to serve.
The following are examples of customer segments: individuals of all ages and families.
As you can imagine, the customer segment(s) you choose will have a great impact on the type of shoe store you operate. Clearly, seniors would respond to different marketing promotions than families with young children, for example.
Try to break out your target customers in terms of their demographic and psychographic profiles. With regards to demographics, including a discussion of the ages, genders, locations, and income levels of the potential customers you seek to serve.
Psychographic profiles explain the wants and needs of your target customers. The more you can recognize and define these needs, the better you will do in attracting and retaining your customers.
Finish Your Shoe Store Business Plan in 1 Day!
Don't you wish there was a faster, easier way to finish your business plan?
With Growthink's Ultimate Business Plan Template you can finish your plan in just 8 hours or less!
Competitive Analysis
Your competitive analysis should identify the indirect and direct competitors your business faces and then focus on the latter.
Direct competitors are othe r shoe stores.
Indirect competitors are other options that customers have to purchase from that aren't directly competing with your product or service. This includes department stores, big box retailers, and consignment stores. You need to mention such competition as well.
For each such competitor, provide an overview of their business and document their strengths and weaknesses. Unless you once worked at your competitors' businesses, it will be impossible to know everything about them. But you should be able to find out key things about them such as
What types of customers do they serve?
What type of shoe store are they?
What is their pricing (premium, low, etc.)?
What are they good at?
What are their weaknesses?
With regards to the last two questions, think about your answers from the customers' perspective. And don't be afraid to ask your competitors' customers what they like most and least about them.
The final part of your competitive analysis section is to document your areas of competitive advantage. For example:
Will you provide options for people of all ages and demographics?
Will you offer products or services that your competition doesn't?
Will you provide better customer service?
Will you offer better pricing?
Think about ways you will outperform your competition and document them in this section of your plan.
Marketing Plan
Traditionally, a marketing plan includes the four P's: Product, Price, Place, and Promotion. For a shoe store business plan, your marketing strategy should include the following:
Product : In the product section, you should reiterate the type o f shoe store company that you documented in your company overview. Then, detail the specific products or services you will be offering. For example, will you provide clothing, accessories, or a rewards program?
Price : Document the prices you will offer and how they compare to your competitors. Essentially in the product and price sub-sections of yo ur plan, yo u are presenting the products you offer and their prices.
Place : Place refers to the site of your shoe store company. Document where your company is situated and mention how the site will impact your success. For example, is your shoe store located in a busy retail district, a mall, a standalone retail location, or purely online? Discuss how your site might be the ideal location for your customers.
Promotions : The final part of your shoe store marketing plan is where you will document how you will drive potential customers to your location(s). The following are some promotional methods you might consider:
Advertise in local papers, radio stations and/or magazines
TV Commercials
Reach out to websites
Distribute flyers
Engage in email marketing
Advertise on social media platforms
Improve the SEO (search engine optimization) on your website for targeted keywords
Operations Plan
While the earlier sections of your business plan explained your goals, your operations plan describes how you will meet them. Your operations plan should have two distinct sections as follows.
Everyday short-term processes include all of the tasks involved in running your shoe store business, including taking inventory, ordering new products, customer interaction, cleaning the store, etc.
Long-term goals are the milestones you hope to achieve. These could include the dates when you expect to sell your Xth shoe, or when you hope to reach $X in revenue. It could also be when you expect to expand your shoe store to a new city.
Management Team
To demonstrate your shoe store's potential to succeed, a strong management team is essential. Highlight your key players' backgrounds, emphasizing those skills and experiences that prove their ability to grow a company.
Ideally, you and/or your team members have direct experience in managing shoe stores. If so, highlight this experience and expertise. But also highlight any experience that you think will help your business succeed.
If your team is lacking, consider assembling an advisory board. An advisory board would include 2 to 8 individuals who would act as mentors to your business. They would help answer questions and provide strategic guidance. If needed, look for advisory board members with experience in managing a shoe store or successfully running a small retail business.
Financial Plan
Your financial plan should include your 5-year financial statement broken out both monthly or quarterly for the first year and then annually. Your financial statements include your income statement, balance s heet, and cash flow statements.
Income Statement
An income statement is more commonly called a Profit and Loss statement or P&L. It shows your revenue and then subtracts your costs to show whether you turned a profit or not.
In developing your income statement, you need to devise assumptions. For example, will you sell 5 shoes per day, and/or offer seasonal discount offers ? And will sales grow by 2% or 10% per year? As you can imagine, your choice of assumptions will greatly impact the financial forecasts for your business. As much as possible, conduct research to try to root your assumptions in reality.
Balance Sheets
Balance sheets show your assets and liabilities. While balance sheets can include much information, try to simplify them to the key items you need to know about. For instance, if you spend $50,000 on building out your shoe store, this will not give you immediate profits. Rather it is an asset that will hopefully help you generate profits for years to come. Likewise, if a lender writes you a check for $50,000, you don't need to pay it back immediately. Rather, that is a liability you will pay back over time.
Cash Flow Statement
Your cash flow statement will help determine how much money you need to start or grow your business, and ensure you never run out of money. What most entrepreneurs and business owners don't realize is that you can turn a profit but run out of money and go bankrupt.
When creating your Income Statement and Balance Sheets be sure to include several of the key costs needed in starting or growing a shoe store:
Cost of shoe inventory and store supplies
Payroll or salaries paid to staff
Business insurance
Other start-up expenses (if you're a new business) like legal expenses, permits, computer software, and equipment
Attach your full financial projections in the appendix of your plan along with any supporting documents that make your plan more compelling. For example, you might include your store location lease or a list of shoes you plan to sell.
Writing a business plan for your shoe store is a worthwhile endeavor. If you follow the template above, by the time you are done, you will truly be an expert. You will understand the shoe store industry, your competition, and your customers. You will develop a marketing strategy and will understand what it takes to launch and grow a successful shoe store.
Shoe Store Business Plan Template FAQs
What is the easiest way to complete my shoe store business plan.
Growthink's Ultimate Business Plan Template allows you to quickly and easily write your shoe store business plan.
How Do You Start a Shoe Store Business?
Starting a shoe store business is easy with these 14 steps:
Choose the Name for Your Shoe Store Business
Create Your Shoe Store Business Plan
Choose the Legal Structure for Your Shoe Store Business
Secure Startup Funding for Your Shoe Store Business (If Needed)
Secure a Location for Your Business
Register Your Shoe Store Business with the IRS
Open a Business Bank Account
Get a Business Credit Card
Get the Required Business Licenses and Permits
Get Business Insurance for Your Shoe Store Business
Buy or Lease the Right Shoe Store Business Equipment
Develop Your Shoe Store Business Marketing Materials
Purchase and Setup the Software Needed to Run Your Shoe Store Business
Open for Business
Learn more about how to start your own shoe business .
Don't you wish there was a faster, easier way to finish your Shoe Store business plan?
OR, Let Us Develop Your Plan For You
Since 1999, Growthink has developed business plans for thousands of companies that have gone on to achieve tremendous success.
Click here to see how a Growthink business plan consultant can create your business plan for you.
Other Helpful Business Plan Articles & Templates
Don't bother with copy and paste.
Get this complete sample business plan as a free text document.
Women's Boutique Shoe Store Business Plan
Start your own women's boutique shoe store business plan
One, Two, Step!
Executive summary executive summary is a brief introduction to your business plan. it describes your business, the problem that it solves, your target market, and financial highlights.">.
One, Two, Step! will carry only top of the line quality in women's shoes and accessories. Our selection will range from the basics of comfortable flats and sandals to the trendy style of stiletto shoes and boots. We will be purchasing through sales representatives and manufacturers in a variety of sizes, colors and style to fit our customer base. The greatest percentage of merchandise will be in shoes, followed by accessories.
One, Two, Step! is organized as a sole proprietorship in the name of Chloe Goodlowe. One, Two, Step! will be located at 123 Shoe Lane in Houston, TX, temporarily, until it is vast enough to expand into a store of its own, located in West Houston.
The hours of operation will be Monday – Friday 10 a.m. – 6 p.m., Saturday 10 a.m. – 8 p.m., and closed on Sundays. Customers will be able to purchase directly from our website and VIP Showcase Events. There will be extended special hours designated during Christmas holiday shopping season.
All merchandise will be purchased according to the company's mission and customer focus of shoes ranging from sizes 5-13 and accessories. Management will rely on customer feedback, suggestions, and sales reports to introduce or eliminate certain brands, styles and sizes.
The Concept Recognizing that the market for quality shoes in extended sizes is quite competitive using the larger shoe retailers, One, Two, Step! will minimize the competition by targeting specific niches, generally focusing on other retail stores whose prices are too expensive, lack quality and are not "shoe size efficient".
One, Two, Step! has three keys to success. The first is establishing a high quality, high value relationship with its vendors and customers. The second key is to ensure reliable and timely delivery of their products. The last key to success is reliable administration of the organization. This boutique business plan is intended to provide the structure to make sure this last key to success is realized.
One, Two, Step! is set up as a home-based business, with plans for expansion into a store/boutique in the near future. This will be the most cost effective arrangement, yet provide the requisite amount of service and support.
The Market One, Two, Step! will grow at 3% and there are many potential customers now, patiently awaiting the start of business. One, Two, Step! will differ from other retail shoe stores because we will always be less expensive than the competition, but we will still maintain the high quality of our shoes.
Also, we will offer a sales promotion on a monthly basis, such as:
buy one, get one half price
buy one, get one free
half off on shoes from the previous season
"One, Two, Step!" dollars (for every $50 dollar purchase, the consumer receives an additional 20% off of their next purchase)
In the future, One, Two, Step! will design its own, custom-made shoes for women and men.
The Sales Strategy Our marketing strategy will not exceed 5% of our annual gross sales. We will use a wide range of approaches, including our website with free shipping, postcards, business cards, and word of mouth.
The objectives of One, Two, Step! are:
To market trendy, elegant shoes, ranging from sizes 5-13, that will cater to the needs of the everyday woman.
To receive a 50% profit margin within the first year.
To provide customer service, measured through new and repeat business (our goal is that 50% of our customers will return within 6 months for an additional purchase) and multiple sales (our goal is that 30% of our non-running and 60% of our running shoe sales are accompanied by an additional purchase).
To achieve a net profit of $5,000 by year two and $15,000 by year five.
The One, Two, Step! mission is to offer quality, name brand shoes and accessories in an assortment of sizes and styles to accommodate the chic in every woman.
Keys to Success
In order to succeed in the women's shoe industry One, Two, Step! must:
Carry an assortment of shoes sizes and style to fit the personalities of any woman.
Provide customers with top-notch personalized customer service in an atmosphere of southern hospitality.
Advertise and promote in all areas so that our customer base will learn more about One, Two, Step!
Continuously review our inventory and sales and adjust our inventory levels accordingly.
Most importantly, always stay on top of the latest trends in the style of women's shoes.
Start your own business plan
Your business plan can look as polished and professional as this sample plan. It's fast and easy, with LivePlan.
The quickest way to turn a business idea into a business plan
Fill-in-the-blanks and automatic financials make it easy.
No thanks, I prefer writing 40-page documents.
Plan, fund, and grow.
Easily write a business plan, secure funding, and gain insights.
Achieve your business funding goals with a proven plan format.
Shoe shop business plan template
Download this shoe shop business plan template in PDF or Word format, or tailor it to your project directly in our business plan software.
Discover our shoe shop business plan template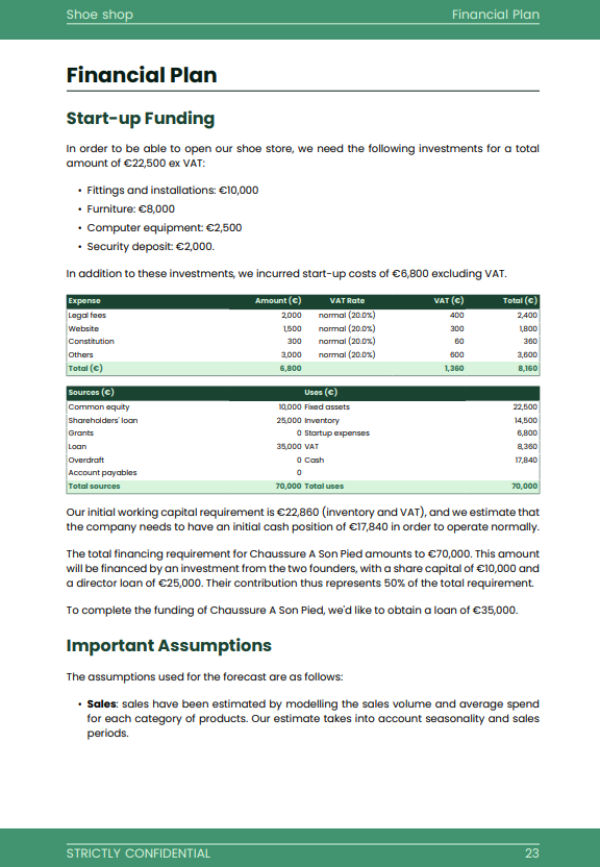 Not accustomed to writing business plans? Our shoe shop business template will turn a typically challenging process into a total breeze.
Modelled on a complete business plan of a shoe shop in Normandy, our template features both the financial forecast and the written part that presents the project, its team, the local market and the business strategy implemented by the management.
Cast your eyes on this template to achieve a better understanding of what your bank and investors would like to see, so that you can create a business plan that meets their expectations.
Template only available to paying subscribers of our online business plan software . Get a 7-day trial for free.
Edit the shoe shop business plan template online, or download it
Available in pdf.
Just after a little inspiration? Download the business plan template in PDF to print and have a read over it.
Download in Word format
Want to edit your plan on Word? Simply export the shoe shop business plan template to MS Word (.dox) format.
Tailor it to your own project
Adapt this template to your personal project by changing the written part or the financial forecast in our online business plan software .
Shoe shop business plan template content
This template includes a complete business plan, with a financial forecast and the following sections:
Executive summary: The executive summary gives the reader a clear and concise overview of your business idea
Company: This section lays out the structure of your business, including its location, management team and legal status
Products and services: Here, you'll give an overview of the services or products offered by the company
Market analysis: The market analysis is where you'll demonstrate that there is a strong demand for your products and services through a thorough assessment of the industry (customer profile, hot trends, regulation, competition, etc.)
Strategy: This section highlights the company's game plan when it comes to pricing, marketing and mitigating risks along the way
Operations: This step lays out the company's operational organisation, including the recruitment plan
Financial plan: The financial plan includes a table of sources & uses (initial funding plan), and complete financial statements (P&L, balance sheet and cash flow statements).
Appendices: This part provides the opportunity to include multiple financial appendices generated by our software (debt maturity profile, monthly financial statements, financial analysis, etc.).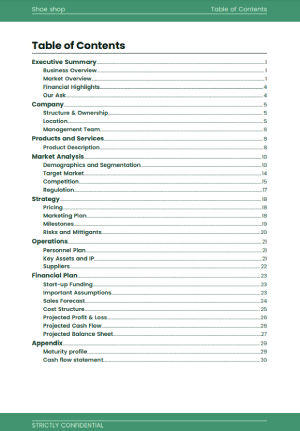 Template only available to paying subscribers of our online software. Get a 7-day trial for free
Shoe shop business plan template extract
Executive summary, business overview.
Chaussure À Son Pied will be a shoe shop located in downtown Caen. We'll offer a diverse range of women and men's shoes, whilst specialising in quality leather and original brands, with a special focus on products manufactured in France.
Compiled of leather and vegan leather shoes, sneakers, boots and sandals, our collections will move with the seasons to keep up with customer demand for the latest trends.
Chaussure A Son Pied will tie together its extensive shoe collection and the expertise of its sales staff to create a space where the people of Cognac can come to discover the perfect shoe for any occasion.
Our store will be located at Rue Froide in downtown Caen, a street perpendicular to the very lively Rue Saint-Pierre, an area famed for its attractive aesthetic and wide selection of shops.
Chaussure A Son Pied will meet the high-end expectations of its customers by offering a more deluxe range of shoes than other brands on the local market.
Chaussure à son Pied will be a limited company managed by Valentine C. and Alice V. with a share capital of €15,000. Valentine and Alice both have the requisite skills and experience for launching a shoe shop business.
Valentine holds a Bachelor's degree in Business Management from the University of Nancy and has 5 years of experience as a management assistant at a clothes store.
Alice, a Normandy native, has a Marketing degree from the University of Nancy. After her studies, she worked as a marketing assistant for a clothing brand for four years.
The two partners met and became friends at university. They stayed in touch after graduating and later decided to open a shoe shop together.
Market Overview
Domestic market
With 7.5 pairs of shoes purchased per child, 6 for every woman and 3.5 per man annually, France is at the top-tier for shoe consumption in Europe.
It makes sense then that France is leading the way for shoe production, as around 5,000 people are employed in the footwear sector and 21.7 million shoes are produced each year. According to Chaussure de France, the footwear market saw a total turnover of over €8 billion.
While a large quantity of shoes are manufactured in France (there are around 80 companies and factories located within the country), a majority of the shoes made in France are exported.
As a result, shoes are then imported from other countries to meet the demand in France. In 2017, Italy was the top exporter of shoes to France, followed by Germany and the United Kingdom.
The French prefer to buy shoes in-store. Large, budget shoe stores such as Gémo and La Halle aux Chaussures, as well as sports shops such as Decathlon and Foot Locker, hold a 41% market share.
These are followed by independent and chain shoe shops, which account for 28.5% of sales.
Online shoe shops, such as Zalando, Sarenza, Spartoo, which entered the shoe scene in 2005, now hold a 12.5% market share.
Traditional market players, including shoe chains such as the Vivarte and Eram groups, are facing up well to the competition posed online shoe giants. This is mainly due to the consistent desire of consumers to be able to try shoes on before they buy. Such brands are also making their own mark on the online realm, with Eram and Vivarte setting up websites to complement their store network.
According to INSEE, shoe spending has increased by an average of 5.5% per year since the 1960s. This increase is mainly due to an increasing number of shoe sales by 1.6% each year.
The average French household will spend around €330 on shoes, compared to the €1,230 that's set aside for clothes.
According to Yougov.com, women are more likely to buy the most shoes with females between 25 - 44 years old spending around €207 on shoes, amounting to an average of 12-14 pairs in their dressing room.
To obtain the best prices possible, the French increasingly wait until sales or promotions are advertised to buy their shoes - with the amount of sales having doubled from 2000 to 2015.
While casual, everyday footwear is popular in France, sneakers remain the best-selling shoes and their market share is constantly increasing, explaining the overarching presence of sports shops in the shoe distribution circuit.
Local market
Caen has a population of approximately 108,000, with several shopping districts that attract consumers from the city centre and beyond.
The city centre has renowned shopping streets that are part of the main shopping district and host a plethora of shoe shops.
The Caennais, like 74% of the French, feel proud of their heritage, thus are willing to pay more for products made within France. The establishment of a "Made in France" trade show in Normandy, similar to the existing Parisian trade show, has increased the desire for locally--made products amongst the consumers of Caen.
Target Market
Given our location and the commercial positioning of the other stores on rue Froide, we'll mainly target high earners looking for luxury shoes:
Local residents: coming to the city centre to make most of their purchases, these people are aware of rue Froide's rather lavish reputation. We believe that this segment, on the lookout for quality products, is likely to be drawn in by our "Made in France" collection and personalised sales advice, to the extent that they turn into regular customers.
Tourists: over a million tourists come to Caen every year, taking time to check out the Rue Froide (one of the oldest streets in Caen) during their visit. Tourists are drawn to the authenticity of the street's picturesque boutiques. Our "Made in France" range, which highlights the art of French-style footwear, should appeal to these tourists.
Competition
Direct competition
There are a total of 20 direct competitors in downtown Caen, but only six stores that offer high-end products, including Printemps, Galeries Lafayette, André, Bocage, Minelli and San Marina.
We have identified 3 shoe shops located in the rue Saint-Pierre, less than 500 meters from the rue Froide:
Finsbury: franchise offering men's casual and smart footwear
Naturella: independent shop offering shoes for men, women, kids and teenagers
Staggy: independent shop offering men's & women's casual shoes
We consider the competition to be moderate here, as we can distinguish ourselves in that we offer both high-end and locally manufactured shoes. We are the only downtown store that offers an exclusive "Made in France" collection, and our diverse selection of modern and classic shoes also help us stand out from the other stores with more limited stock.
We also offer a more unique range than the other high-end shoe stores in the city centre, as most of them are large commercial chains.
Indirect competition
Indirect competition comes from shops that sell shoes but aren't shoe specialists, including supermarkets, sports shops and clothes shops.
We differ from these brands for a variety of reasons, including our price range, higher calibre of shoe and our unique styles. If a customer invests in our shoes, they won't expect to see ten other people on the street wearing the same ones, as they're produced in much lower quantities than the collections manufactured by large brands.
We are also in indirect competition with online shoe resale sites. We view this competition as relatively limited, however, as our locally-manufactured shoes, brand image and ability to offer customers the chance to try before they buy (which is a non-negotiable when buying high-end products) help us set ourselves apart from such sites.
Financial Highlights
We expect to be profitable from the first year of operation, with sales of €223,120 and EBITDA of €8,234 (or 3.69% of margin).
Thereafter, we anticipate that the actions indicated in our marketing plan, as well as word-of-mouth will enable us to continue developing the business in years 2 and 3.
From year 1 to year 2, we expect an increase of 8.31% in our turnover. From year 2 to year 3, we expect sales growth of 4.44% with an EBITDA of €17,693 (or 5.09% of margin).
The improvement in EBITDA margin is mainly due to a better absorption of fixed costs as a result of the sales growth.
We expect positive cash generation over the entire plan. The cash flow generated by the company will cover loan repayments, while retaining sufficient leeway to deal with unforeseen events.
The opening of Chaussure A Son Pied will require an initial investment of €70,000. The founders will invest €35,000 (50%) and we would like to obtain a loan of €35,000 to fund the remaining amount.
Template only available to paying subscribers of our online software. Get a 7-day trial for free.
Other business plan templates and resources to discover
Clothing line business plan template
Get inspiration from our clothing line business plan template.
Leather goods shop business plan template
Discover our leather goods shop business plan template.
Jewellery shop business plan template
Check our jewellery shop business plan template out.
Thrift shop business plan template
Open your own thrift shop by having a look at our business plan template.
How to open a shoe shop
If you would like to open your own shoe shop business, have a look at our guide.
How to write the business plan for a clothing line
Want to create a clothing line? Check out our article to find out what to do.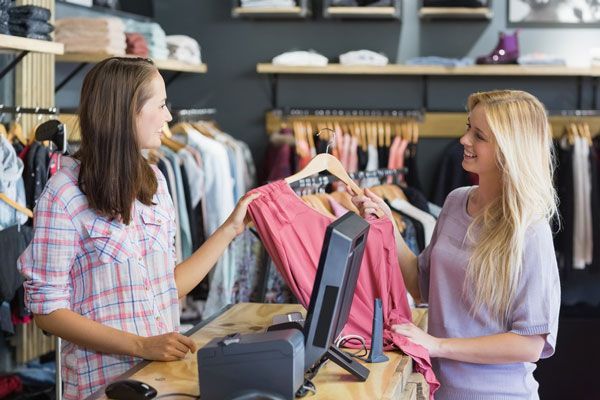 How to open a clothes shop
Want to open a clothes shop? Check out our article to find out what to do.
How to open a clothes shop with no money
Follow our advice to open a business plan for a clothing shop no money.
Home » Business Plans » Fashion & Style
How to Write an Online Shoe Store Business Plan [Sample Template]
Are you about starting an online shoe store ? If YES, here is a complete sample retail shoe store business plan template & feasibility report you can use for FREE . The major things you need to have in place to make success from this type of business is a good location, easy access to wholesale supply of quality shoes and good customer service skill.
The truth is that if you shop is located in an area with good human and vehicular traffic, and you have quality shoes (for male and female, adult and children) from different brands, you may not have to struggle to get people to visit your shop and make purchase. So if you have decided to open a shoe retail store, then you should ensure that you carry out feasibility studies and also market survey.
A Sample Online Shoe Store Business Plan Template
Table of Content
1. Industry Overview
3. our products and services, 4. our mission and vision statement, 5. job roles and responsibilities, 6. swot analysis, 8. our target market, 9. sales and marketing strategy, 10. sales forecast, 11. publicity and advertising strategy, 12. our pricing strategy, 14. sustainability and expansion strategy.
As the name of the business implies, shoes retailing stores basically retail footwear. Shoes stores primarily purchase footwear from wholesalers and retail them directly to end users – customers. The Shoe Stores industry, just like most businesses in the retailing industry, depends on strong consumer spending to spur the demand for industry products.
Over the last half a decade, the economy has begun recovering from recessionary declines with both the Consumer Confidence Index and disposable income increasing. Going forward, as the economy of the united states continues to recover and consumers are expected to loosen their discretionary budgets, the industry is anticipated to thrive.
The Shoe Retail Stores industry is indeed a major sector of the economy of the United States of America and they generates a whooping sum of well over $35 billion annually from more than 11,157 shoes retail outlets scattered all around the United States of America.
The industry is responsible for the employment of well over 213,931 people. Experts project that the industry will grow at a 2.4 percent annual rate. The establishment in this industry that has dominant market shares in the United States of America are; Caleres, Design Shoe Warehouse (DSW), Foot Locker Inc., Brown Shoe Company and Payless Shoes. In combination, they account for roughly 31.7 percent of the revenue generated in the industry.
It is a fact that an estimated two-thirds of the United States' gross domestic product (GDP) comes from the general retail industry of which the shoes retail stores industry contributes greatly.  This is why the United States of America's economy is measured with the yardstick of how well the retailing business is fairing in the U.S
In essence, when there is an unstable economy, purchasing power drops and it impacts the retailing / shoes retailing stores industry negatively which may result in the closure of some furniture retail stores.
Over and above, the shoes retail store industry is a profitable industry and it is open for any aspiring entrepreneur to come in and establish his or her business; you can chose to start on a small scale in a street corner or you can choose to start on a large scale with several outlets in key cities through the United States of America and Canada.
2. Executive Summary
Louis & Louisa Shoe Store®, Inc. is a standard and registered shoe retail store business that will be located in one of the busiest streets in Charleston – West Virginia.
We have been able to lease a facility that is big enough (a 5 thousand square foot facility) to fit into the design of the kind of standard shoe retail store that we intend launching and the facility is located in a corner piece directly opposite the largest residential estate in Charleston – West Virginia.
Louis & Louisa Shoe Store®, Inc. will retail men's shoes, women's shoes, men's athletic shoes, women's athletic shoes, children's shoes, slippers and other types of shoes such as Hosiery and sports footwear, golf shoes, bowling shoes and cleats et al from different manufacturers (brands) from the United States and abroad. We are set to services a wide range of clientele in and around Charleston – West Virginia.
We are aware that there are several large and small chains of shoe retail store outlets all around Charleston – West Virginia, which is why we spent time and resources to conduct a thorough feasibility studies and market survey so as to be well positioned to favorably compete with all our competitors.
We have an online – service option for our customers, and our outlet is well secured with various payments of options. Louis & Louisa Shoe Store®, Inc. will ensure that all our customers are given first class treatment whenever they visit our shoe retail store.
We have a CRM software that will enable us manage a one on one relationship with our customers no matter how large the numbers of our customers' base may grow to. We will ensure that we get our customers involved in the selection of brands that will be on our shoe racks and also when making some business decisions.
Louis & Louisa Shoe Store®, Inc. will at all times demonstrate her commitment to sustainability, both individually and as a firm, by actively participating in our communities and integrating sustainable business practices wherever possible.
We will ensure that we hold ourselves accountable to the highest standards by meeting our customers' needs precisely and completely whenever they patronize our products. We will cultivate a working environment that provides a human, sustainable approach to earning a living, and living in our world, for our partners, employees and for our customers.
Louis & Louisa Shoe Store®, Inc. is a family business that is owned by Louis Anderson and his twin sister and business partner Louisa Anderson. Louis Anderson has a B.Sc. in Business Administration, with well over 5 years of experience in the shoe retailing stores industry, working for some of the leading brand in the United States.
Although the business is launching out with just one outlet in Charleston – West Virginia, but there is a plan to open other outlets all around major cities in the United States and Canada.
Louis & Louisa Shoe Store®, Inc. is in the shoe retail stores industry to service a wide range of clients and of course to make profits, which is why we will ensure we go all the way to make available a wide range of shoes from top manufacturing brands in the United States and other countries of the world.
We will ensure that we do all that is permitted by the law of the United States to achieve our aim and ambition of starting the business. Our product offerings are listed below;
Retailing children's shoes
Retailing athletic shoes (including sport-specific shoes like cleats and bowling shoes)
Retailing men's casual and formal shoes
Retailing women's casual and formal shoes
Retailing slippers and other shoes
Our vision is to become one of the leading brands in the shoe retail stores industry in West Virginia and to establish a one stop shoe retail store in Charleston – West Virginia and in other key cities in the United States of America and Canada.
Our mission is to establish a world – class shoe retail store business that will make available a wide range of shoes from top shoe manufacturing brands at affordable prices to the residence of Charleston – West Virginia and other key cities in the United States of America and Canada where we intend opening of chains of shoe retail stores and franchise.
Our Business Structure
Louis & Louisa Shoe Store®, Inc. do not intend to start a shoe retail store business like the usual mom and pop business around the street corner; our intention of starting a shoe retail store business is to build a standard and one stop shoe retail store outlet in Charleston – West Virginia.
Although our shoe retail store business might not be as big as Caleres, Design Shoe Warehouse (DSW), Foot Locker Inc., Brown Shoe Company and Payless Shoes et al, but will ensure that we put the right structure in place that will support the kind of growth that we have in mind while setting up the business.
We will ensure that we hire people that are qualified, honest, customer centric and are ready to work to help us build a prosperous business that will benefit all the stake holders ( the owners, workforce, and customers ).
As a matter of fact, profit-sharing arrangement will be made available to all our senior management staff and it will be based on their performance for a period of ten years or more. In view of that, we have decided to hire qualified and competent hands to occupy the following positions;
Chief Executive Officer (Owner)
Store Manager
Human Resources and Admin Manager
Merchandize Manager
Sales and Marketing Manager
Information Technologist
Accountants / Cashiers
Sales Agents / Customer Services Executive
Chief Executive Officer – CEO:
Increases management's effectiveness by recruiting, selecting, orienting, training, coaching, counseling, and disciplining managers; communicating values, strategies, and objectives; assigning accountabilities; planning, monitoring, and appraising job results; developing incentives; developing a climate for offering information and opinions; providing educational opportunities.
Creates, communicates, and implements the organization's vision, mission, and overall direction – i.e. leading the development and implementation of the overall organization's strategy.
Responsible for fixing prices and signing business deals
Responsible for providing direction for the business
Responsible for signing checks and documents on behalf of the company
Evaluates the success of the organization
Reports to the board
Admin and HR Manager
Responsible for overseeing the smooth running of HR and administrative tasks for the organization
Maintains office supplies by checking stocks; placing and expediting orders; evaluating new products.
Ensures operation of equipment by completing preventive maintenance requirements; calling for repairs.
Updates job knowledge by participating in educational opportunities; reading professional publications; maintaining personal networks; participating in professional organizations.
Enhances department and organization reputation by accepting ownership for accomplishing new and different requests; exploring opportunities to add value to job accomplishments.
Defines job positions for recruitment and managing interviewing process
Carries out staff induction for new team members
Responsible for training, evaluation and assessment of employees
Responsible for arranging travel, meetings and appointments
Oversees the smooth running of the daily office activities.
Store Manager:
Responsible for managing the daily activities in the store
Ensures that proper records of shoes are kept and warehouse does not run out of products
Ensure that the store facility is in tip top shape and goods are properly arranged and easy to locate
Interfaces with third – party suppliers (vendors)
Controls shoes distribution and supply inventory
Supervises the workforce in the shoe sales floor.
Manages vendor relations, market visits, and the ongoing education and development of the organizations' buying teams
Helps to ensure consistent quality of shoes from different manufacturers are purchased and retailed in good price that will ensure we make good profit
Responsible for planning sales, monitoring inventory, selecting the merchandise, and writing and pricing orders to vendors
Ensures that the organization operates within stipulated budget.
Manages external research and coordinate all the internal sources of information to retain the organizations' best customers and attract new ones
Models demographic information and analyze the volumes of transactional data generated by customer purchases
Identifies, prioritizes, and reaches out to new partners, and business opportunities et al
Identifies development opportunities; follows up on development leads and contacts; participates in the structuring and financing of projects; assures the completion of development projects.
Responsible for supervising implementation, advocate for the customer's needs, and communicate with clients
Develops, executes and evaluates new plans for expanding increase sales
Documents all customer contact and information
Represents the company in strategic meetings
Helps to increase sales and growth for the company
Manages the organization website
Handles ecommerce aspect of the business
Responsible for installing and maintenance of computer software and hardware for the organization
Manages logistics and supply chain software, Web servers, e-commerce software and POS (point of sale) systems
Manage the organization's CCTV
Handles any other technological and IT related duties.
Accountant / Cashier:
Responsible for preparing financial reports, budgets, and financial statements for the organization
Provides managements with financial analyses, development budgets, and accounting reports; analyzes financial feasibility for the most complex proposed projects; conducts market research to forecast trends and business conditions.
Responsible for financial forecasting and risks analysis.
Performs cash management, general ledger accounting, and financial reporting
Responsible for developing and managing financial systems and policies
Responsible for administering payrolls
Ensures compliance with taxation legislation
Handles all financial transactions for the organization
Serves as internal auditor for the organization
Client Service Executive
Ensures that all contacts with clients (e-mail, walk-In center, SMS or phone) provides the client with a personalized customer service experience of the highest level
Through interaction with customers on the phone, uses every opportunity to build client's interest in the company's products and services
Manages administrative duties assigned by the human resources and admin manager in an effective and timely manner
Consistently stays abreast of any new information on the organizations' products, promotional campaigns etc. to ensure accurate and helpful information is supplied to customers when they make enquiries (answer customer queries regarding the store and the merchandise)
Finds out the customer's needs, recommend, select and help locate the right merchandise, describe a product's features and benefits.
make suggestions and encourage purchase of products
Provides information about warranties, manufacturing specifications, care and maintenance of merchandise and delivery options
Bags or packages purchases and gift wrap merchandise
Responsible for cleaning all the shoes and the store facility at all times
Ensures that toiletries and supplies don't run out of stock
Cleans both the interior and exterior of the store facility
Handles any other duty as assigned by the store manager.
Our intention of starting just one outlet of our shoe retail store in Charleston – West Virginia is to test run the business for a period of 2 to 5 years to know if we will invest more money, expand the business and then open other outlets all over major towns in West Virginia and key cities in the United States and Canada.
We are quite aware that there are several shoe retail stores all over Charleston and even in the same location where we intend locating ours, which is why we are following the due process of establishing a business.
We know that if a proper SWOT analysis is conducted for our business, we will be able to position our business to maximize our strength, leverage on the opportunities that will be available to us, mitigate our risks and be welled equipped to confront our threats.
Louis & Louisa Shoe Store®, Inc. employed the services of an expert HR and Business Analyst with bias in retailing to help us conduct a thorough SWOT analysis and to help us create a Business model that will help us achieve our business goals and objectives. This is the summary of the SWOT analysis that was conducted for Louis & Louisa Shoe Store®, Inc.;
Our location, the business model we will be operating on both (physical store and online store), varieties of payment options, wide range of footwear and our excellent customer service culture will definitely count as a strong strength for Louis & Louisa Shoe Store®, Inc. So also our team of highly qualify staff members is also a plus for us.
A major weakness that may count against us is the fact that we are a new shoe retail store outlet in Charleston – West Virginia and we don't have the financial capacity to compete with multi – million dollars shoe retail store outlets like Caleres, Design Shoe Warehouse (DSW), Foot Locker Inc., Brown Shoe Company, Payless Shoes and co when it comes to retailing at a rock bottom prices for all their shoes.
The fact that we are going to be operating our shoe retail store in one of the busiest streets in Charleston – West Virginia provides us with unlimited opportunities to sell our shoes to a large number of individuals and corporate organizations.
We have been able to conduct thorough feasibility studies and market survey and we know what our potential clients will be looking for when they visit our shoe store outlets; we are well positioned to take on the opportunities that will come our way.
Just like any other business, one of the major threats that we are likely going to face is economic downturn. It is a fact that economic downturn affects purchasing / spending power. Another threat that may likely confront us is the arrival of a new shoe retail outlet in same location where ours is located. So also, unfavorable government policies may also pose a threat for businesses such as ours.
7. MARKET ANALYSIS
If you are conversant with the Shoe Stores Industry, you will quite agree that the changes in disposable income, consumer sentiment, and ever changing trends are major growth drivers for sales in this industry. No doubt, a massive rise in consumer confidence has also contributed in helping the industry experience remarkable growth, but uneven performance in these drivers has led to slightly constrained revenue growth for the Shoe Stores industry.
So also, the rising demand for trendy footwear, as a result of increasing disposable income and consumer sentiment, will result in revenue growth, but profit margins will stagnate as shoe stores keep prices low to attract more sales amid growing competition.
A close watch on the industry activities reveals that, concentration has increased slightly over the past five years, as merger and acquisition activity has become more prominent. Additionally, companies that have enough funds to invest in multi-channel operations have benefitted more than smaller operators with minimal resources.
This trend has been illustrated by statements made by Design Shoe Warehouse – DSW's CEO Mike MacDonald on several occasions. As part of marketing strategies, shoe retail stores engage in massive clearance sales and discount sales to attract customers. It is a strategy that helps them welcome new customers and also reinforce the loyalty of old customers.
Lastly, in recent time, the shoe retail stores landscape has seen tremendous changes in the last 20 years; it has grown from the smaller outlets to a more organized and far reaching venture. The introduction of franchise and online store makes it easier for a retailer to reach out to a larger market far beyond the areas where his physical shoe retail store is located.
Possibly it will be safe to submit that the shoe retail stores industry has the widest range of customers; almost everybody on planet earth need one form of footwear or the other especially if they can afford it. For instance, it will be difficult to find any sane man or woman on the street of Charleston – West Virginia without shoe.
In view of that, we have positioned our shoe retail store to service the residence of Charleston – West Virginia and every other location where franchise cum outlets of our shoe retail stores will be located all over key cities in the United States of America and Canada.
We have conducted our market research and feasibility studies and we have ideas of what our target market would be expecting from us. We are in business to retail a wide range of shoes to the following groups of people and corporate organizations;
Men and women
Bachelors and Spinsters
Corporate Executives
Business People
About to wed couples
Sports men and women
Our Competitive Advantage
A close study of the shoes retail stores industry reveals that the market has become much more intensely competitive over the last decade. As a matter of fact, you have to be highly creative, customer centric and proactive if you must survive in this industry. We are aware of the stiffer competition and we are well prepared to compete favorably with other leading shoe retail stores in Charleston – West Virginia and throughout the United States and Canada.
Louis & Louisa Shoe Store®, Inc. is launching a standard one stop shoes retail store that will indeed become the preferred choice of residence of Charleston – West Virginia and every other location where our outlets will be opened.
Our shoes retail store is located in a corner piece property on a busy road directly opposite one of the largest residential estates in Charleston – West Virginia. We have enough parking spaces that can accommodate well over 30 cars per time.
One thing is certain; we will ensure that we have a wide range of footwear from leading manufacturers available in our store at all times. It will be difficult for customers to visit our shoe store and not see the type of footwear they are looking for.
One of our business goals is to make Louis & Louisa Shoe Store®, Inc. a one stop shoe shop for both household and corporate organizations. Our excellent customer service culture, online store, various payment options and highly secured facility will serve as a competitive advantage for us.
Lastly, our employees will be well taken care of, and their welfare package will be among the best within our category (startups shoes retail stores) in the industry meaning that they will be more than willing to build the business with us and help deliver our set goals and achieve all our aims and objectives. We will also give good working conditions and commissions to freelance sales agents that we will recruit from time to time.
Louis & Louisa Shoe Store®, Inc. is in business to retail a wide range of footwear to the residence of Charleston – West Virginia. We are in the shoe retail stores industry to maximize profits and we are going to go all the way out to ensure that we achieve or business goals and objectives.
In essence, our source of income will be the retailing of a wide range of footwear at affordable prices. Louis & Louisa Shoe Store®, Inc. will generate income by selling the following products;
One thing is certain when it comes to shoe retail stores, if your store is well stocked with various types of footwear and centrally positioned, you will always attract customers cum sales and that will sure translate to increase in revenue generation for the business.
We are well positioned to take on the available market in Charleston – West Virginia and we are quite optimistic that we will meet our set target of generating enough income / profits from the first six month of operations and grow the business and our clientele base.
We have been able to critically examine the shoe retail stores industry and we have analyzed our chances in the industry and we have been able to come up with the following sales forecast. The sales projections are based on information gathered on the field and some assumptions that are peculiar to startups in Charleston – West Virginia.
Below is the sales projection for Louis & Louisa Shoe Store®, Inc. it is based on the location of our business and other factors as it relates to shoe retail stores start – ups in the United States;
First Fiscal Year-: $250,000
Second Fiscal Year-: $450,000
Third Fiscal Year-: $750,000
N.B : This projection is done based on what is obtainable in the industry and with the assumption that there won't be any major economic meltdown and there won't be any major competitor retailing same shoe brands and customer care services as we do within same location. Please note that the above projection might be lower and at the same time it might be higher.
Marketing Strategy and Sales Strategy
Before choosing a location for Lord Louis & Louisa Shoe Store®, Inc., we conduct a thorough market survey and feasibility studies in order for us to be able to be able to penetrate the available market and become the preferred choice for residence of Charleston – West Virginia. We have detailed information and data that we were able to utilize to structure our business to attract the numbers of customers we want to attract per time.
We hired experts who have good understanding of the shoe retail stores industry to help us develop marketing strategies that will help us achieve our business goal of winning a larger percentage of the available market in Charleston – West Virginia.
In other to continue to be in business and grow, we must continue to sell the footwear that are available in our store which is why we will go all out to empower or sales and marketing team to deliver. In summary, Louis & Louisa Shoe Store®, Inc. will adopt the following sales and marketing approach to win customers over;
Open our shoe store in a grand style with a party for all
Introduce our shoe store by sending introductory letters alongside our brochure to organizations, households and key stake holders in Charleston – West Virginia
Ensure that we have a wide range of footwear from different brands at all times.
Make use of attractive hand bills to create awareness and also to give direction to our shoe store
Position our signage / flexi banners at strategic places around Charleston – West Virginia
Position our greeters to welcome and direct potential customers
Create a loyalty plan that will enable us reward our regular customers
Engage on road shows within our neighborhood to create awareness for our shoe store.
List our business and products on yellow pages ads  (local directories)
Leverage on the internet to promote our business
Engage in direct marketing and sales
Encourage the use of Word of mouth marketing (referrals)
Despite the fact that our shoe store is well located, we will still go ahead to intensify publicity for the business. We are going to explore all available means to promote our shoe store.
Louis & Louisa Shoe Store®, Inc. has a long term plan of opening outlets in various locations all around West Virginia and key cities in the United States and Canada which is why we will deliberately build our brand to be well accepted in Charleston before venturing out.
As a matter of fact, our publicity and advertising strategy is not solely for winning customers over but to effectively communicate our brand. Here are the platforms we intend leveraging on to promote and advertise Louis & Louisa Shoe Store®, Inc.;
Place adverts on community based newspapers, radio stations and TV stations.
Encourage the use of word of mouth publicity from our loyal customers
Leverage on the internet and social media platforms like; YouTube, Instagram, Facebook ,Twitter, LinkedIn, Snapchat, Badoo, Google+  and other platforms to promote our business.
Ensure that our we position our banners and billboards in strategic positions all around Charleston – West Virginia
Distribute our fliers and handbills in target areas in and around our neighborhood
Contact corporate organizations, households, landlord associations and schools by calling them up and informing them of Louis & Louisa Shoe Store®, Inc. and the products we sell
Advertise our shoe store business in our official website and employ strategies that will help us pull traffic to the site
Brand all our official cars and trucks and ensure that all our staff members and management staff wears our branded shirt or cap at regular intervals.
Aside from quality, pricing is one of the key factors that gives leverage to shoe stores, it is normal for consumers to go to places (shoe retail outlets) where they can get footwear at cheaper price which is why big player in the shoe stores industry like Caleres, Design Shoe Warehouse (DSW), Foot Locker Inc., Brown Shoe Company, Payless Shoes and co will attract loads of corporate and individual clients.
We know we don't have the capacity to compete with Caleres, Design Shoe Warehouse (DSW), Foot Locker Inc., Brown Shoe Company, Payless Shoes and co but we will ensure that the prices and quality of all the footwear products that are available in our store are competitive with what is obtainable amongst shoe stores within our level.
The payment policy adopted by Louis & Louisa Shoe Store®, Inc. is all inclusive because we are quite aware that different customers prefer different payment options as it suits them but at the same time, we will ensure that we abide by the financial rules and regulation of the United States of America.
Here are the payment options that Louis & Louisa Shoe Store®, Inc. will make available to her clients;
Payment via bank transfer
Payment with cash
Payment via credit cards / Point of Sale Machines (POS Machines)
Payment via online bank transfer
Payment via check
Payment via mobile money transfer
Payment via bank draft
In view of the above, we have chosen banking platforms that will enable our client make payment for farm produces purchase without any stress on their part. Our bank account numbers will be made available on our website and promotional materials to clients who may want to deposit cash or make online transfer for our footwear.
13. Startup Expenditure (Budget)
In setting up any business, the amount or cost will depend on the approach and scale you want to undertake. If you intend to go big by renting / leasing a big facility, then you would need a good amount of capital as you would need to ensure that your employees are well taken care of, and that your facility is conducive enough for workers to be creative and productive.
This means that the start-up can either be low or high depending on your goals, vision and aspirations for your business. The tools and equipment that will be used are nearly the same cost everywhere, and any difference in prices would be minimal and can be overlooked.
As for the detailed cost analysis for starting a shoe retail store business; it might differ in other countries due to the value of their money. This is the key areas where we will spend our start – up capital;
The Total Fee for Registering the Business in the Unites States of America – $750.
Legal expenses for obtaining licenses and permits as well as the accounting services (software, P.O.S machines and other software) – $3,300.
Marketing promotion expenses for the grand opening of Louis & Louisa Shoe Store®, Inc. in the amount of $3,500 and as well as flyer printing (2,000 flyers at $0.04 per copy) for the total amount of $3,580.
Cost for hiring Business Consultant – $2,500.
Insurance (general liability, workers' compensation and property casualty) coverage at a total premium – $2,400.
Cost for payment of rent for 12 month at $1.76 per square feet in the total amount of $105,600.
Cost for Shop remodeling (construction of racks and shelves) – $20,000.
Other start-up expenses including stationery ( $500 ) and phone and utility deposits ( $2,500 ).
Operational cost for the first 3 months (salaries of employees, payments of bills et al) – $60,000
The cost for Start-up inventory (stocking with a wide range of footwear from different brands) – $250,000
The cost for counter area equipment – $9,500
Cost for store equipment (cash register, security, ventilation, signage) – $13,750
Cost of purchase and installation of CCTVs: $10,000
The cost for the purchase of office furniture and gadgets (Computers, Printers, Telephone, TVs, Sound System, tables and chairs et al): $4,000.
The cost of launching a Website: $600
The cost for our opening party: $7,000
Miscellaneous: $10,000
We would need an estimate of $750,000 to successfully set up our shoe retail store in Charleston – West Virginia. Please note that this amount includes the salaries of all the staff for the first month of operation.
Generating Funds / Startup Capital for Louis & Louisa Shoe Store®, Inc.
Louis & Louisa Shoe Store®, Inc. is a private registered business that is solely owned and financed by Louis Anderson and his twin sister and business partner Louisa Anderson. They do not intend to welcome any external business partner which is why he has decided to restrict the sourcing of the start – up capital to 3 major sources.
These are the areas we intend generating our start – up capital;
Generate part of the start – up capital from personal savings
Source for soft loans from family members and friends
Apply for loan from my Bank
N.B: We have been able to generate about $250,000 ( Personal savings $200,000 and soft loan from family members $50,000 ) and we are at the final stages of obtaining a loan facility of $500,000 from our bank. All the papers and document have been signed and submitted, the loan has been approved and any moment from now our account will be credited with the amount.
The future of a business lies in the numbers of loyal customers that they have the capacity and competence of the employees, their investment strategy and the business structure. If all of these factors are missing from a business (company), then it won't be too long before the business close shop.
One of our major goals of starting Louis & Louisa Shoe Store®, Inc. is to build a business that will survive off its own cash flow without the need for injecting finance from external sources once the business is officially running.
We know that one of the ways of gaining approval and winning customers over is to retail our wide range of quality footwear a little bit cheaper than what is obtainable in the market and we are well prepared to survive on lower profit margin for a while.
Louis & Louisa Shoe Store®, Inc. will make sure that the right foundation, structures and processes are put in place to ensure that our staff welfare are well taken of. Our company's corporate culture is designed to drive our business to greater heights and training and re – training of our workforce is at the top burner.
As a matter of fact, profit-sharing arrangement will be made available to all our management staff and it will be based on their performance for a period of six years or more. We know that if that is put in place, we will be able to successfully hire and retain the best hands we can get in the industry; they will be more committed to help us build the business of our dreams.
Check List / Milestone
Business Name Availability Check: Completed
Business Registration: Completed
Opening of Corporate Bank Accounts: Completed
Securing Point of Sales (POS) Machines: Completed
Opening Mobile Money Accounts: Completed
Opening Online Payment Platforms: Completed
Application and Obtaining Tax Payer's ID: In Progress
Application for business license and permit: Completed
Purchase of Insurance for the Business: Completed
Leasing of facility and remodeling the shop: In Progress
Conducting Feasibility Studies: Completed
Generating capital from family members: Completed
Applications for Loan from the bank: In Progress
writing of business plan: Completed
Drafting of Employee's Handbook: Completed
Drafting of Contract Documents and other relevant Legal Documents: In Progress
Design of The Company's Logo: Completed
Graphic Designs and Printing of Packaging Marketing / Promotional Materials: In Progress
Recruitment of employees: In Progress
Purchase of the Needed furniture, racks, shelves, computers, electronic appliances, office appliances and CCTV: In progress
Creating Official Website for the Company: In Progress
Creating Awareness for the business both online and around the community: In Progress
Health and Safety and Fire Safety Arrangement (License): Secured
Opening party / launching party planning: In Progress
Compilation of our list of products that will be available in our store: Completed
Establishing business relationship with vendors – manufacturers and suppliers of footwear: In Progress
More on Fashion & Style
Online Shoe Store Business Plan Template
Download this Online Shoe Store Business Plan Template Design in Word, Google Docs, Apple Pages, PDF Format. Easily Editable, Printable, Downloadable.
Navigate through various business opportunities and grow your online shoe store with the help of our Online Shoe Store Business Plan Template. The suggestive content herein allows you to easily outline the action steps and required resources to implement your business strategies. Not to mention, editing this Sample Business Plan Document is free. So, if you want to save time and money in making other business strategies, sign up today to enjoy unlimited free access to other templates you need.
Pro Template
Get access to all Documents, Designs & Templates
Online Retail Store Business Plan Template
Online Grocery Store Business Plan Template
Retail Online Store Business Plan Template
Online Store Project Plan Template
Online Store Plan Template
Business Plan Template for Online Start-Up
Online Boutique Business Plan Template
Online Marketplace Business Plan Template
Online Bakery Business Plan Template
Online Marketing Business Plan Template
Online Book Store Business Plan Template
Online Store Business Plan Template
Online Clothing Store Business Plan Template
Online Store Financial Plan Template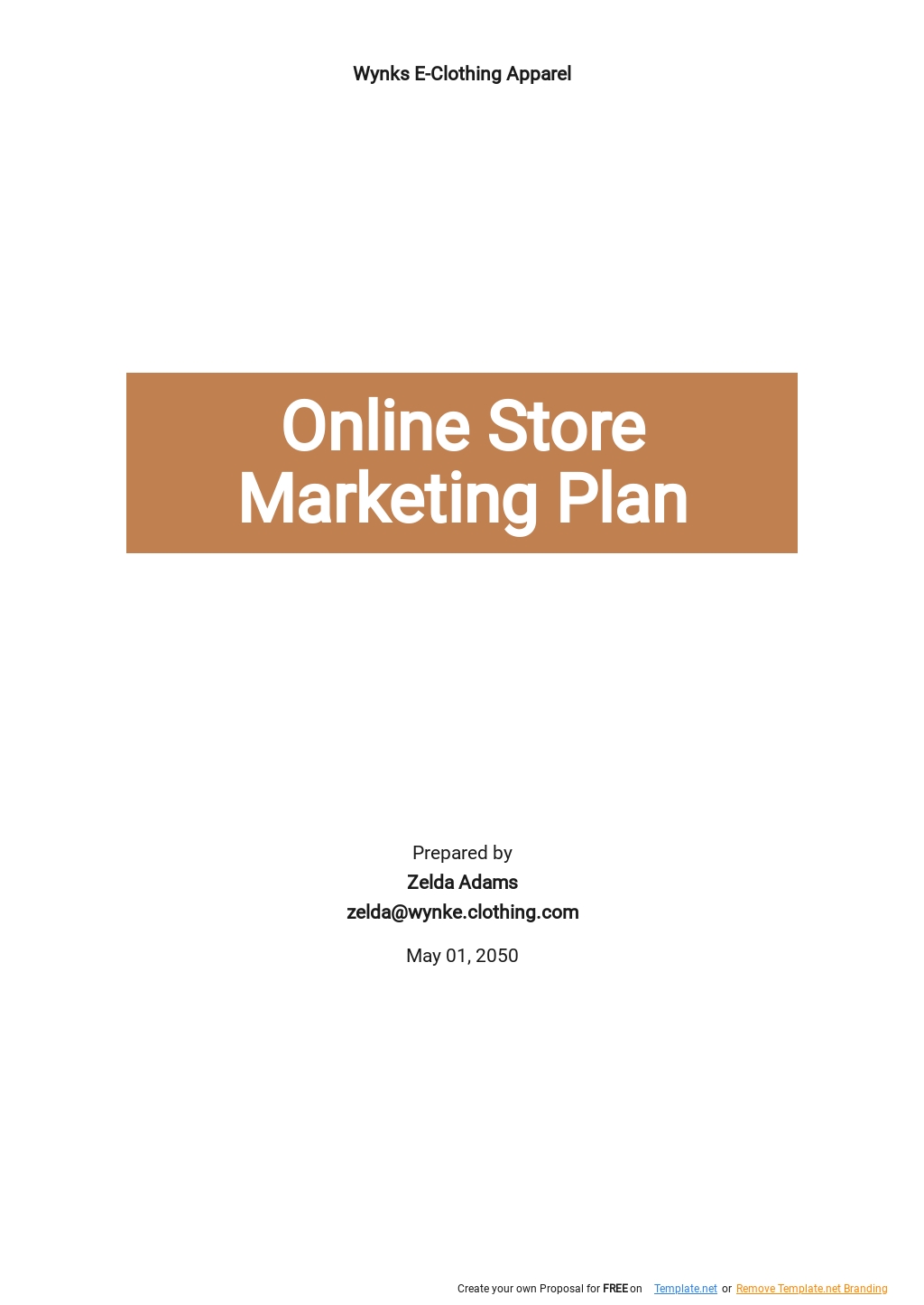 Online Store Marketing Plan Template
Online Business Plan Template
Online Clothing Business Plan Template
Online Clothing Brand Business Plan Template
Online Education Business Plan Template
Online Business Contingency Plan Template
Get Access to ALL Templates & Editors for Just $2 a month