Contact sales
Start free trial
Get your free
Business Case Template
Use this free Business Case Template for Word to manage your projects better.
A business case template is a document that helps sell your project. It collects the main points of a project and delivers them in a clear and concise manner. Our free business case template for Word is a great tool to help you gather that important data during the project initiation phase and show the project stakeholders the value and validity of the project.
What Is a Business Case?
The business case is a document used in project management to show that the costs related to the project are worthwhile and there will be a strong return on investment. These documents summarize various aspects of the project including its objective in addition to the costs and benefits that the project will deliver to its stakeholders.
You can think of a business case as the pitch you make to win over the client, customer or stakeholder. It justifies the project by evaluating the benefits, costs and risks while showing why this project's path is the preferred solution to whatever problem the project is solving or the need it's addressing. This buy-in is essential for any project to meet its objectives.
A business case provides details that are only outlined in the project proposal of the project. Unlike a project charter , which is a high-level description of the project and its deliverables, the business case is more focused on return on investment and future opportunities. The project charter details the actual project more than the business case, which is about justifying a company's decision on taking on the project.
Why You Need a Business Case Template
The main reason why a business case template is so important is that it does the due diligence for stakeholders and proves that the expense is worth the return on their investment. There are many projects that might be in a company's pipeline with only so many resources to deliver them. It's crucial to know which project is going to be worthwhile from a financial viewpoint.
A business case acts as a number of different cases. For one, it's the strategic case, looking to see if the project aligns with the overall company strategy. The economic case explores if the project offers the best value. A commercial case looks at the project through the lens of the market. A financial case sees if the investment is affordable for the company. A management case looks at those who will be involved in the project and whether they can deliver it.
No matter the project, big or small, the business case is a must if only to define the business needs and objectives of the project. Whether you have a long document or capture it all in the span of a single page, the business case template is a great way to align the project team and stakeholders, one of the most important reasons why you need a business case.
How to Use Our Business Case Template for Word
In order to fill in the blanks in our free business case template for Word, you need to start with research. That research will include the market you intend to introduce your project or service to the competitors that are already in that space and any alternatives.
Next, you're going to compare business and project management approaches, looking for the best fit. The best approaches will be included in your business case template. Then you'll compile all the data you have and present those strategies, goals and options.
Don't forget to document everything . Your business case should be to the point but at the same time not skip important details that will sway your stakeholders. In order to do that, you'll want to have an outline and then fill in each section. That's where the free business case template for Word comes in—it does it for you.
Elements of Our Business Case Template
Our free business case template lays out all of the areas you'll need to paint a full picture of the project, its objective, benefits and risks. This picture should be realistic while simultaneously proving the feasibility of the project from the point of view of investment. Our free business case template for Word is broken up into the following categories.
Executive Summary
This is at the top of our template. It's the elevator pitch, in a sense, as it is a short roundup of all the sections that follow in the free business case template. This will provide your stakeholders with a way to get the gist of the whole document at a glance.
Mission Statement
It doesn't hurt to have a mission statement , which is different from the above summary. It is a place to define the project's objectives, purpose and goals. The mission statement is like the North Star in that it will help lead the team as well as help stakeholders understand the project more fully. If the project moves forward, there will be changes along the way and the mission statement will make sure that as you adjust your project plan you always keep the reason for the project in the crosshairs.
Product or Service
In this section, you'll describe the product or service that is the final deliverable of the project. More than just a description, however, it should explain how it will be competitive, what niche it's filling, the problem it's addressing or the need it's filling.
Project Definition
Here, you're going to discuss the project itself, such as what its business objectives are and how you'll achieve them with the project plan outline . This includes the project scope, such as the tasks and deliverables of the project that will allow you to reach your business objectives.
Project Organization
With this section, you'll get into the style of coordination, communication and management you'll use in the project. There are four basic project organizations: functional, which is a traditional structure with departments and managers who report to an executive; project, with divisions that focus on a specific project; organic, where the project follows a natural progression that is more flexible; and matrix, which is part function and part project-based.
Financial Appraisal
This is the dollar and cents part, so it's extra-important as most businesses focus on the bottom line. You'll need to show the costs of the project, which is the budget estimation , including how much all of the tasks and resources will be, and why that cost is less than the benefits that the project will deliver to the business. This comparison can be done with a sensitivity analysis and cost-benefit analysis.
Market Assessment
Whatever your product or service and however successful you say it will be, you must back up those claims with market research. This means looking at the market you plan to deliver your product or service, defining it, showing the competition and its percentage of that market, plus how you can reach an unserved segment of the market or answer a need that hasn't yet been served. Not only the opportunities that you see in the market, but you need to also outline any threats to your product or service.
Market Strategy
Once you have done your market research it's time to develop a strategy to take advantage of the opportunities you see there and avoid the threats. Describe what your distribution channel will be and what you think is a competitive price point for the product or service. Profile your target audience and how you'll reach these customers and other aspects of your marketing plan.
Risk Assessment
No project is without risk. The best way to prepare for this unknown inevitable is by making a risk assessment of the project. Where are the weak points? Identify potential issues that might arise over the life cycle of the project and develop plans to mitigate or take advantage of these risks, as there are both negative and positive risks in a project.
How ProjectManager Helps Turn a Business Case Into a Project
ProjectManager is project management software that helps you turn a business case into a project. We have the tools you need to plan better and monitor your execution so you deliver your project on time and within budget. A business case is what convinces your stakeholders that the project is worthwhile.
Create Detailed Plans on Robust Gantt
The project plan is how you're going to get from the idea to the reality. Now that you've outlined that path in your business case, use our interactive Gantt chart to stay organized. You can organize tasks, link dependencies to avoid bottlenecks and set milestones to track progress. Our tool goes even further by allowing you to filter for the critical path without time-consuming calculations. Once you set the baseline, you can then generate variance reports to see if your actual progress is aligned with your planned progress.
Monitor Progress and Performance With Real-Time Dashboards
In order to meet the expectations set by your business case and keep your stakeholders updated, you need to have an eye on your project to see things as they happen. Our real-time dashboard automatically collects and calculates six project metrics and displays them in colorful graphs that are easy to digest. Unlike lightweight tools, there's no setup required. We also have real-time reports that dive deeper into the data, which can be filtered to show only what you want to see and shared with stakeholders to manage their expectations.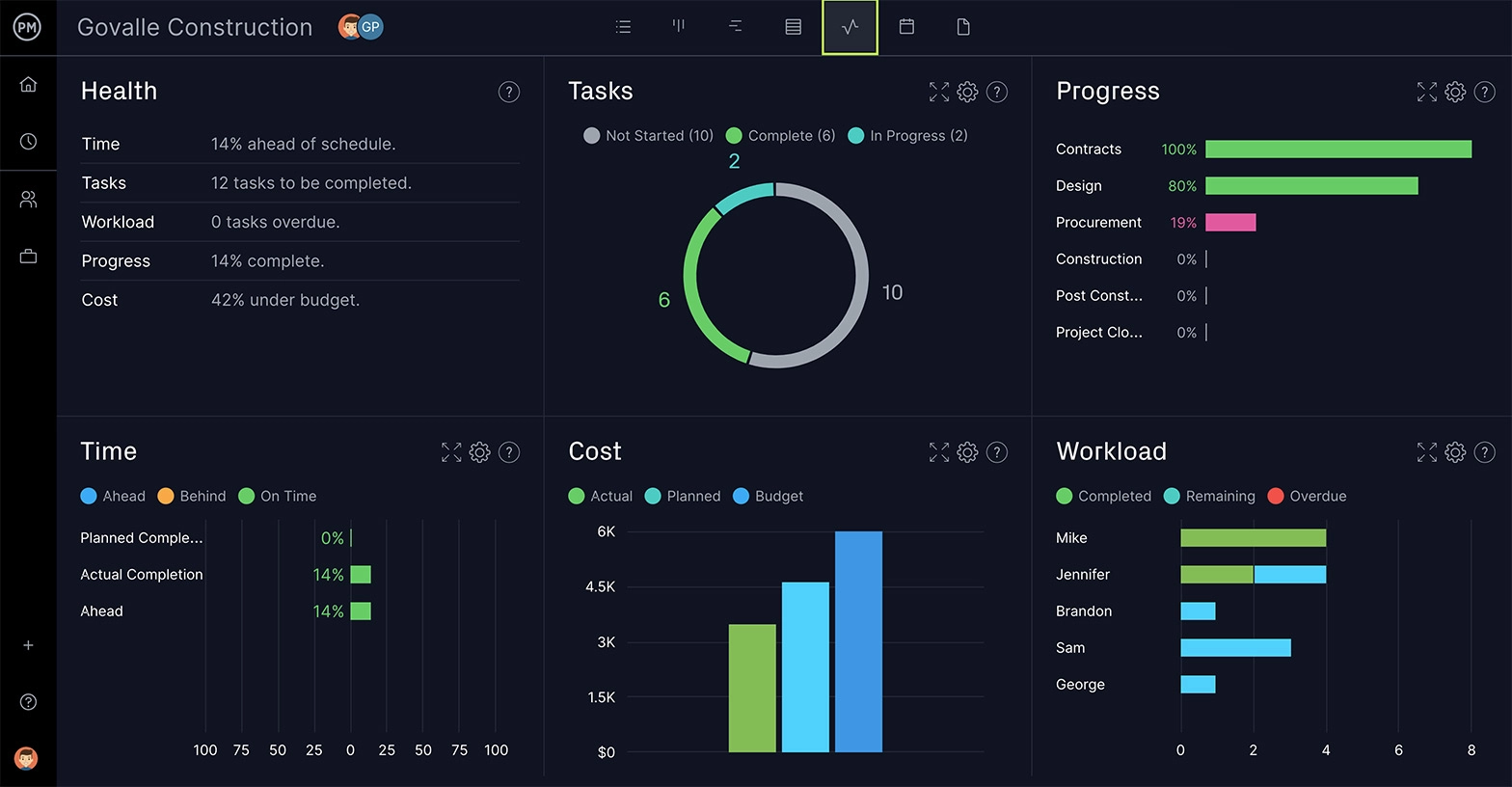 Other Templates to Help Build a Business Case
The business case template is a powerful tool to win over your stakeholders. ProjectManager is not the software that will make the business case a reality. But we're also an online hub for all things project management, including dozens of free project management templates you can download as you're building your business case. Here are a few.
Executive Summary Template
Part of any business case is the executive summary. If you need help composing this overview, our free executive summary template for Word is what you should download. It's all here, everything you'll need to collect the main points and write a powerful and direct executive summary to sway your stakeholders.
SWOT Analysis Template
When developing a strategic plan for your business case, our free SWOT analysis template for Word helps you map the internal and external factors of influence. SWOT stands for strengths, weaknesses, opportunities and threats. This free template download can help you see your project in a bigger context.
Estimate Template
Another important part of a business case is the financial appraisal. What you need is to make an accurate forecast of your project's costs. Our free estimate template for Excel helps you identify all the project costs related to labor, materials and more to show your stakeholders why their investment is going to give them a greater return.
Related Content
ProjectManager is also a great place to read about project management. We publish multiple blogs a week and have hundreds of tutorial videos, guidebooks, white papers and much more. These assets cover every aspect of managing a project, from initiation to close. Here are some related to making a business case.
15 Free Word & Excel Templates for Business
How to Write a Business Case
Cost-Benefit Analysis for Projects: A Step-by-Step Guide
What Is a Project Plan? The Ultimate Guide to Project Planning
ProjectManager is award-winning software that organizes work, monitors progress and reports on performance to keep you productive. Whether you're managing one project or a program or a portfolio of projects, we have the tools that connect teams across departments or the country. Real-time data helps you make more insightful decisions. Join teams at NASA, Siemens and Nestle who use our tool to deliver success. Get started with ProjectManager today for free.
Start your free 30-day trial
Deliver faster, collaborate better, innovate more effectively — without the high prices and months-long implementation and extensive training required by other products.
One-Page Business Plan Templates with a Quick How-To Guide
Smartsheet Contributor Joe Weller
April 6, 2020
In this article, we've gathered a variety of free, one-page business plan templates for you to download in Excel, Word, and PDF formats. 
Included on this page, you'll find a one-page business plan template for a service business , business plan template for a product business , business plan for a real estate agent , a Lean business plan template , and more. To help get you started, we've also included an example of a one-page business plan , and  a quick guide on how to create your one-page business plan .
One-Page Business Plan Template
Download One-Page Business Plan Template
Excel  | Word  |  PDF | Smartsheet
Use this one-page business plan template — designed to be simple, organized, and easy to use — to immediately get started on your plan. Write down your thoughts and key ideas as you decide if your business concept is viable, and adjust it as circumstances change. You can also use this template as a basis to build a more detailed and elaborate plan.
One-Page Business Plan for a Service Business Template
Download One-Page Business Plan for a Service Business Template
Excel | Word | PDF
This business plan template is designed specifically for businesses that provide a service. The one-page plan provides space to list the essential information about your strategy, including the service you offer, the problem you are solving for customers, your mission and vision statements, target audience, staffing requirements, key objectives, and much more. This template also includes a timeline at the bottom for you to add key milestones.
One-Page Business Plan for a Product Business Template
Download One-Page Business Plan for a Product Business Template
Use this one-page template to develop a strategic roadmap for your organization's product offerings. This template provides space for you to include a business overview, a description of your target market, your competitive advantage, a list of marketing channels and materials you plan to utilize, as well as your pricing strategy, distribution channels, and success metrics. You can also use the visual timeline of milestones at the bottom to enter key dates and events.
One-Page Business Plan for Real Estate Agents Template
Download One-Page Business Plan for Real Estate Agents Template
This one-page business plan template is created for real estate agents to set objectives and put together an action plan. Enter your overarching goal at the top of the template, and establish three high-level activities you need to complete to achieve the goal. The template also includes a strategic action plan that breaks down each high-level activity into tasks and deadlines, with an accompanying visual timeline to ensure you stay on track.
One-Page Business Plan for Nonprofit Organization Template
Download One-Page Business Plan for Nonprofit Organization Template
This one-page business plan is designed for a nonprofit organization, with space to detail your mission, vision, and purpose statements, as well as who you serve, the problem(s) you solve, and programs and resources you offer. Additionally, the template includes space to detail your financial plan, marketing activities, costs, and more.
One-Page Business Plan for Startup Template
Download One-Page Business Plan for Startup Template
This one-page business plan template is intended for an entrepreneur or a small startup business to document a plan as they determine if an idea is feasible. This template provides space to describe the problem and solution, the product or service, the target customer, existing alternatives, the unique value proposition, a marketing and sales plan, success metrics, and other information. You'll also find room to detail sources of funding and how the funds will be used.
One-Page Business Plan for Small Business Template
Download One-Page Business Plan for Small Business
Use this one-page small business plan template to outline the essential aspects of your business strategy. Provide details on your organization's vision, mission, product or service offering, and management team. Then identify the target audience, market size, competitor offerings, and your competitive advantage. This plan also includes room to detail your marketing and sales strategy, key objectives, and financial plan.
One-Page Lean Business Plan Template
Download One-Page Lean Business Plan Template
This one-page template uses a Lean approach to develop your business plan. Use this customizable template to detail the crucial elements of your strategy, including a brief business and industry overview, your product or service offering, options from your competitors, and your competitive advantage. Plus, this template includes room to detail your marketing plan, success metrics, financial plan, and a visual timeline of milestones.
One-Page Business Planning Template with Timeline
Download One-Page Business Planning Template with Timeline
Excel | Smartsheet
Use this business planning template to organize and schedule key activities for your business. Fill in the cells according to the due dates, and color-code the cells by phase, owner, or category to provide a visual timeline of progress.
One-Page Business Plan Example
This one-page business plan covers all the essential elements and offers a visually appealing presentation. Information for each aspect of the plan is concise, with details about the business mission, management team, product offerings, key marketing activities, competitors, and financial projections. This plan also provides links to additional resources so that stakeholders can easily find information to support the specifics of the plan.
How to Write a One-Page Business Plan (with Sample Outline)
A one-page business plan takes a standard business plan and extracts the fundamental aspects, then condenses the essential information down to one page. To determine the key elements to emphasize in your one-page plan, consider the type of business you operate, as well as the financial (and other resources) needs of your business.
To streamline your business plan into a one-page document, follow the steps below.
Create a simple outline for your plan using bullet points. Below, you'll find an example of an outline for a one-page business plan. You can add or remove sections according to the needs of your business. 
Business mission
Problem you are solving
Funds needed (if applicable)
Product or service positioning statement
Unique value proposition
Target customers
Market size
SWOT analysis
Direct competitors
Existing alternatives
Competitive advantage
Key marketing strategy (e.g., channel or method that will yield the best results)
Key sales strategy
Specialized equipment or facilities
Staffing requirements (e.g., key personnel, skills, and training needs)
Distribution method
Sales projection
Profit and loss projection 
Gather all your findings on your business and industry.
Compile all the current information you have gleaned from market research, interviews, surveys, and various teams in your business (e.g., the marketing and finance teams). Comb through each document and extract the information that is fundamental to your business's operation and relevant to the bullet points on your outline.
Write two to three brief sentences for each main bullet point.
Once you create your outline and gather information, write two to three sentences for each main bullet point that expands on and summarizes the sub-bullet points for that section. For example, the plan summary section could say the following:
Donny's Food Truck will offer a variety of fresh food at an affordable price in a convenient location. Increased traffic in the Hungry Town area, combined with severely limited dining options, provides an opportunity to offer customers a quick, nutritious meal at a competitive price. A food truck with the necessary equipment has already been acquired, so we are seeking $200,000 to cover wages, emergency repairs, and licenses needed to fund our first year of operations.
Ensure you are able to support all the information provided in your plan.
Since a one-page plan omits many of the details provided in a traditional business plan, be sure you have market research and other supporting documentation on hand to show stakeholders in case they have questions as they review your plan. In addition, make sure you thoroughly understand the supporting information and know how to restate it in your own words before you disburse the plan. 
Ensure your plan answers all the vital questions .
At a minimum, an effective one-page business plan should answer the following questions:
What product or service do we offer?
Who will use the product or service?
What problem does our offering solve?
How will the product or service get to our customers?
What alternatives do our customers use, and why are we superior?
What is our unique value proposition?
What strengths and opportunities can we use to our advantage?
What resources do we need to get up and running?
What will our sales look like for the first few years?
When do we expect to be profitable?
In addition to the steps provided above, you can save time and get started on your plan by downloading one of the templates provided on this page. You can also check out " Free Executive Summary Templates ," which can serve the same purpose as a one-page business plan.
Benefits of a One-Page Business Plan
Organizations and stakeholders can unite behind a strategic direction when they have a business plan in place. Developing a traditional business plan can be a daunting task, so many entrepreneurs, small startups, graphic designers, freelancers, and consultants find a one-page business plan a less intimidating place to start. 
Creating a one-page business plan benefits your organization in the following ways:
Push you to prioritize and focus on key ideas.
Enable your audience to quickly scan and grasp the core concepts of your plan.
Allow you to easily share and pitch your business idea to prospective investors and stakeholders (e.g., email attachment, single piece of paper).
Accelerate business setup, especially businesses that don't need a loan or investment to get going.
Provide a solid starting point to expand upon at a later time.
Enable you to document your thoughts and ideas to see if you have a feasible plan.
Tips for Creating a One-Page Business Plan
Now that you know how to create a one-page plan and the benefits in doing so, here are some tips to get you started:
Set a time limit (up to one hour) to focus and work on your plan.
Use a one-page business plan template (you can choose from the options above), or refer to the sample outline provided on this page.
Ensure your plan details only the core aspects that are fundamental to running and operating your business. 
Remember that this is a living document — continue to revisit and adjust it as strategies and objectives change.
Expand on your plan as your business size and needs grow. 
When the time comes that you need more space to lay out your goals and strategies, choose from our variety of free simple business plan templates . You can learn how to write a successful simple business plan here . 
Visit this free non-profit business plan template roundup  or download a  fill-in-the-blank business plan template  to make things easy. If you are looking for a business plan template by file type, visit our pages dedicated specifically to  Microsoft Excel ,  Microsoft Word , and  Adobe PDF  business plan templates. Read our articles offering  startup business plan templates  or  free 30-60-90-day business plan templates  to find more tailored options.
Improve Business Planning with Real-Time Work Management in Smartsheet
Empower your people to go above and beyond with a flexible platform designed to match the needs of your team — and adapt as those needs change. 
The Smartsheet platform makes it easy to plan, capture, manage, and report on work from anywhere, helping your team be more effective and get more done. Report on key metrics and get real-time visibility into work as it happens with roll-up reports, dashboards, and automated workflows built to keep your team connected and informed. 
When teams have clarity into the work getting done, there's no telling how much more they can accomplish in the same amount of time.  Try Smartsheet for free, today.
Discover why over 90% of Fortune 100 companies trust Smartsheet to get work done.
Create a business plan
Brand your business
Empower your business with remote work
Appointments with Bookings
Customize Bookings
Connect in an appointment
Collaborate with Teams
Communication tips
Bring teams together
Collect information
Share notes
Plan projects
Create estimates, invoices
Manage business finances
Schedule appointments
Promote your business
Manage leads and sales
Track, analyze business data
Schedule staff shifts
Manage travel requests
Track mileage
You've been dreaming of starting your own business. You've started with some concrete steps, and you're ready to put your proposal together. But how do you start, and how do you know when you have the right information?
How to get it done
Create a business plan with templates in Word:
Start with a template
Download these templates from the Office Templates site to create your plan:
Fill in your Business plan .
Analyze your market with the Business market analysis template .
Detail your financials in a Financial plan .
Divide up the work and track deliverables with this Business plan checklist .
Wrap up with this Business startup checklist .
Need a little help?
Learn how to:
Start a document from a template .
Apply themes to change your plan's look.
Related resources
Related article
Must follow steps for starting a successful business
Buy Microsoft 365
Get Microsoft 365
Get help setting up
Training and in-person help
Need more help?
Expand your skills.
EXPLORE TRAINING >
Get new features first
JOIN MICROSOFT 365 INSIDERS >
Was this information helpful?
Thank you for your feedback.
Business design templates
There's no such thing as business as usual when you work with customizable design templates. from print projects like business cards and flyers to digital designs for presentations, spreadsheets, and documents, create almost anything you need for your business..
How To Write the Perfect Business Case
Why do too many projects fail to deliver their objectives even though project management best practices appear to be used? Project management is naturally complicated, but it can be disastrous if you don't have sufficient buy-in from the right parties. Writing a strong and complete business case can make all the difference.
In this how-to guide you will discover,
Why you need a business case
Is the project worth doing?
When to use a business case
How to write a business case, the business case template, a business case example, 1. the executive summary, 2. the finance section, 3. the project definition, 4. project organization, managing the business case, making the case, frequently asked questions, what is a business case.
A business case is developed during the early stages of a project and outlines the why, what, how, and who necessary to decide if it is worthwhile continuing a project. One of the first things you need to know when starting a new project are the benefits of the proposed business change and how to communicate those benefits to the business.
While the project proposal focuses on why you want a project, it will only contain an outline of the project:
business vision
business need
expected benefits
strategic fit
products produced
broad estimates of time and cost
and impact on the organization
In contrast, the business case, which is first developed during the project initiation phase , contains much more detail. It should be reviewed by the project sponsor and key stakeholders before being accepted, rejected, canceled, deferred, or revised.
Depending on the scale of the business change, the business case may need further development as part of a detailed investigation. Therefore, it should be developed incrementally so that time and resources aren't unnecessarily wasted on the impractical.
Preparing the business case involves an assessment of:
Business problem or opportunity
Costs including investment appraisal
Technical solutions
Impact on operations
Organizational capability to deliver the project outcomes
These project issues are an important part of the business case. They express the problems with the current situation and demonstrate the benefits of the new business vision.
The business case brings together the benefits, disadvantages, costs , and risks of the current situation and future vision so that executive management can decide if the project should go ahead.
Many projects start life as a walk in the fog, which is fine in itself, but never see the light of day or stumble along aimlessly for too long because the clarity of scope , time-scale, cost, and benefits are not defined adequately during the first stages of the project.
Is the project worth doing
Why are you starting a project? Chances are you're doing it because you need to solve a problem.
Usually, the problem is something that gets in the way of achieving your goals . So, it seems a project is about achieving goals and your goals won't be realized unless you deal with the problem (or opportunity or circumstance.)
If a project is worth doing you need to answer 4 simple questions:
What is your goal?
What's stopping you from reaching the goal?
How much change is needed to overcome the problem?
Are you certain this will solve the problem?
Can you answer these questions quickly? Do you have evidence to support or refute your assumptions?
If not, it may not be worth starting a project.
Ebook: The Complete Guide to Planning Creative Projects Ebook: 3 Strategies to Plan Successful Marketing Projects
The business case is needed when resources or expenditure on a project has to be justified. Approval is usually sought from the project sponsor and other interested parties. For instance, the finance function may authorize funds and the IT department provide resources.
The purpose of the business case is communication. Therefore, each section should be written in the parlance of the intended audience.
Moreover, it should only contain enough information to help decision making. When writing a business case keep the following in mind:
Be brief and convey only the essentials.
Make it interesting, clear, and concise.
Eliminate conjecture and minimize jargon.
Describe your vision of the future.
Demonstrate the value and benefits the project brings to the business.
Ensure consistent style and readability.
The project sponsor is responsible for preparing the business case. However, all appropriate team members should contribute to its development. Likewise, subject matter experts from other functions ― finance, HR, IT, service delivery, and so on ― can provide specialist information.
Those writing the business case should have a thorough understanding of the project's aims and be able to merge the varied and potentially complex plans into one document using the following business case template.
What follows are the four steps to writing a business case template for your project. It includes the following four sections:
Executive Summary
Project Definition
Project Organization
This example of a business case is a simplified version for a small company with few staff. The bigger the project, the bigger the risk, which means the more detail you will need to provide for your investors and stakeholders.
EXECUTIVE SUMMARY
In 2021, retail e-Commerce revenue reached 768 billion US dollars. People are expecting more digital experiences and want to interact and purchase what they need online.
Our current website is just a static page with no interaction available to possible customers. With a website upgrade to incorporate an e-Commerce store, we can entice users to purchase all their training online, in return increasing productivity and efficiency within the office. An estimated $25,000 could be saved a year through this upgrade.
1.1 Financial Appraisal
The expected cost of the new website is $15,000 with a $500 annual maintenance fee.
The training costs of the staff is estimated at $2,000, but the reduction of administration and manual handling of orders is estimated to save $25,000 annually.
1.2 Sensitivity Analysis
The alternatives include:
Maintaining the current system, which costs $25,000 annually to maintain and run.
Upgrading the website, but not including an e-Commerce store. This would cost $6,000, but the cost of processing the orders is still $25,000.
Outsourcing the training purchases to a third-party site, which would cost between $49.99 - $100 per month. In the long run this would cost more and offer less development scope.
2. PROJECT DEFINITION
2.1 Background information
The World is digitizing and we, as a business, must keep up with consumer demand if we are to remain one of the most sought-after training providers.
Since 2020 and the outbreak of Covid-19, many more people have been working remotely and wish to access their training requirements online. We need to update our systems to provide our customers with a purely online system that can provide them with their required training courses in a virtual environment, from purchase through to attendance. This new e-Commerce website is the first step in this process.
2.2 Business Objective
The goal is to provide an online platform where customers can purchase their training requirements.
The solution is to build an e-Commerce website.
This syncs with the business strategy, as it will increase efficiency and profits.
2.3 Benefits and Limitations
The benefits of this project far out-weigh the negatives. They include:
Improvement in the quality of customer service and user journey
Increased conversion rate through streamlined processes
Cost savings through efficiencies
Reduced working capital
Increase in revenue generated
Remain competitive in a digital world.
The limitations of this project remain with staffing, as we do not have a web designer or developer within our company, meaning this will still have to be outsourced if anything arises at a future date.
2.4 Option Identification & Selection
Options for the e-Commerce site include the following:
WordPress website with WooCommerce store
All-in-one website hosted on e-Commerce platform such as Shopify
Use of third-party payment system, such as Stripe, PayPal, or Worldpay
Ability to take payments directly through the website and acting as controller and processor of user's sensitive data
Inclusion of a blog
Integration of CRM platform.
2.5 Scope, Impact, and interdependencies
The website will be built independently from the current site, so will not affect any current processes or user experience.
2.6 Outline Plan
The website will be built by an external agency and will take around 6 months to complete and push live.
One month before going live the staff will undertake essential training.
2.7 Market Assessment
Since retail e-Commerce has risen to $768 billion US Dollars, it's time we also made the move to online sales.
2.8 Risk Assessment
The project will be completed out of house.
2.9 Project Approach
The project will be managed out of house.
2.10 Purchasing Strategy
We will enter a contractual agreement with the creative agency. Attached is a copy of the proposed contract.
3. PROJECT ORGANIZATION
3.1 Project Governance
Project will be managed by the agency and in-house by the Centre Executive.
3.2 Progress Reporting
The agency will report to the Centre Executive.
Depending on the length of the business case you may want to include a high-level summary of the project.
The executive summary is the first section of the business case and the last written. It is a short summary of the entire business case. It succinctly conveys vital information about the project and communicates the entire story to the reader.
First impressions are important. Get this right!
The finance section of an effective business case is primarily for those who approve funding. The finance function will be interested in this plus the first half of the project definition.
Financial appraisal.
When you prepare the financial appraisal seek advice on content and presentation from the finance function. In the case of capital developments, consult subject matter experts.
The purpose of a financial appraisal is to:
Identify the financial implications for the project
Compare project costs against the forecast benefits
Ensure the project is affordable
Assess value for money
Predict cash flow.
Sensitivity analysis.
Sensitivity analysis concerns project risk and looks at alternative futures by measuring the impact on project outcomes or assumptions of changing values in which there is uncertainty.
In effect, sensitivity analysis lets the project accountant experiment with possible scenarios.
This is the largest part of the business case and is for the project sponsor, stakeholders, and project team. It answers most of the why, what, and how questions about your project.
Background information.
The purpose of this section is to give a clear introduction to the business case and project. It should contain a brief overview of the reasons why the project or business change has come about: the problem, opportunity, or change of circumstances.
If necessary, refer to related programs, projects, studies, or business plans.
Business objective.
This part describes why you are doing the project. The business objective answers the following questions:
What is needed to overcome the problem?
How will the project support the business strategy?
Benefits and limitations.
The benefits and limitations section describes the financial and non-financial benefits in turn. The purpose is to explain why you need a project.
For instance, to:
Improve quality
Save costs through efficiencies
Reduce working capital
Generate revenue
Remain competitive
Improve customer service
Align to corporate strategy
The business case should also include any limitations since these present potential risk to the project.
Option identification and selection.
Identify the potential solutions to the problem and describe them in enough detail for the reader to understand.
For instance, if the business case and proposed solution makes use of technology, make sure to explain how the technology is used and define the terms used in a glossary. Since most problems have multiple solutions an option appraisal is often needed. This will explore the potential solutions and recommend the best option.
When writing the initial business case, the option appraisal is likely to contain a long list of options and will cover many possibilities. As the project continues a few options will be rejected. The final business case may contain three to five options ― the short list ― that includes a do nothing or benchmark option.
Scope, impact, and interdependencies.
This section of the business case template describes the work needed to deliver the business objective and identifies those business functions affected by the project.
Moreover, the project scope, impact, and interdependencies section should state the project's scope and boundaries. It describes what is included and what is excluded plus the key interdependencies with other projects. It is important for the business case to consider the failure of other interrelated projects and show how such dependencies make impact benefits.
Outline plan.
The outline plan provides a summary of the main activities and overall timescale ― project schedule ― for the project.
A project should be divided into stages with the decisions to make preceding each stage. Use this section to answer the following questions:
What is required?
How is it done?
Who does what?
When will things happen?
This outline plan lists the major deliverables and includes a brief project description plus accountabilities for each activity.
Market assessment.
It is important that the business case provides its readers with a thorough assessment of the business context ― the market assessment. In other words, make the underlying business interests explicit.
Therefore, the market assessment should show a complete understanding of the marketplace in which your business operates.
A good starting point is the inclusions of a PESTLE ― political, economic, sociological, technological, legal, and environmental ― analysis.
Risk assessment.
The risk assessment summarizes the significant project risks and opportunities and how they are managed. Include any risks that could arise from your project, as well as the organization's ability to deliver change.
This section answers the following questions:
What risks are involved?
What are the consequences of a risk happening?
What opportunities may emerge?
What plans are in place to deal with the risks?
Every project should include a risk log
When writing a business case, make sure this is included as it explains how risk and opportunity are managed.
Project approach.
The project approach describes how the project is tackled. That is, the way in which work is done to deliver the project.
For instance, a project with much of the work contracted out is likely to take a different approach to a project that develops an in-house solution.
Purchasing strategy.
This section describes how a project is to be financed and whether a decision to buy, lease, or outsource should be taken by the organization before purchasing.
Moreover, the purchasing strategy should describe the purchasing process used. A formal procurement process may save time and money and reduce project risk.
The last section of the business case template is of most interest to the project manager, project team, and managers responsible for delivering work to the project. This project organization section describes how the project is set up.
Project governance.
This section of the business case template shows the reader how the project is structured and the different levels of decision-making. Usually, a business will already have implemented a project governance framework that will support the project through each stage.
If your organization does not use a structured project management process framework use this section to include:
Roles and responsibilities (RACI Chart)
Project tolerances
Project standards
Review points
How decisions are made.
Progress reporting.
Finally, the business case should define how project progress is recorded and the project board updated on project performance. Usually, the project manager does this by preparing a concise progress report or highlight report at regular intervals.
On-Demand: The Manager's Guide to Avoiding 7 Project Portfolio Pitfalls Ebook: 3 Winning Strategies for IT Project Success
The completed business case provides structure for the project and project organization throughout the project lifecycle . Therefore, it should be used routinely for reference and not consigned to the shelf.
Accordingly, the project sponsor and project board should review and update the business case at key stages to check that the project remains viable and the reasons for doing it are still valid. Ideally, the review should take place before starting a new stage to avoid unnecessary investment in time and money.
In this article we showed you how to write a business case. We covered a lot of ground and may give the impression that the resulting business case is a large and unwieldy document.
This is not the case.
A business case should be concise and to the point. For small projects it may run to a few pages. For larger projects and complex business change endeavors the document will be large.
Therefore, be sure to keep the intended audience in mind when preparing each section and include supporting information in an appendix.
For instance, the option appraisal section may summarize each option with the details contained elsewhere for reference.
To conclude, the purpose of a business case is to outline the business rationale for undertaking a project and to provide a means to continually assess and evaluate project progress.
What is the difference between a business case and a business plan?
The focus of the business case is an action, which is usually the purchase of capital equipment or a service. In comparison, the focus of the business plan is to outline the future of a business proposal, it's margins, revenue growth over several years and what the business goals and strategies will encompass.
What should be included in a business case?
Writing a business case can seem like a daunting task, which is why we have provided you with a business case template and example to help you make a start.
The four sections include:
What is a business case template?
A business case template provides you with a structure and format to present your case to relevant stakeholders and investors. It's essential that this document communicate the essence of your project's goals and benefits, while aligning with the company's strategies and objectives.