26 Soccer Activities For 5 Year Olds (2023)
Soccer activities for 5-year-olds are simple and fun.
Whether you are a youth soccer league coach or looking for some soccer drills to do in your backyard, I got you covered.
Quick Links: (28) Soccer Activities for 5-year-olds
Dribbling/Ball Handling (Drills 1-9)
Passing/Trapping (Drills 10-14)
Shooting (Drills 15-20)
Defensive Drills (Drills 21-23)
Goalie Drills (Drills 24-28)
Luckily, with my experience teaching elementary physical education to a wide variety of kids ages, I have developed a list of 28 FUN Soccer Activities for 5-year-olds.
Before we get into the activities, you need to make sure you have the right equipment!
Dribbling and Ball Handling Drills
Learning how to dribble the soccer ball is one of the essential skills in the game!
Dribbling allows you to move the ball up the field, move around defenders, and allow you the chance to score a goal!
Dribbling Tips
Use the following dribbling tips when teaching beginners soccer.
a. Use the inside/outside of your feet.
b. You need to use both of your feet.
c. Under control
d. Short taps
e. Keep your eyes up!
Drill #1: Dribble in an open playing field
This is as simple as it gets! But this is a perfect soccer drill for 5-year-olds.
Instructions
Find an open space in your backyard or driveway.
Have your child practice dribbling the soccer ball by using little kicks, keeping the ball in control, and using the inside and outside of their feet.
Drill #2: Volcano
Once your 5-year-old understands how to dribble the ball, add some obstacles in the mix!
In an open area, set up some cones randomly.
Your child should dribble throughout the volcanoes (cones) without hitting them!
If they hit a volcano, they should do a set of 10 jumping jacks or 10 ball taps before returning through the course.
Check out a video of this activity to see how it works!
Drill #3: The Tunnel
The tunnel is a simple and fun way to start to practice aiming and ball-handling skills!
Even though these activities seem too easy, they are PERFECT soccer drills for beginners!
Stand with feet in a straddle position, making a tunnel formation.
Have your child use the inside of their foot to kick the ball through the tunnel, t his works on aiming skills .
If you have other people in your family who are playing, line them up, so there are a few tunnels they have to go through.
Drill #4: Obstacle Course
Obstacle courses are a fun way to get kids active! They love seeing all the equipment set up for them to use.
These drills are great to work on agility and dribbling, ball-handling skills!
exercise ladder
passing arcs
Using the equipment listed above, create an excellent obstacle course for your child to dribble through.
These can be created for just one player or a team!
I absolutely love this account, he created really wonderful tutorials on soccer drills. Check out his video below to see a great obstacle course set up.
Drill #5: Freeze!
soccer balls
Let your child dribble the soccer ball freely in the playing area.
When you say FREEZE, they should stop dribbling and trap the ball with one foot.
This works on ball handling, dribbling, and trapping skills.
Drill #6: Inside/Outside Circles
Does your five-year-old kick with their toes instead of using the inside/outside of their feet? If so, this is a perfect drill to work that.
Tell your child that they can only use the inside part of their feet for this drill.
Place the soccer ball on the ground and have them kick the ball in a circle formation by placing poly spots on the ground so they have an idea where to move the ball to.
After they have repeated this several times, switch to having them work on the outside of their feet.
They should practice using both feet inside and outside for better ball control!
Drill #7: Side to Side Taps
Here's another quick and easy ball-handling soccer drill for 5-year-olds.
This drill works on using the inside of your feet for good ball control.
Have your child kick the ball back and forth between their two feet using the inside of their feet.
At first, they will start slow, as they get good at this drill, they can do this a little faster.
Drill #8: Dribbling Speedway
This is a fun activity to do with a group of people! I have done this in my physical education classes, and the kids enjoy it!
A fun introduction to this can be to ask the kids if they have ever seen a NASCAR race and explain that they will all be pretending that they are racing on the speedway with their soccer balls!
Place the cones in a large circle formation to make the speedway.
Each child should have a soccer ball. On the GO signal, everyone will start dribbling at the same time in the same direction.
This game aims to try to see how fast they can dribble while keeping the ball in control.
Explain that they should use the inside/outside of their feet because they want to keep the ball close to their bodies.
Kids should count to see how many laps they can get before the whistle is blown.
Drill #9 Red Light Green Light Soccer
Kids love the game Red Light Green Light!
This is a perfect dribbling and ball-handling activity for beginning soccer players!
The coach/parent will stand on one side of the court.
Each child will get a soccer ball and they will stand at the opposite end!
When the adult says green light, they will dribble the soccer ball towards the adult.
When the adult says red light, the kids will trap the ball where they are. If they don't, they will have to start back at the beginning.
The goal is to try to be the first player to get to the adult!
Passing and Trapping Drills
Passing and trapping are essential for beginners to learn how to play soccer!
Kids need to learn the importance of using their teammates!
Passing Tips
1. Non-kicking foot next to the ball.
2. Use the inside of your foot.
3. Contact the ball in the middle.
4. Follow through, so your kicking foot goes to your target.
Trapping Tips
1. Get in front of the soccer ball to trap it.
2. Relax the body part you are trying to trap with (inside of your foot or bottom of the foot).
Drill #10: Partner Passing and Trapping
This is the perfect activity for beginner soccer players to learn how to pass the ball!
Stand about 8 feet across from your child to start.
Show them how to pass and trap using the tips above.
They will pass the ball to you, and you will trap it and vice versa repeatedly.
Take a few steps back if they are doing well and want to try to kick the ball a little farther!
Not challenging enough? Add in cones and pass back and forth, trying to get the ball in-between the cones to your partner!
Drill #11: Pressure Passing
Want to get your family involved? This is a great activity for even a small family to practice passing skills!
Make a medium-sized circle formation with a set of cones for every person that's playing.
One person will be chosen to stand in the middle of the circle while the others are placed near a cone on the edge of the circle.
A player on the edge of the circle will pass one soccer ball to the person in the center.
The player in the middle will trap the ball and pass it to someone else on the edge of the circle.
Another ball is added in after the first ball is passed onto someone else.
There should be 4 soccer balls added for this age level.
Switch who is in the center after a few minutes of play!
Drill #11: Pickle in the Middle
Kids love the game pickle in the middle! Making this a soccer activity will be both fun and challenging for the kids!
Plus, it's always changing, which is my favorite part, the kids always have to be trying their best!
You need to have at least 3 people to play this game.
Two players will be standing across from one another while the last player acts as a defender in the middle.
The people who pass the ball receive 1 point for each time they can successfully make it to one another without getting the ball intercepted.
If the ball gets stolen from the player in the middle, the person who kicked the ball switches with them.
Drill #13: Looped Passing Drill
This is a little bit more of a complicated drill, but it works on passing and ball-handling skills!
Set up two cones a few feet across from one another.
Have your child start with the ball, and they should pass the ball to the right side of the cone.
The person who is receiving the ball uses their right foot to receive the ball, passing the ball over to their left foot to pass the ball back to their partner using their left foot aiming for the left side of the cone to get to their partner. This is all going in a clockwise formation.
Repeat this drill as many times as you want and then switch to go counterclockwise formation.
To see this specific activity in action, check out this video!
Drill #14: Attack
This game focuses on teamwork and being aware that there are other people on the field that can help them.
These skills are important to teach 5-year-olds!
soccer goal
This game requires the whole family/team to play!
One person will be standing near the goal (they will be the defender).
The other two players will be working together to score a goal.
On the GO signal, the offensive players will be passing to one another when you say PASS.
Once they have done a few passes, yell out ATTACK!
The defensive player goes into the field to try to steal the ball from the offensive team.
If they steal the ball before you say PASS again, the person that they took the ball from will become the defender and the defender will now be on the offensive team.
When the offensive team scores a goal, play will restart, and roles will be chosen again!
Shooting Drills
What does every 5-year-old want to do when they are on the soccer field?
SCORE A GOAL!!
Shooting Tips
1. The non-kicking foot should be next to the ball.
2. Contact the ball below the middle.
3. The ball should be kicked by your shoelaces.
4. Follow through and kick hard!
Drill #15: Ghostbuster Soccer
I love this game because it works on shooting, aiming, and goalie work!
Try to have an even amount of people with soccer balls and people with pins.
Players with a soccer ball are attempting to kick the ball with the front of their foot to knock down pins.
The players with a pin guard that pin from being knocked down (they can do this by kicking the ball away or using their hands to pick up the ball).
They can't hold up their pin with their hands or feet to keep it from falling.
If their pin falls, they must do 10 jumping jacks before returning into play.
After a few minutes of play, switch roles!
Drill #16: Pin Knock Over (Soccer Style!)
Pin knock-over is one of my favorites in my physical education class!
This is an excellent beginner soccer drill/game for kids!
plastic bowling pins
Divide teams equally.
To set up the game, each team should have an equal amount of pins on their side.
The goal is to knock down the other team's pins without crossing the half-court line.
The students can only KICK the ball to knock down the pins.
If all of the pins get knocked down, set them back up and play again!
Here's a video for pin knock-over, just imagine it like a soccer game!
Drill #17: Poly Spot Shot
This is a simple set-up that you can do right in your backyard with your child!
You can also make this as easy or complicated as you'd like depending on the skill level!
Set up poly spots/cones around the goal.
Have your child place the soccer ball at the first spot, and they will attempt to shoot the ball into the goal.
If they miss goals from certain spots, they should go back and practice those spots a few times.
You can repeat this as many times as you want. To make it a bit more challenging, you can always move the spots/cones back.
Drill #18: Receive and Shoot
Most of the time in soccer, the ball is not placed on the ground to just shoot and aim.
This drill works on shooting a ball when it's rolling!
Pass the ball to your child gently.
They will run up to the ball and attempt to kick it in the goal.
Repeat this drill several times.
Drill #19: Dribble and Shoot!
This beginning soccer activity is perfect to practice multiple skills in one!
Tip: Kids can go as fast/slow as they need to through the cones; doing it correctly is what matters!
Set up cones in a formation where your child has to weave through them with a soccer ball and a goal at the end.
Have your child dribble the ball through the cones and tell them to stop at the spot in front of the goal.
From that spot, they are to shoot the ball into the goal.
This drill works on ball handling and shooting. They should pretend that the cones are defenders that they are trying to get around.
Too easy? Have someone jump into the goalie position and see if they can get it past the goalie to score a goal!
Check out this simple setup in the video below!
Drill #20: Target Shot
How cool is this target shot shooting tarp to put over your goal?
This is such an awesome way to work on shooting/aiming skills! Kids will love this challenge.
Check Amazon
How to use the target goal
A. This goal comes with a target shot tarp you can put over the goal.
B. You can take it off to just practice shooting in a normal soccer goal.
C. There is another tarp provided to act as a rebounder, so the ball will automatically come back to you; I mean, how cool is this thing!
Defensive Drills
Defense is just as important as offense in my opinion because that's how you stop the other team from scoring a goal!
Take a look at these defensive drills that your kids will love!
Drill #21: Pirates and Sailors
This is my favorite soccer drill that I do with my physical education students.
We start with this activity each year during our soccer unit!
Depending on how many people are playing, try to choose an even amount of pirates and sailors.
The person with the ball is the sailor, and the one defending them is the pirate.
Pirates are trying to steal the ball away from the sailors using correct defensive techniques.
There should be NO pushing or kicking.
If the ball is stolen, then the players switch roles!
Drill #22: Sharks and Minnows
Sharks and minnows is a classic game that kids can't get enough of!
This is a great soccer drill for beginning soccer players!
Create a playing area by using cones, so the kids know where the boundary lines are.
Choose 1 or 2 people to be the sharks (defenders), and they should go to the center of the playing area.
The other kids will line up by one set of cones.
On the GO signal, the kids will attempt to dribble their ball across the playing area to the other set of cones without getting their ball stolen and kicked away from the shark.
If they get their ball stolen and kicked away, they join the other sharks.
The goal of the game is to be the last one standing!
Drill #23: King of the Ring
King of the ring is a fast-moving soccer drill that will get kids excited to play!
So many skills are including in this soccer drill; it's the perfect one for your team's soccer practice.
Create a playing area with cones making a large square formation.
Everyone playing will have a soccer ball.
Players are trying to kick other people's soccer balls outside of the ring while keeping their ball in control.
If a player's ball gets kicked out of the ring, they are "out" for that round (you can have them do jumping jacks, sit-ups, push-ups, mountain climbers, etc., to keep them moving).
The goal of the game is to be the last one standing in the ring!
Goalie Drills
Kids always get excited to get into the goal because they can use their hands!
It's important that kids learn about the position of a goalie because, during a game, they may need to step in to play!
Drill #24: Basic ball handling
Having basic ball-handling skills is the important step in learning how to be a goalie!
Rolling figure 8's- have them complete figure 8's repeatedly by rolling the soccer ball around their feet, keeping the ball in control as quickly as they can.
Figure 8's around legs- pick the ball up off the ground, and complete figure 8's around the lower legs.
Ball around the waist- have the ball go around your waist making a circular formation 5 times one way then go the opposite way 5 times.
Throw and catch- Have them throw the ball up in the air and catch it.
Does your child ever get frustrated when they can't do something right the first time? See how I calmly handle and encourage her to keep trying!
Drill #25: Goalie practice
Time to get in the goal!
The only way to see if your child likes playing the position of goalie is to practice!
Set your child up at the goal, a little bit in front of the goal, not directly inside it.
Start by kicking the ball gently towards giving them practice on how to stop the ball from entering the goal.
Depending on how well they do, you can up the intensity on how hard you are kicking the ball.
In the beginning, try to keep the ball on the grass and not kick it up into the air until they are ready.
*Tip: If your worried about your child getting hurt during this drill, use a soft larger dodgeball or lighter weight kickball before using a real soccer ball.
Drill #26: Partner High Ball
Instructions .
Stand a few feet away from your kiddo.
Explain that you are going to toss the ball in the air to them and you want them to catch it and bring it close to their body.
This activity will help them learn how to hold onto the ball when it's kicked up into the air near the goal!
Drill #27: Movement Drill
Set up two cones a few feet away from each other in front of the soccer goal.
Have your child get the idea of what to do first by running up to the first cone, keeping their head up go around the cone and shuffle their feet backward, repeat this until they get this step.
Once they understand the footwork piece, add in the soccer ball by rolling it towards them.
They should try to stop the ball from entering the goal with their hands.
You can roll the ball right to them at first then once they get the hang of it, try having them move to either side to stop the ball.
Check out this video to see how it's exactly done!
Drill #28: 4 Goal Soccer
This is my favorite game to play with the kids! It keeps everyone involved and moving.
It also gives 4 kids the chance to practice some goalie skills!
goals/cones
Split the team up into mini teams. Give them different colored jerseys!
Choose 1 person on each team to be the goalie (have an actual goal or just set up some cones for a goal).
Pins will be placed (4) at each team's goal!
Throw out a few soccer balls (3-4). The kids will try to score at all the other goals besides their own.
If they score a goal, they can take a pin for that team's goal and place it by their goal.
The team with the most pins at the end is the winner!
For most of these drills, you will need the following things
1. soft soccer balls.
For younger kids or beginners, this type of soccer ball is best to learn how to do soccer skills correctly. It's safe and lighter to kick!
Check Price
2. Real soccer ball
If you know your child's soccer team uses a real ball during practices and games, you will want to practice with a real one at home to get them used to it. Real soccer balls are heavier and a bit harder to kick for younger players.
4. Youth soccer goal
5. soccer cleats.
Check Amazon's Price
6. Goalie gloves
7. shin guards.
Final Thoughts and Conclusion
These soccer drills for beginners are perfect for backyard and youth soccer leagues!
If you decide to do one of these activities with your child/team, I'd love to hear how it went!
What are some of the soccer drills or games that you do at home with your kids that have been successful? Please share them with us by leaving a comment below!
Share this:
Click to share on Twitter (Opens in new window)
Click to share on Facebook (Opens in new window)
Similar Posts
20 EXCITING Tag Games
40 EXCITING Outdoor Games for Kids
40 EPIC Outdoor Field Day Activities
28 ENTERTAINING Indoor Activities For Toddlers
22 Halloween Party Ideas For Kids
7 Active Games For Preschoolers To Play At Home!
THANK YOU SO MUCH FOR THIS!! I'm starting a little soccer club after school with 4 little ones and I am not at all sure what I am doing. This post with all these skills, drills, and games laid out is going to be a lifesaver. Wish us luck!
Activities like these are perfect to help kids with their overall physical development. It would even encourage them to have some outdoor fun. Thanks for sharing these ideas!
Leave a Reply Cancel reply
Soccer Drills & Games For 5-Year-Olds (Easy Guide)
There are many skills for a 5-year-old to learn playing soccer. This article will guide you will skills, practice, and drills.
The ripe age of 5 is when many kids first try their hand (or foot) at soccer.  The truth is that many of these bright-eyed 5-year-olds won't end up playing professional soccer, and that's okay!
5-year-olds should only have a few short practices a week and be focused on fun games. The focus should be on basic skills, both soccer and social, to help these kids grow their interest in the sport.
Make no mistake, coaching 5-year-olds is no walk in the park! Soccer coaches and parents alike must understand the ins and outs of how young kids should practice soccer.
Before we look at the soccer drills, let's look at some common questions coaches and parents have about 5-year-old soccer players…
How should 5-year-old practice soccer?
5-year-olds should practice soccer in a way that is fun and enjoyable. Games that incorporate basic skills are the best way for 5-year-olds to grow their skills and love for the game.
How do I coach my 5-year-old soccer?
How you coach a 5-year-old can impact how they view the game for the rest of their lives.
If they have a strongly negative first experience, there's a good chance they won't continue the sport. Coaches should be encouraging, positive, and fun.
While you will need to establish rules for respect and appropriate behavior, coaching 5-year-olds is more about introducing them to the sport in a fun way.
Focus on games that "hide" soccer skills in them, not rote soccer drills. Remember, attention spans are short. Keep activities moving quickly and give plenty of breaks.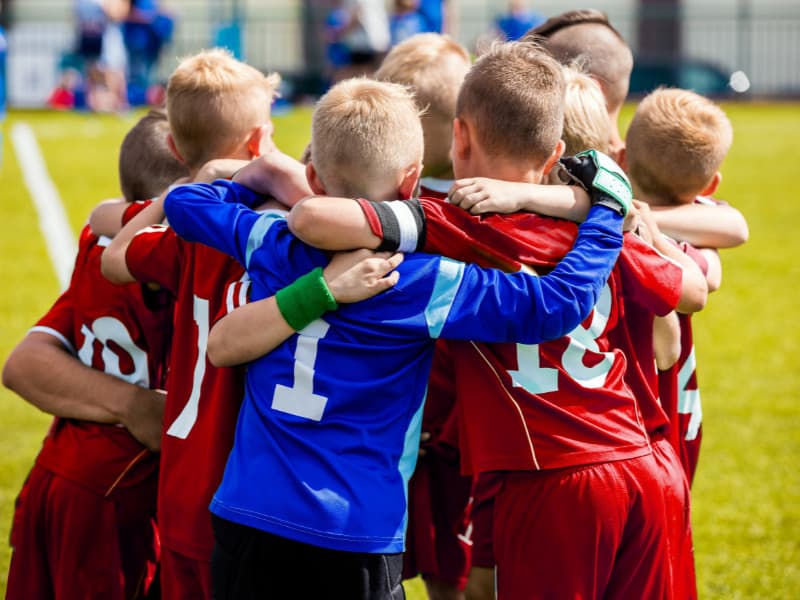 What size soccer ball does a 5-year-old use?
5-year-olds use the smallest soccer ball, a size 3.
How long should 5-year-old practice soccer?
Soccer practices should be kept short for young kids, around 30-45 minutes once or twice a week.
What soccer skills should a 5-year-old have?
Many kids first start playing soccer around this age, so they may not have any soccer-specific skills. That is just fine!
The aim for this age is to start teaching them some of the soccer basics. It is perfectly okay if the kids do not have basic skills yet at this age.
What soccer skills should a 5-year-old learn?
Keep it simple for young kids. At 5 years old, kids are still learning balance and coordination, which makes advanced soccer skills difficult.
This is a great time to start teaching kids basic soccer skills. 5-year-olds should learn:
Social skills/teamwork
Listening
Taking turns
Coordination
Basic agility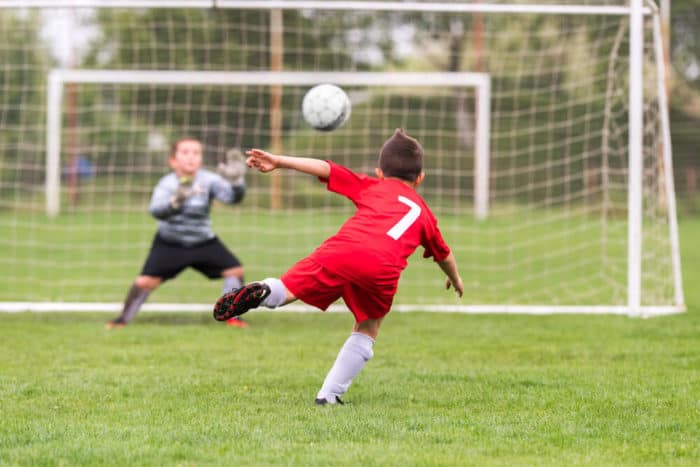 Soccer Drills & Games For 5-Year-Olds
Dribble between the squares: soccer drill.
Age Range : 4-6
Length of Session : 5 mins
Number of Players : groups of 4
Skills to Learn : dribbling, ball handling
Equipment : 8 cones and 4 balls for each group of 4
Description : Each child will dribble their ball from one square to the next and back using a variety of different dribbling tactics defined by the coach.
Drill Set-up :
Set up two squares 10 meters apart with side lengths of 5 meters.
Place 4 players in one square and give each player a ball.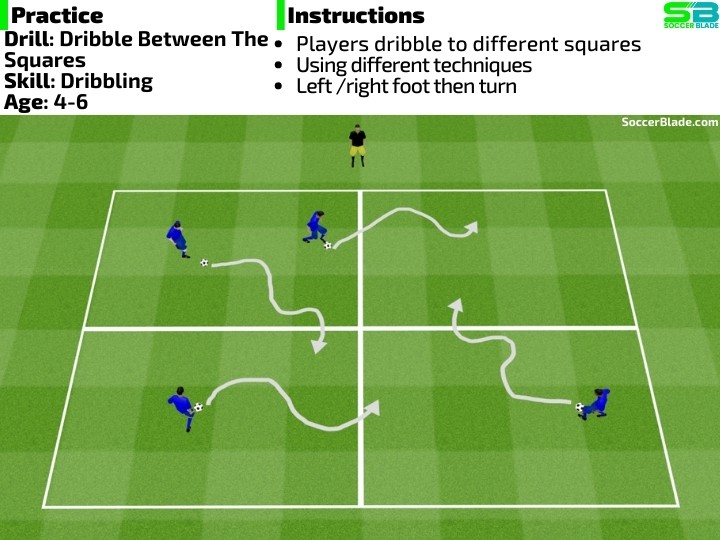 Drill Instructions :
Instruct the players to dribble to the other square and back using different techniques.
Right foot only.
Left foot only.
Inside of the feet.
Outside of the feet.
Doing a particular move every few dribbles (stepover, cut, roll and touch, etc.)
Musical Balls: Soccer Drill
Age Range: 4-6
Length of Session: 10 mins
Number of Players: any
Skills to Learn: awareness, speed, coordination
Equipment: balls and cones
Description: The number of balls decreases by one each round
Drill Set-up:
Create a large square based on the number of players you have.
Give each player a ball.
Optional: set up a small side activity for kids to do once they are out of musical balls.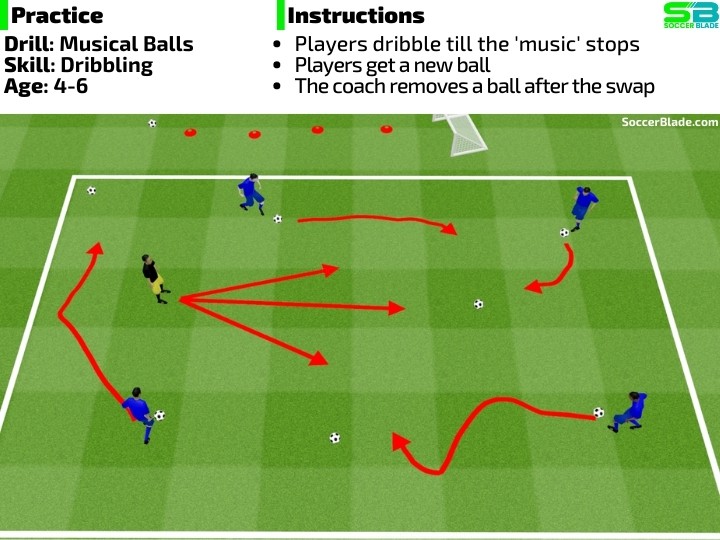 Drill Instructions:
Give each player a ball at first.
Instruct players to dribble around the area using different techniques.
When you stop playing music or blow your whistle, each kid must leave their ball and find a new one.
Take away one ball.
Repeat the steps, this time one player won't have a ball in the end.
The player without a ball must perform a simple action, like 5 jumping jacks, or they are out.
You can repeat the activity this way or take away one more ball each time the same way you would with musical chairs.
Hungry Hippos: Soccer Drill
Number of Players: up to 20
Skills to Learn: dribbling at speed, keeping head up
Equipment: a lot of soccer balls, pinnies, and small goals are optional
Description: Two teams compete to see who can bring the most balls back to their area.
Drill Set-up:
Split the kids into two even teams.
Give each team pinnies to distinguish.
Create a large rectangle with a small zone on each end.
Place all of the balls in the center of the space.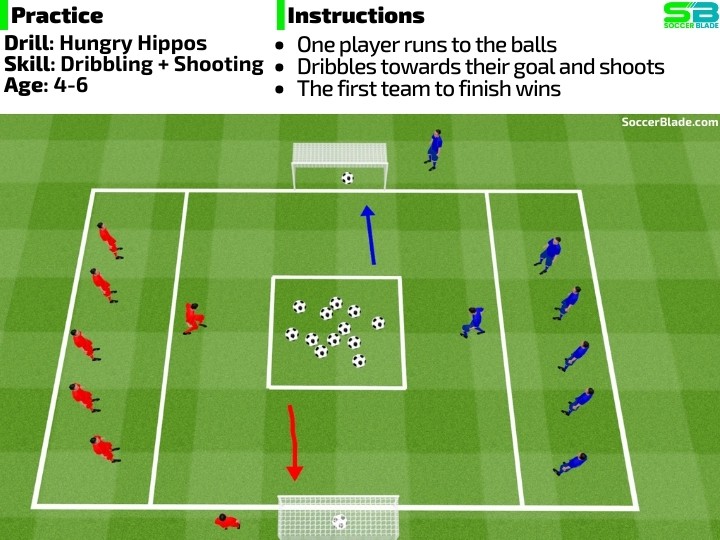 Place each team at either end of the rectangle.
Each team can send one player at a time to go retrieve a ball and dribble it back.
Optional: add a mini goal. The player must shoot the ball into the small goal to earn it for their team.
If a player goes out of bounds, they must put the ball back in the middle and go back to their team for a new player to go.
Perform as a race until all the balls are gone.
Sharks and Minnows: Soccer Drill
Age Range: 4-8
Length of Session: 10 mins
Number of Players: 6+
Skills to Learn: dribbling, keeping head up, ball control
Equipment: balls for each player, cones, pinnies optional.
Description: Kids try to dribble from one side to the other without getting tagged by the shark. Anyone tagged becomes a shark.
Create a large rectangle suitable for the number and age of players. For example, 35 meters long by 20 meters wide for 12-15 6-year-olds.
Give each player a ball and line them up on the starting line.
Select a "shark" to start.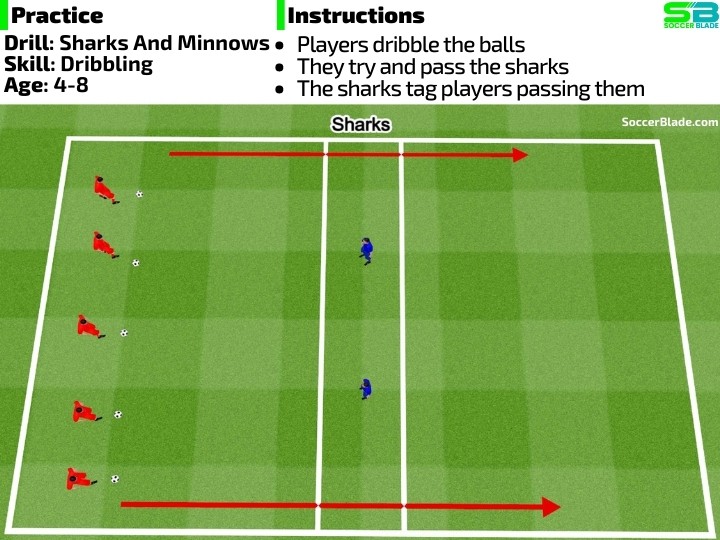 Drill Instructions
Line up all of the "minnows" with their balls.
Choose 1-2 sharks and place them in the middle of the space.
When you say go, have the minnows try to dribble across the other side without getting tagged by a shark.
Anyone who is tagged must become a shark for the next round.
Challenge players to see who can be the last minnow standing.
Younger kids, 4-6, can focus on just tagging the player. For kids 6-8, change the rules so they must knock the ball away from the minnow to count. For kids 8-10 or with advanced skills, you can require them to take full possession of the ball.
Another way to make the drill more challenging is to make the space smaller.
You can also add specific dribbling challenges within the game (weak foot only, must complete 2 moves before crossing, etc.
Dribble Through Gates: Soccer Drill
Number of Players: 3-10
Skills to Learn: Ball control, keeping the head up while dribbling
Equipment: enough balls for each player and cones
Description; Randomly place gates that are approximately 3 meters wide. Kids will aim to dribble through each gate once or as many gates as possible in the set time.
Set up a large area around 30 meters by 30 meters (use a larger space for more kids)
Randomly set up 6-10 3m wide gates using cones
Give each kid a ball.
Kids 4-6 can have more gates and larger gates to minimize collisions.
Give kids a set time and goal. For example, you can see who can get through the most gates in 60 seconds, or who can get through every gate first.
Make the drill more challenging for older players with restrictions, like right or left foot only. You could also require older kids to complete a move before dribbling through the gate.
Kick the Coach: Soccer Drill
Length of Session: 5 mins
Skills to Learn: passing
Equipment: balls for each child
Description: The coach runs between two lines of kids who are all trying to hit the coach's legs with the ball.
Create two lines facing each other. Place a cone for each kid.
The lines should be 10-15 yards apart.
Place each kid on a line and give them a ball.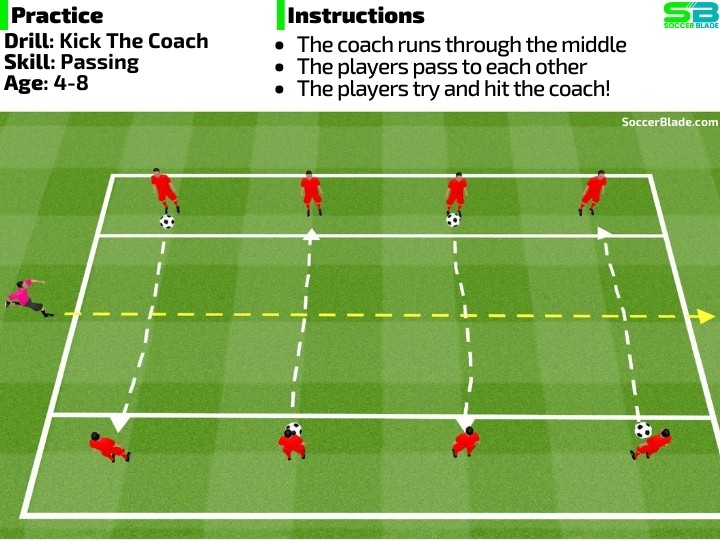 Kids line up facing each other.
The coach will run through the middle of the lines.
The kids try to pass (NOT shoot) their ball to hit the coach.
Only contact below the knee counts.
Ideal for younger kids just learning how to pass.
4v4 to Mini-Goals (no GK): Soccer Drill
Age Range: 4-10
Length of Session: 3 min games, up to 15 mins
Number of Players: 6,8,10
Skills to Learn: game decisions, passing vs. dribbling, 1v1 situations
Equipment: regular cones, mini-goals/pug goals or large cones, pinnies, or different colored shirts.
Description: Allow kids to compete in 4v4 small-sided games up to 3 mins long.
Set up the field based on the age of players. For younger players, 4-6, make a field about 15x 20 meters. For older groups, make the field a bit larger.
Set up multiple fields if you have a large group.
Use cones to create the outline of the field.
Set up either mini-goals, pugg goals, or large cones as the goals.
Split the players into even teams of 4, and give each team a color.
Play 3 min games to the mini-goals.
Define how players earn points. You can create unique rules to shift the focus and practice different things. For example, you could make a 1-touch finish worth 2 points for older kids.
Keep the simple focus for kids 4-6, emphasizing taking the ball from the other team but not your team. Also, guide them to stay spread out and communicate.
For older kids, emphasize decision-making between passing and dribbling.
You can also use larger goals and add a GK for older kids, ages 9-10.
Dribble to Pass: Soccer Drill
Length of Session: 10 mins
Number of Players: 4+
Skills to Learn: passing on the move, ball control, receiving
Equipment: cones and balls
Description: Players dribble through a series of cones and then pass the ball to the next player in line.
Set up 10 cones in a line.
The cones should be 1.5 to 2 meters apart.
On each end of the line of cones, set another cone 5-7 meters away.
Repeat this setup to create multiple groups if you have a lot of players.
2-3 players will line up behind the cone on each end of the line of cones.
Give the ball to the first player in line.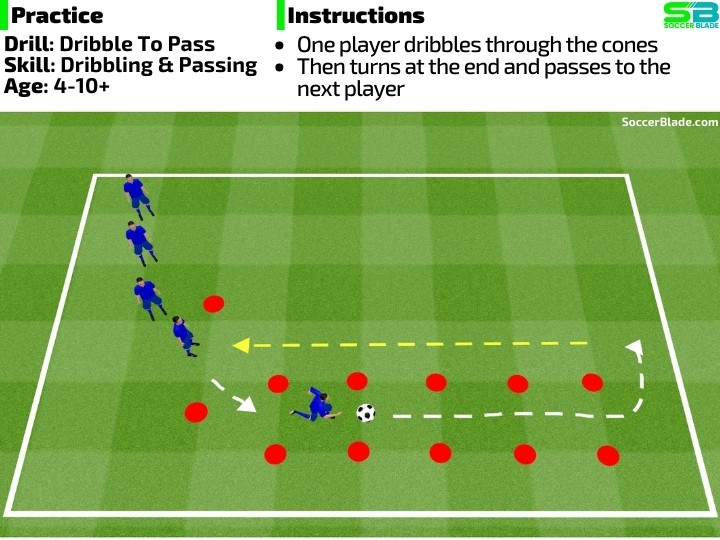 The first player dribbles through the line of cones.
Once they complete the line of cones, the player then passes the ball to the next player in line who is at the cone 5-7 yards away.
The second player should receive the ball and then dribble through the line of cones.
Create different dribbling rules (right foot, left foot, inside-outside, stepovers, etc).
Focus on dribbling and passing technique, picking the eyes up, and being ready in line.
Extend the distance of the pass for older/ advanced kids.
Make the game competitive by having multiple groups compete to see who can have all players go twice. If you only have one group, turn it into a race against the clock.
Here are some high-quality training equipment pieces you'll need for the soccer drills later on. If you're on a budget get the set of balls – if not, I highly recommend getting multiple individual balls for the best enjoyment and longevity.
You might have some of the gear already. If not, I highly recommend these;
Best Youth Soccer Balls
Best Youth Soccer Equipment
Best Soccer Youth Soccer Goals
Sharing is caring :)
/// Awesome Adidas Cleats ///
Related Posts
How to get fit for soccer (games + tryouts), middle school soccer drills (11, 12, 13 years old), how much is a soccer ball (don't pay more than this), why a soccer ball curves (physics & how to + diagram), 11 reasons why soccer is fun and interesting, are wilson soccer balls good (basic and pro choices).
Thank you for reading our articles - we hoped you've enjoyed them and are having fun playing, coaching, and watching soccer.
Soccer Blade is an affiliate and an Amazon Associate, we earn from qualifying purchases - at no extra cost to you.
Youth Soccer FAQ
How do you know if a youth player is good.
A youth player is great at soccer they will have some of these qualities; ball control, endurance, speed, movement, strength, leadership, creativity, attitude, will to play, and will to win.
How can a parent support their child in soccer?
+ Play for fun with them . Don't "coach" or "train" your child, just play soccer games with them! + Take them to soccer games . Getting kids around soccer is one of the best ways to grow their love for the sport as well as their game IQ.  + Sign them up ! No matter what level your child is at, there are opportunities to play. + Choose the right level . If you want to help your child, choose a team/level that suits their abilities and interest level.  + Be the biggest cheerleader . Leave the coaching to the coach. As a parent, your job is to encourage your child and support them.
Do youth players get paid in America?
Players in the United States only get paid for playing soccer when they sign a professional contract. This is normally possible when a player turns 18 years old. In Europe, it is common for players to earn a salary when they are 16 years old.
What are the roles and responsibilities of a youth soccer coach? 
+ Selecting a team + Organizing training sessions + Communicating with parents + Scheduling practices + Scheduling games + Registering for tournaments/leagues + Attending league meetings + Administrative duties (e.g. registering players)
What are the youth soccer levels?
The youth soccer pyramid is now incredibly complex and often confusing. There are three separate organizations (USYS, USSSA, and US Club Soccer) sanctioning several divisions for youth soccer players, resulting in multiple high-level youth leagues.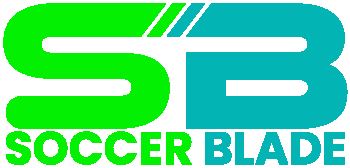 ADVERTISE WITH US
10 Fun Soccer Games for Kids (Perfect for 5 – 8 Year Olds)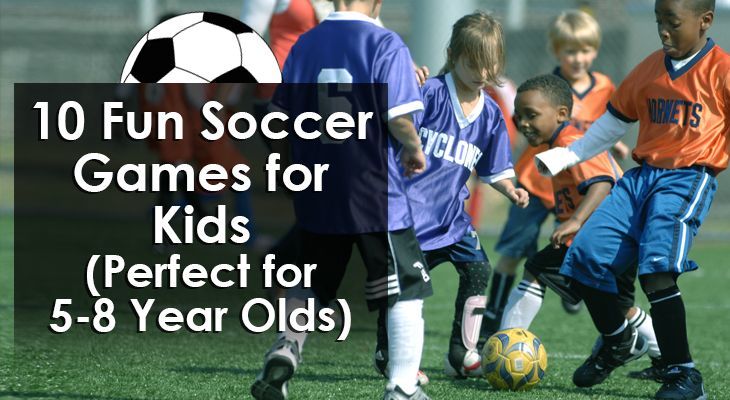 As well as teaching kids the basics, soccer training sessions should also be exciting, engaging and encouraging, in particular with younger ones who are just starting out.
That's why it's a good idea to throw in lots of fun soccer games for kids which will get them looking forward to each and every session, all while learning new skills and making new friends.
At that early stage it is important to keep things simple and straightforward as they are still learning the rules and how to actually play the game.
It's best to work on one or two things at a time rather than overcomplicate and confuse them.
To help your young one or the team you coach develop new skills while having a great time, here are ten fun soccer games for kids which are perfect for 5 to 8 year olds.
10 Tips for Youth Soccer Coaches
Before working our way through all the fun games you can run, it's worth just quickly going over some tips that will help make every training session go smoothly.
As 5 to 8 year olds are a very specific age group, you will want to tailor your practice sessions to their capabilities and not make things too complicated.
As well as honing their touch and technique, sessions should challenge them, teach them how to be a team player, help them make friends, and above all have fun and enjoy playing soccer.
Here are some things to bear in mind when coaching young kids:
1. Be prepared and plan the session and games in advance.
2. Be warm, welcoming and friendly and show genuine happiness at seeing them at practice.
3. Take an interest in them, ask questions and involve all of the players on the team.
4. Encourage them and use positive language and praise at all times.
5. Keep explanations and exercises simple and straightforward and show them examples.
6. Keep them engaged and excited by varying up the games and working on different skills.
7. Mix up the teams so no one dominates, everyone gets to play together and experience winning.
8. Be a positive role model and project positivity with your body language.
9. Ensure that things are fair and everyone follows the rules.
10. Make sure to use the correct size ball for the age group.
11. Have fun with your team and enjoy each and every training session together!
Now that we've looked at some things to take into account when coaching kids, let's move onto the fun games you can run to keep them engaged and interested at all times!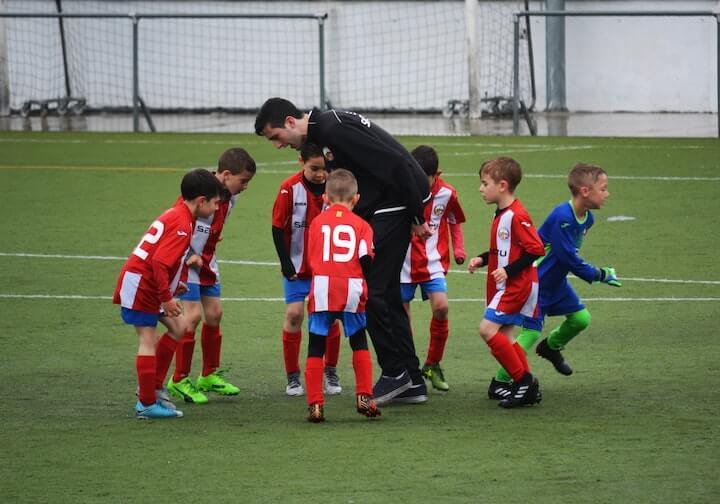 10 Soccer Games for Kids
Besides helping kids with their control and coordination, these fun games also work on everything from their touch and technique to their passing and shooting.
While all of them can be run by coaches in their training sessions, many of them can also be done at home, in the garden, or on any available patch of space.
All you need is a ball and some cones and then you are all set to help your team or young one develop new soccer skills while having a great time!
Game 1: Tag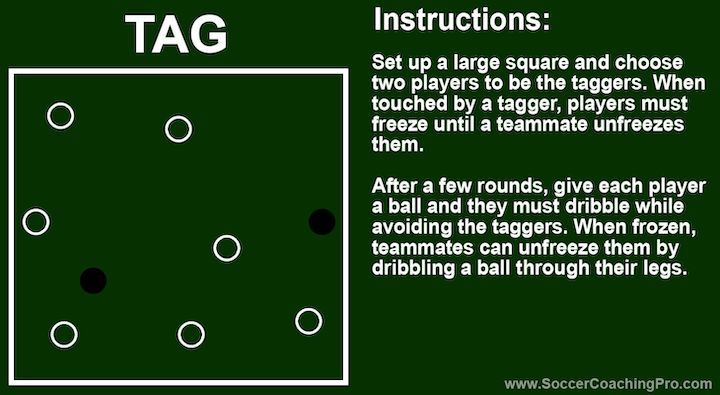 A great warm up exercise that is sure to get your team pumped up and raring to go is tag or 'it' as it is also known.
Very easy to run, this game helps players with their fitness and teamwork skills as well as their close ball control and dribbling if you also use a ball.
To set up the drill all you need to do is make a large square and have two players in bibs be 'it'. When you blow the whistle they then attempt to tag the other players.
If touched, the players must then freeze and stand still in the same spot. They can only be unfrozen if one of their teammates manages to touch them.
Another alternative is to have them stand with their legs apart and have the players crawl between them to unfreeze them.
The game ends once all the players have been frozen by the two players who are 'it' with the rest of them trying to prolong it for as long as possible.
Once the players have played a few rounds, give each of the team a ball and have them try to avoid and dribble away from the two who are 'it'.
When they are frozen their teammates can unfreeze them by passing their ball between their legs.
Game 2: Simon Says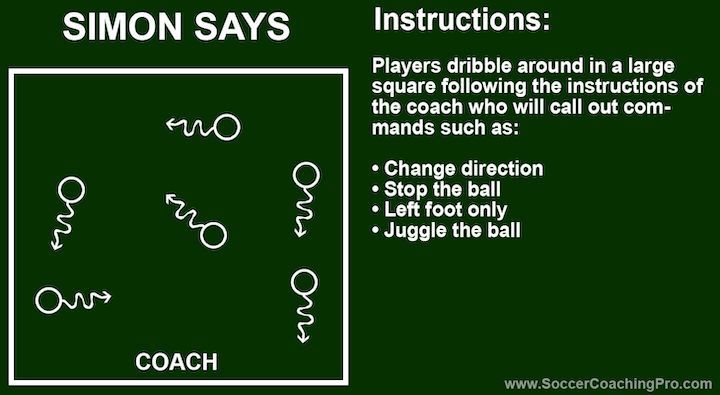 Another one of the great soccer games for kids is Simon Says, which sees the players listen out for and follow instructions.
In a large box, the players dribble about with a ball at their feet until a coach or a player who is Simon shouts out a command such as change direction, stop the ball, only use your left foot, etc.
As the players never know what instruction is coming next, they need to focus and listen out for what they say.
Other commands could get the kids jumping or clapping, juggling the ball, or even kicking it as far away as they can!
Game Three: Musical Balls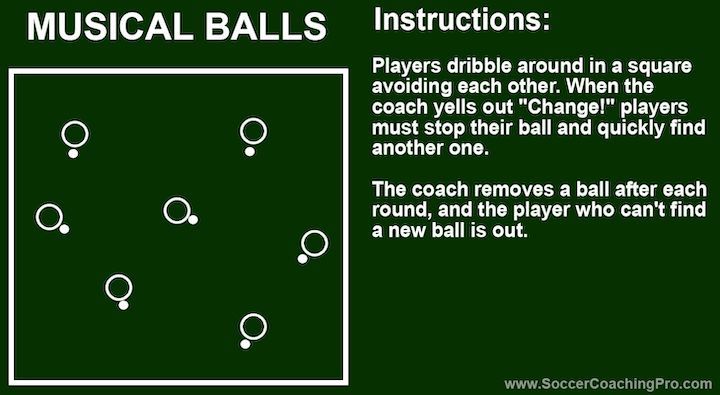 In a similar vein to Simons Says is Musical Balls which helps young kids to improve their control, coordination, and dribbling skills.
To play the game all you need to do is set up a square, give each player a ball and then set them off dribbling within the grid, avoiding each other, and keeping the ball as close to them as possible.
After thirty or so seconds you shout 'Change!' and the players have to stop their ball and quickly find another one to start dribbling with. 
Once they've got the hang of it, remove a ball after each round.
The player who can't find a ball then stands on the sidelines and cheers the rest of the team on until only one player remains and wins the game.
Parents can also run this drill at home by setting up an area for their kid to dribble in and simply get them to practice controlling, stopping and dribbling the ball .
Game 4: British Bulldog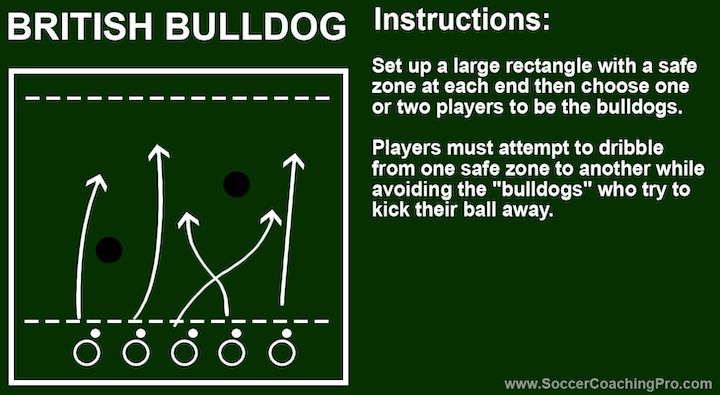 Another great game to help with young players' spatial awareness, dribbling skills, and tackling is British Bulldog.
This classic game sees most of the team line up at one end of a grid and attempt to dribble their way through a 'danger zone' without being tackled or have their ball kicked away by a 'bulldog'.
To set up the drill simply place four cones in a line about ten metres apart with a parallel line about twenty metres away. The first and last boxes of this grid are 'safe zones'.
In the middle or 'danger zone', there are two players or 'bulldogs' whose job it is to stop the rest of the team from getting through safely with their ball.
The players can either use stealth, speed, or their dribbling skills to get past the bulldogs and to the line at the end of the safe zone.
When a player is tackled and loses their ball, they can either become another bulldog or wait on the side on the pitch and cheer on their teammates.
The game ends when only one player remains and they are declared the winner!
To help explain the game to the kids it is a good idea to first play a round of British Bulldog without balls so they can see how it works.
After that you can get the bulldogs either doing a 'bear crawl' or 'crab walk' to give the players more of a chance before letting them run about and tackle normally.
Game 5: Red Light, Green Light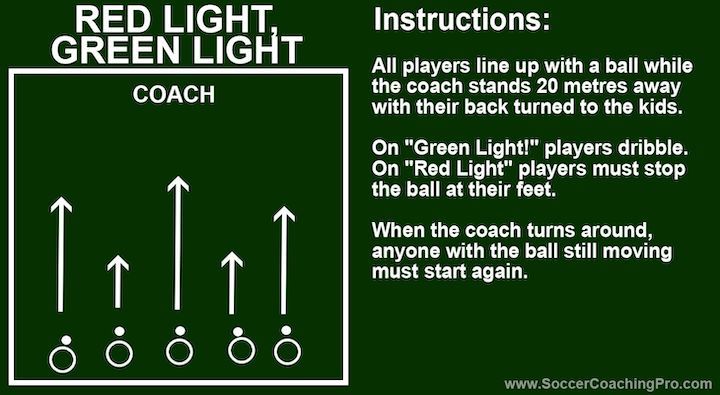 As with British Bulldog, "Red Light, Green Light" also rewards players for their close control and dribbling skills. In addition, it also highlights the importance of reacting quickly and listening out for the coach's command.
With this drill, all the players line up with a ball at their feet with the coach standing around twenty metres away with their back turned towards the kids. 
When the coach shouts out 'Green light!' the kids then proceed to dribble towards the coach, ready to stop the ball at a moment's notice.
When the coach shouts 'Red light!' the players have to immediately freeze where they are with the ball lying stationary and stopped at their feet.
After waiting a moment, the coach turns around to see if anyone is moving. If they are, they are then sent back to the start line to start from the beginning.
In this way they learn to control the ball, react quickly, and listen to commands.
Game 6: Fill the Bucket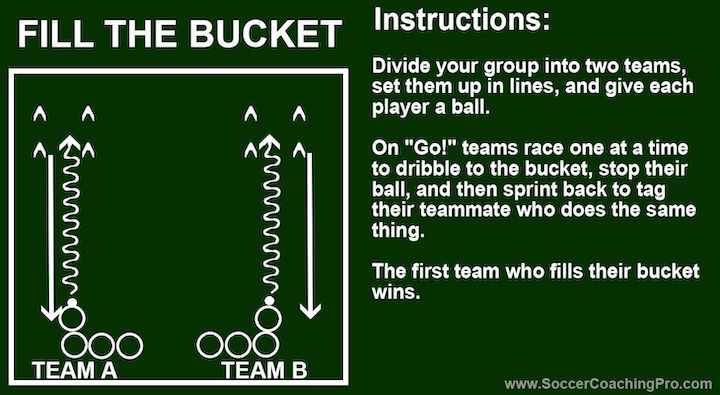 Another game you can run that will excite and exhilarate the kids is the fun and frenetic Fill the Bucket. 
This exercise sees two teams race against each other, working on their close control, dribbling skills and acceleration at the same time.
All you have to do is divide each team in two, give each player a ball and then set them up in two lines facing each other, around twenty metres apart. In the middle of the two lines make a smallish box or 'bucket' with four cones.
When you shout 'Go!' the first player from each team runs with the ball to the box.
They then stop the ball and continue sprinting to their teammates on the opposite side.
Once they arrive, their teammate with the ball can do the same thing but in the opposite direction.
Like this, the two teams race until all the balls are in the 'bucket' and all the players are back at the end lines. The team that is fastest wins the race!
After this you can also play 'Empty the Bucket' which instead sees the players race to the box and then either dribble to the opposite side with a ball at their feet or do an accurate pass back to their team mate. 
Another alternative is to set up some cones for the players to dribble through on their way to or from the 'bucket'. This makes it even more challenging and competitive!
Game 7: King of the Ring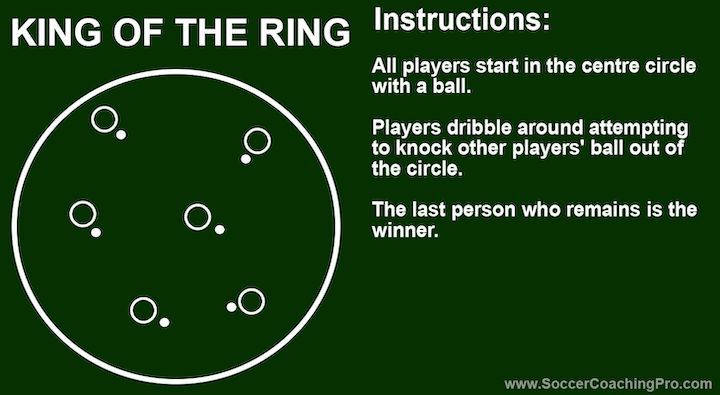 Lots of fun to play, King of the Ring helps improve both players' close control and dribbling skills as well as their spatial awareness, defending, and decision making.
In the centre circle, all of the players dribble about with a ball at their feet, ready to knock another player's ball out of the ring. 
As anyone can tackle anyone, players need to protect their ball and watch out for other people while also trying to knock out their opponents' balls.
Once they lose their ball, players collect it and wait on the side of the ring, cheering the others on.
The game ends when only one player remains in the ring with their ball at their feet.
As there are different tactics and approaches involved, players improve their decision making and awareness of what is going on around them.
Game 8: Piggy in the Middle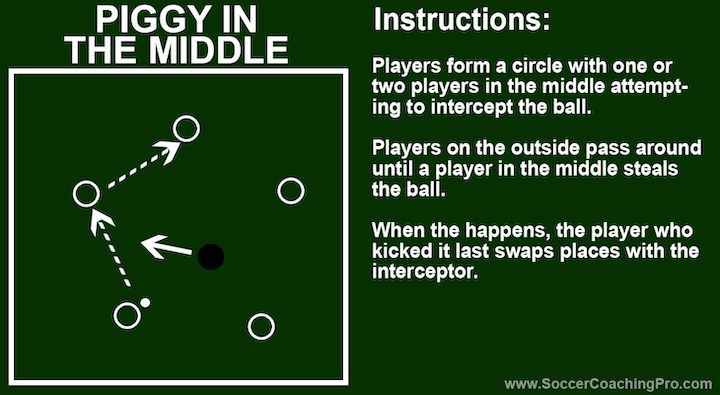 Another one of the classic soccer games for kids that is also fantastic for warm ups and improving your players' passing is Piggy in the Middle.
Very simple to set up and explain, the exercise is sure to excite and enthuse your young ones.
All you have to do is have the players form a circle with one or two players in the middle trying to intercept the ball and win it back.
The other players have to pass the ball around the circle for as long as possible without one of the 'piggies' intercepting it.
When the player in the centre wins the ball back, they then swap with the player who lost it with them then becoming the piggy.
Game 9: Don't Feed the Monkeys!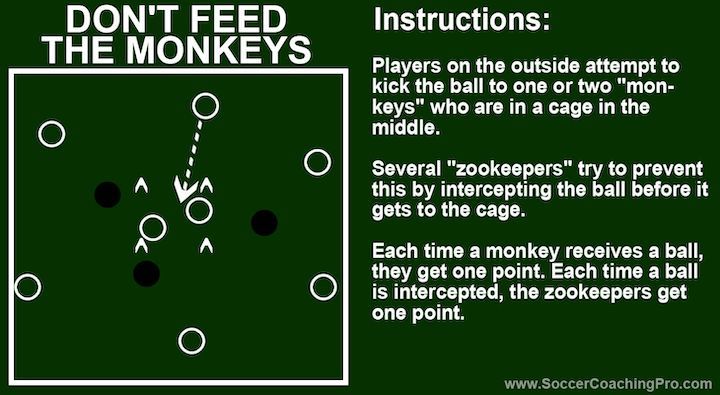 Very fun and funny to play, Don't Feed the Monkeys is certain to leave your players jumping with joy as they attempt to feed monkeys in the zoo!
This drill is great for players' passing as it gets them to focus on the weight and accuracy of their pass as well as receiving and controlling the ball. 
To set it up, make a small circle or monkey cage with cones and have two players or monkeys stand within it!
Outside the circle are three or four zookeepers whose job it is to stop the other pesky players from feeding the monkeys.
Surrounding them are six cones with a player and ball at each one. These players then try to feed the monkeys by passing a ball to them past the zoo keepers. 
To win a point, the monkey and player must both pass and control the ball without the zoo keeper intercepting it.
This fun game not only helps with the players' passing and controlling but also works on the zookeepers' anticipation skills and defending at the same time.
To make it harder you can always have the players chip the ball in to the monkeys for them to catch, control or header back.
Game 10: Four Goals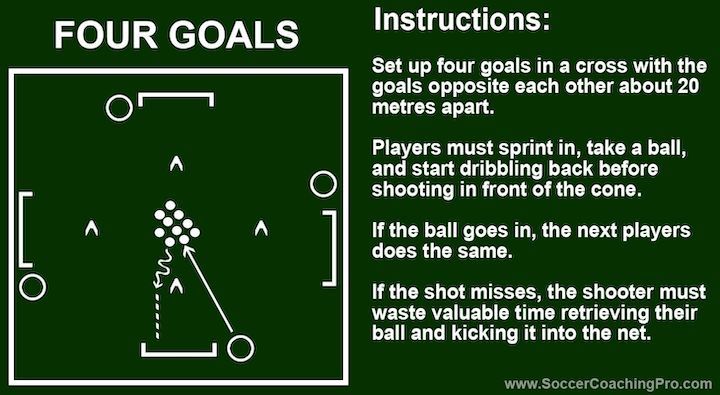 As well as being a race, Four Goals is also a competition to see which team scores the most goals.
With this fun and frenetic game, players learn to dribble at speed, turn quickly, and shoot the ball, developing a love for scoring and competing in the process.
To play, set up four goals using nets or cones in a cross, with the goals lying around twenty metres from the one across from them. 
In the middle, place all the balls with two players lining up to the side of each goal.
On your whistle, one of the players from each team sprints to the centre, takes a ball and dribbles it back towards their goal before shooting it into the net.
Once they have scored, their teammate can then do exactly the same thing, working as quickly as possible to score as many as they can.
If a player misses the goal, they then have to waste valuable time retrieving the ball and kicking it into the net before their teammate can set off.
Once there are no balls left, the winner is the team who has scored the most goals.
If you want to focus more on the players shooting then you can always place a cone which they have to shoot from behind.
Another option is to put a line of cones if you instead want to focus on their dribbling abilities.
Conclusion:
To keep young kids excited, enthused, and engaged during training sessions, it's a good idea to pepper your practice with lots of fun games and competitions.
While these help with their control, coordination and dribbling, they also get them to develop their teamwork and communication skills among many others.
Very easy to set up and explain, most of these soccer games for kids can also be run at home with some slight variations.
Besides helping them to master the basics, these small games will get them jumping with joy and having a great time while playing soccer with their friends and teammates.
Further Reading:  123 Soccer Drills for All Ages and Skill Levels (With Images)
Leave a Reply:
Save my name, email, and website in this browser for the next time I comment.
5 Fun Soccer Drills For 5 Year Olds (U6)
Looking for fun soccer drills for 5 year olds ? Look no further! Below you'll find five super fun soccer drills and games that five-year-olds absolutely love to play.
Please enable JavaScript
Soccer Drills For 5 Year Olds
The most important thing when coaching 5 year olds is to make sure the kids are having fun! Here are five super fun soccer drills for 5 year olds that you can use as warm-up games or just as a fun activity at the end of your training sessions.
1: What's The Time Mr. Wolf?
This first drill is based on the classic schoolyard game 'What's the time Mr. Wolf?' Players get to practice dribbling with the ball, stopping the ball, and can even perfect the drag back turn! It's a great game that children will want to play again and again at soccer practice.
How To Play
On the count of three, all the kids shout "What's the time Mr. Wolf?'. The coach (Mr. Wolf) then answers with a time between 1 and 12 o'clock. The players must then take the corresponding amount of light touches on the ball as they move towards Mr. Wolf. For example, if Mr. Wolf answers "It's six o'clock" the players must then lightly touch the ball 6 times as they move closer to Mr. Wolf.
Coaching Points And Tips
2: ducktales woo hoo.
One player starts as 'Scrooge McDuck' on the outside of the grid next to the coach. All the other players start in the grid with a bib tucked into their shorts. This is their 'duck tail'. Upon the coach's call, Scrooge McDuck enters the grid and tries to catch all the other players by grabbing their tail and putting it on the floor.
3: Space Minions
Upon the coach's call, every player must leave their planet, go out in space, and try to run to another planet. Gru must try to tag them before they reach the safety of another planet. If a player gets tagged they become a 'Minion' and join Gru's Minion army. The Minions must help Gru tag other players to grow the Minion army. Repeat the game until only one player is left. That player is the winner and gets to play as Gru next time.
4: The Numbers Game
Give players on both teams a number between 1-6 (or 1-5/1-4 depending on player numbers) so that each team has a number 1 player, a number 2 player, a number 3 player, and so on. Tell the kids to remember their number.
5: 1,2,3 Challenge
Just like the previous game, you should first give players on both teams a number between 1 and 6. Tell the kids to remember their number. The coach will call out a number and play a ball into the field at the same time. The corresponding player from each team then runs onto the field and competes to retrieve the ball and turn towards the goal and shoot.
More Fun Soccer Drills